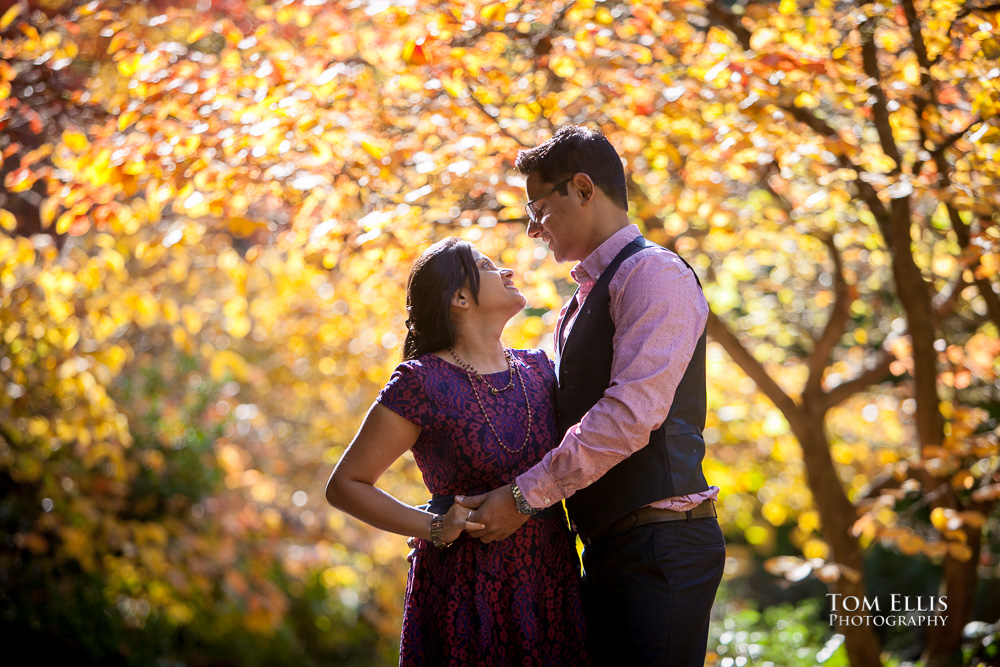 Seattle engagement photos at the Arboretum and Gasworks Park
I just discovered an engagement session from way back in October that I had never put onto the blog.  This session was with Vini and Sachin, and it took place in late October at the Washington Arboretum and Gasworks Park.  I can hardly believe that I did not get this session online earlier, but at least I can make up for it now.
Photos at the Washington Arboretum
It was a Saturday morning, and we arranged to meet at the Visitor Center at the Arboretum.  For any of you who have visited the Arboretum on a nice day on a weekend, you can guess how that worked out!  Vini and Sachin got there first, and were able to find parking fairly quickly, but I got trapped in traffic and by the time I go to the Arboretum there was no parking anywhere.  I got lucky, and spotted someone walking back to their car; wouldn't you know they were parked almost a quarter-mile away!
We finally met up and started our walk around the Arboretum.  I had noticed driving in that there was some major work going on near Lake Washington Blvd, which cuts along the western side of the Arboretum.  But the work was even more extensive than was visible from the road, and many of my favorite places for photos had been torn up and were not available for us to use.  Even so, the Arboretum is huge, and we found quite a few nice places for photos.  The weather was fantastic, and the sun shining through the fall foliage made for some great backgrounds.
Next stop, Gasworks Park
After an hour plus at the Arboretum we packed up and headed for Gasworks Park.  We had much better luck with parking here (thank goodness!), and soon were out and exploring the park.  Neither Vini or Sachin had been to either park before today, and it was fun taking them around and showing them the great views of downtown Seattle looking over Lake Union that could be seen at Gasworks.  There were quite a few other people enjoying what was likely one of our last warm days before winter set in, so avoiding photo bombers was challenging in much of the park.
We basically worked the park in a big circle, which is what I usually do with couples I take here for photos.  The Kite Hill is always a great place for photos, and today was no exception.  Quite a few other people on top of the hill, but we were still able to get some fun photos there using the "Mr and Mrs" banner that Sachin and Vini had brought with them for that purpose.  Some of my favorite photos from the day were of the two of them alone at the top of the hill, with an amazing blue sky and clouds as the backdrop.
But enough of me talking, please scroll down and check out the photos to see the session for yourself.