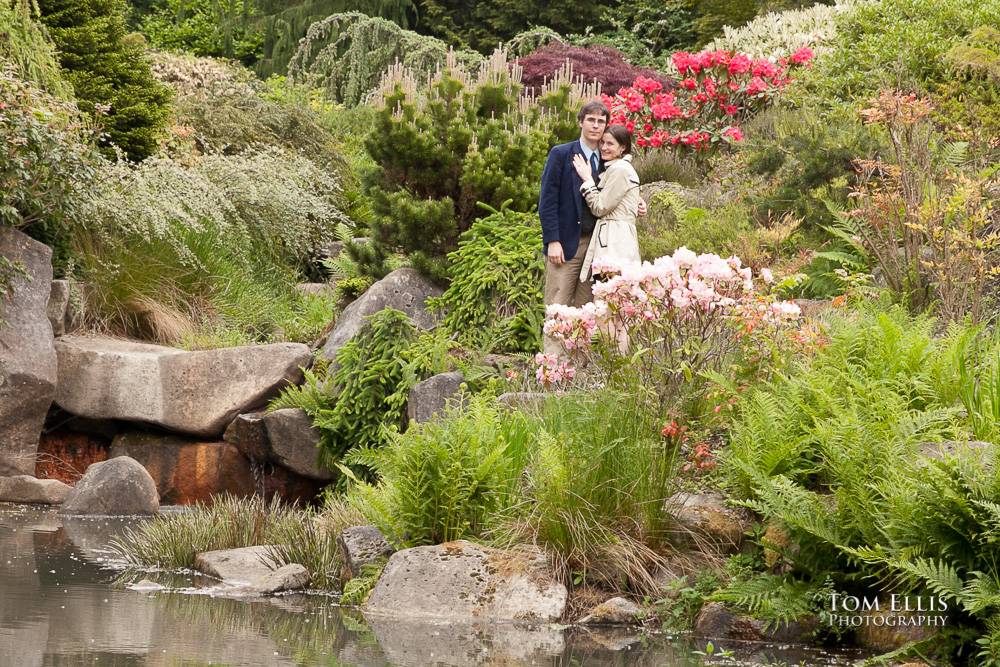 Seattle engagement photos at the Kubota Garden
Another perfect-weather-for-photos day for my engagement photo session with Kathleen and Jonathon at the wonderful Kubota Garden in Seattle.  As beautiful as this park is, it is not very well known and subsequently is not usually nearly as crowded as other, better known parks in Seattle.  That was certainly good news for us, as we were able to get lots of photos without too much interference.
The Kubota Garden is operated by the city of Seattle as a public park, and if you have never visited there I highly recommend that you do so.  It is a series of ponds, streams, waterfalls and a wonderful assortment of trees, shrubs and flowers that covers 20 acres.  Unfortunately there is some pre-summer construction going on at the moment, so some areas are not as perfect as usual.  But even at less than its full beauty, this is still an incredible place for a photo session.
The three of us spent a leisurely couple of hours just wandering, exploring and taking photos whenever we found something that looked cool or fun.  Kubota feels bigger than 20 acres, and as we walked through the park I marveled at the landscapes and impressive variety of flowers, shrubs and trees.  This time of year there are many flowers already in bloom, and the rhododendrons displayed a variety of colors.  We ended up with almost 200 photos, and I have pulled some of my favorites to show here.
Just two months until the wedding, and I'll be posting some wedding shots shortly thereafter!
As an editorial aside, I was a little upset that several of the best ponds in the Garden have been allowed to fill with mud, weeds and algae, and one of my favorite ponds was completely dry, nothing but mud and grass.  I am hopeful that since the parks staff was obviously working on garden improvements that these problem areas will be restored to their original state soon.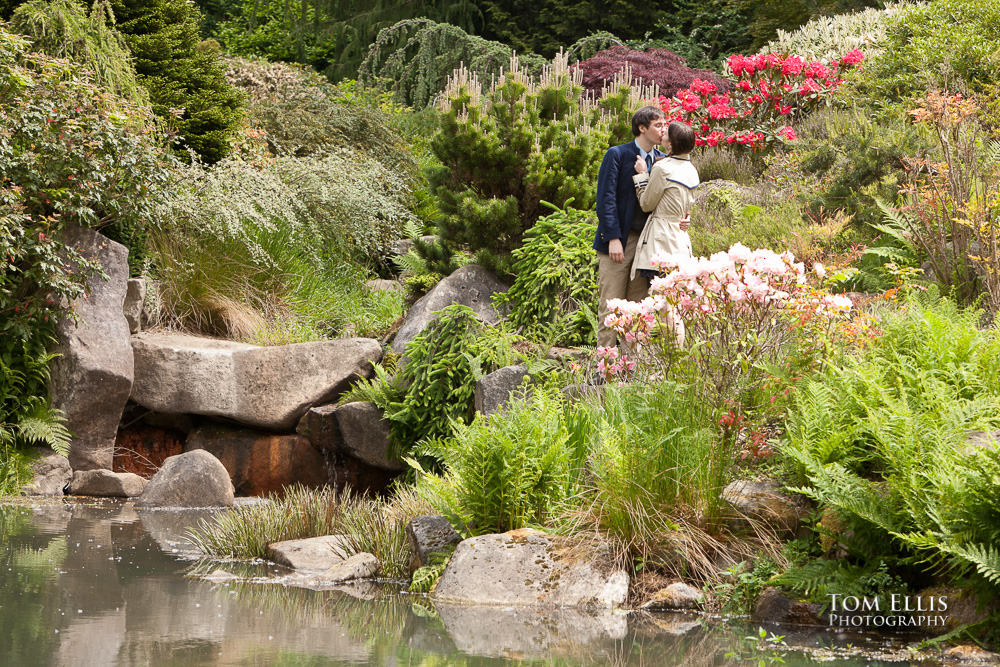 Kathleen and Jonathon alongside one of the many ponds at the Kubota Garden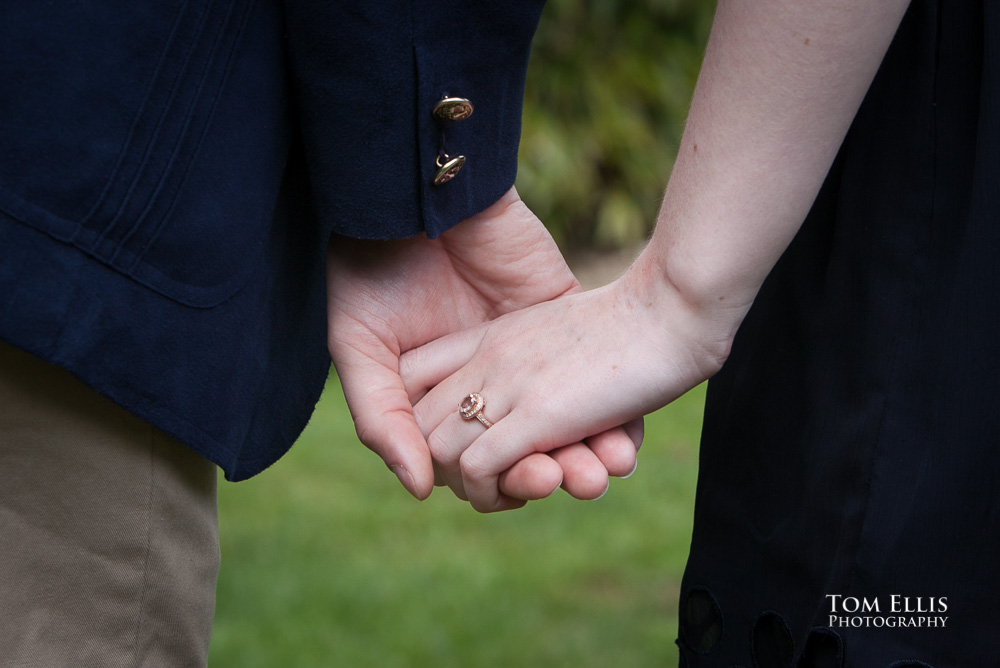 Kathleen's engagement ring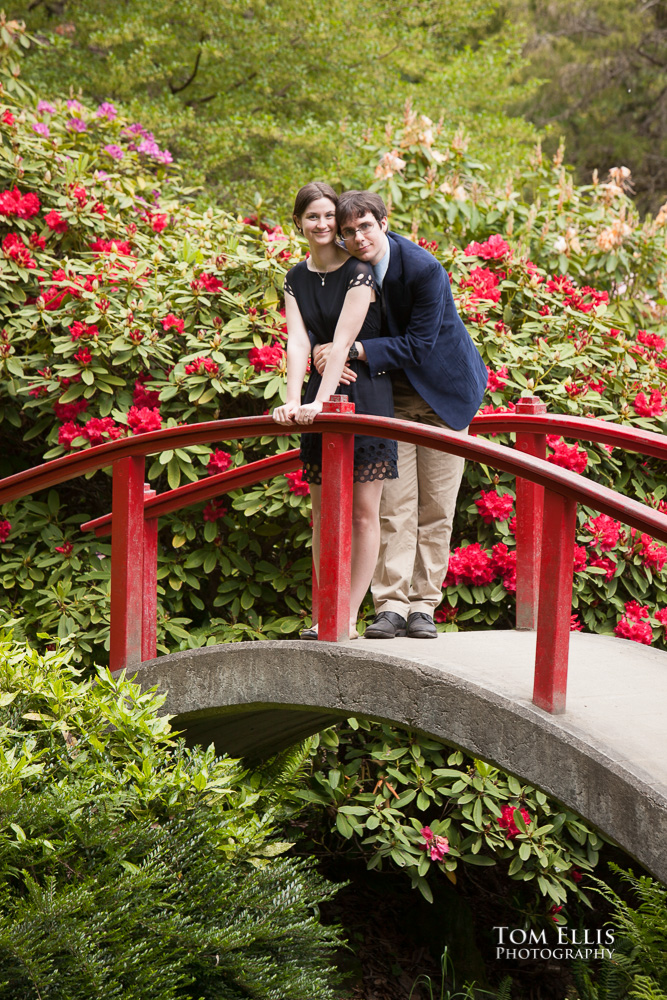 Kathleen and Jonathon on the top of the Moon Bridge, one of the "trademark" spots in the Garden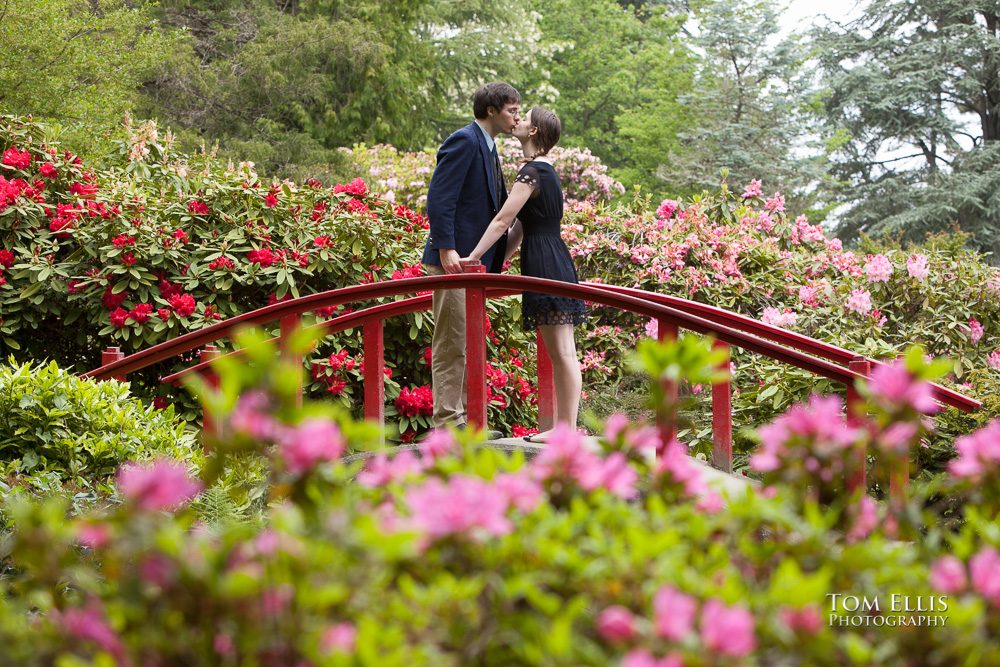 Kathleen and Jonathon share a kiss on the Moon Bridge at Kubota Garden
I loved this patch of blue flowers.  It wasn't very large, but made for some great photos.  I was back at Kubota a couple of weeks later and the flowers were all gone, glad I got some photos while the flowers were there!
Turtles are not something that you can count on seeing at Kubota, but we found several in and on the shore of one of the larger ponds.  Obviously they have no fear of people!