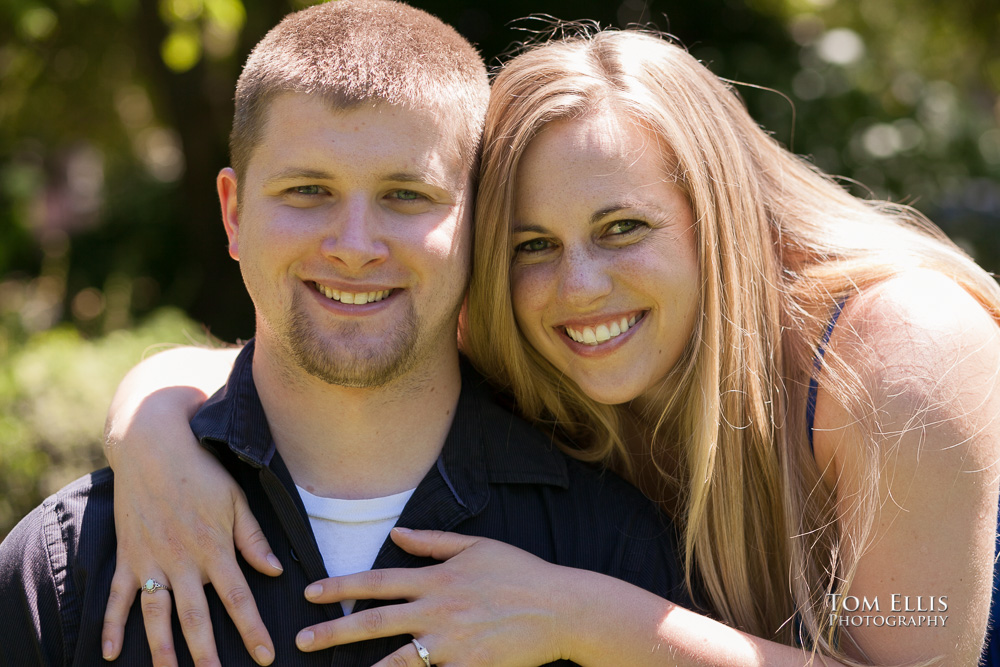 Seattle engagement photos at Kerry Park and Parsons Garden
Last week I met up with Sarah and Ryan for their engagement photo session.  They will be getting married next month at the beautiful Kiana Lodge, and we needed to get some photos for them to display at the wedding.
We started at Kerry Park on Queen Ann Hill in Seattle.  For those of you who are not familiar with Kerry Park, it is one of the most, if the THE most, photographed locations in Seattle.  And when you visit there it is easy to see why!  The view encompasses all of downtown Seattle, with the Seattle Center and the Space Needle right in the foreground.  On a clear day (which we had), you also get an amazing view of Mt. Rainier in the background.  Add in Elliot Bay, Alki Pt and a view all the way to the Olympic Peninsula and it is certainly one of the best locations in Seattle to get a true "postcard photo".  And as a matter of fact, many of the postcard views of Seattle were shot right here!
Due to the popularity of the park there are many tourist busses, so we had to bide our time as groups moved into the prime photo spots and got in our way.  But with a little patience we were able to get a nice variety of photos.
We then moved down the street to Parsons Garden, a rather small "pocket park" where I have done not only numerous engagement photo sessions, but quite a few weddings as well.  It is a beautiful semi-hidden park that most Seattleites do not even know exists, and is wonderful for photos.
We spent some time in the Garden, then moved across the street to another outlook with a great view over Magnolia and Puget Sound to the Olympic Mountains.  I had a great time working with Sarah and Ryan, and am looking forward to our next session together at Kiana Lodge on July 12.  Check back in the middle of July and I'll have photos from the wedding on the blog as well!