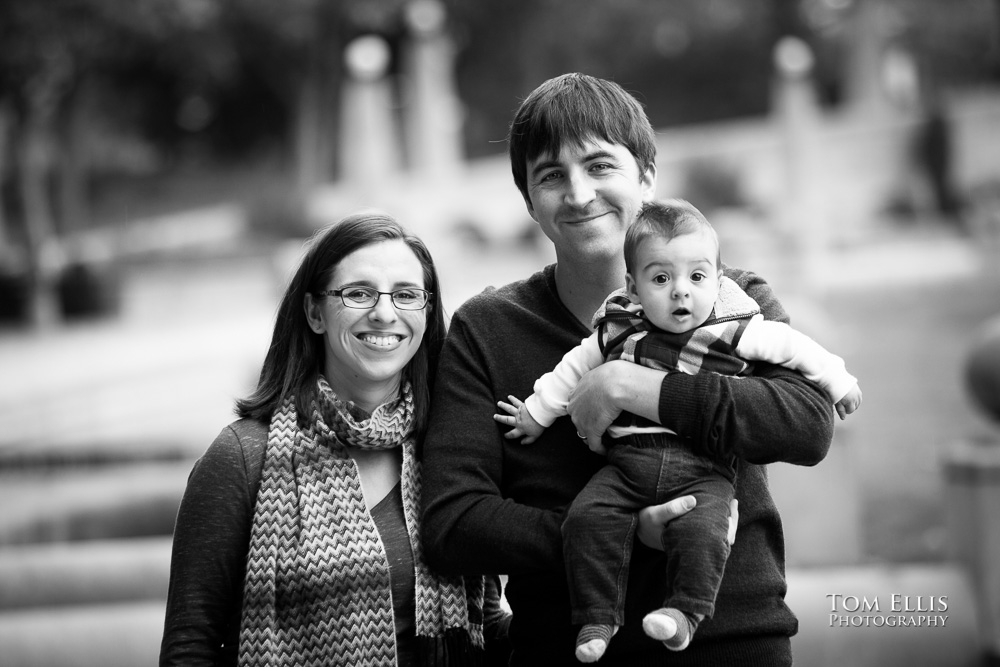 The Allen Family – Family photo session at Bellevue Downtown Park
I recently had the pleasure of re-uniting with Thomas and Shaina, whose wedding I photographed on July 11, 2013 at the Salish Lodge (and that you can see at this link).  Thomas and Shaina now have a delightful little boy named Dean in their lives, and they contacted me so I could take some family photos.  For those of you who are not aware of this, I offer a completely free "first baby" photo session to all the couples whose weddings I photograph.  I love these sessions, as they not only allow me to re-connect with past clients but also to find out what they have been doing, and to meet the new additions to their families.
We met at Bellevue Downtown Park, a great place for photos just about any time of the year, and under almost any conditions.  The weather was nowhere near perfect, overcast and a bit cold, and shortly after we started it the clouds started spitting at us a bit.  But we had a good time walking around the park, and watching Dean as he got up close and personal with some ducks who oped he was going to feed them.  Dean is still at the age where anything he can pick up, he would try to put into his mouth, which made it rather interesting when Shaina and Thomas sat with him in some leaves, and all Dean wanted to go was try to eat every leaf he could get ahold of!
Here are a few photos from the session, I hope you like them!