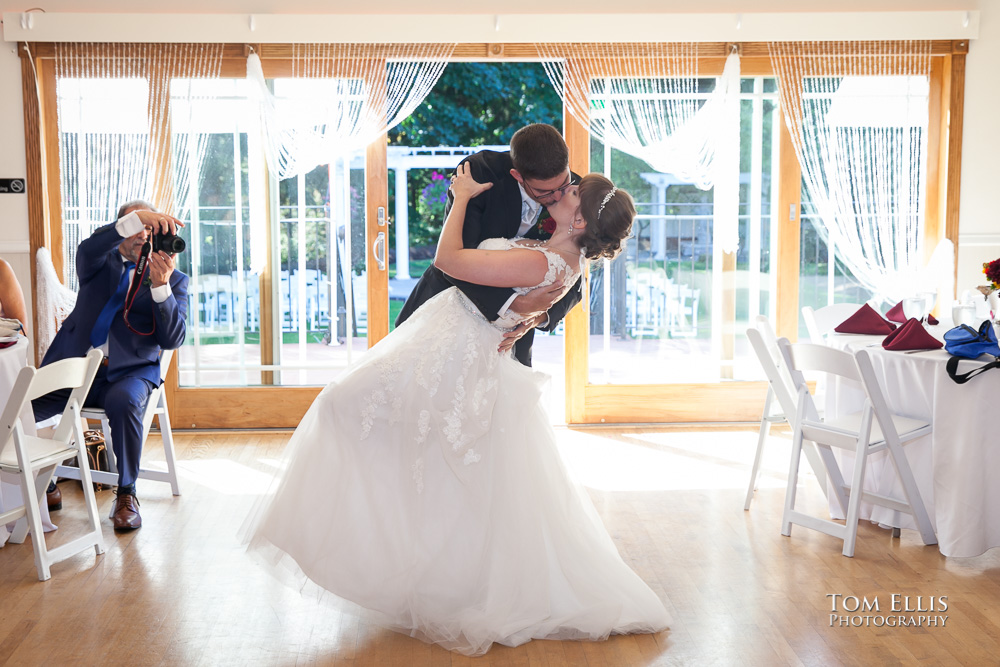 Anneliese and Mark get married at French Creek Manor
On September 2 I was honored to be the photographer at the wedding of Anneliese Striz and Mark Young, held at the French Creek Manor in Snohomish.  I first spoke with Anneliese over a year ago, when she came to see me to find out if I was the right match to be the photographer at her wedding.  At the time she was working on her PhD in Cell and Molecular Biology on the east coast, and the schedule of a grad student meant that her ability to actually visit me in person was going to be very limited.  After we talked and emailed a bit, Anneliese and Mark decided that I was the right person to be their photographer, and we arranged to meet when Anneliese would be in Seattle in early October.  I had really enjoyed our conversations and thought she would be a great bride to work with, and when we met in person I all of my feelings were confirmed, and I could tell that this was going to be a fantastic wedding.
Getting ready at French Creek
Skip ahead 11 months and we are now at the big day!  This was planned to be a morning wedding, followed by brunch and games on the lawn at the venue.  As you know if you live in/near Seattle, we were enjoying a crazy nice summer and the forecast for the Labor Day weekend was for more of the same, sunny skies and warm to hot temperatures.
The forecast was dead on, and when I arrived at French Creek a bit before 9AM it was already showing that the weather was going to be spectacular.  I did a quick walk around of the grounds to see where the light would be best for photos, and was very happy with what I found.  Next stop was to the basement of the venue, where Anneliese was just finishing up getting into her dress.  She looked amazing!  We got a bunch of great "getting ready" shots (some of which you'll see shortly) and then it was time to get Mark ready for his "First Look" of Anneliese in her dress.  Mark had finished his own getting ready procedure a bit earlier, and was already out in the yard where the ceremony was to be held later that morning.  I got Mark located in a nice spot and then brought Anneliese outdoors so she could move in for the "reveal".
After giving the two of them a few minutes to appreciate how good each other looked, we moved into getting some photos of the two of them.  The morning light filtered through the large trees in the yard made for some great photo lighting, and I would have happily taken pictures until the lighting changed.  But the guests were due to arrive soon, so we wrapped up our photo session and Anneliese moved back to the basement to get out of sight of the guests as they entered the venue.
The Wedding Ceremony
While we had been taking photos, the rest of the wedding party had been busy getting ready and Maid of Honor Iris and bridesmaid Alexis, as well as Anneliese's twin sister Andrea, were hanging out waiting for Anneliese to join them.  We got more photos of the four ladies together as they helped Anneliese put on her veil and do any necessary final adjustments.
And now it was finally time for the ceremony!  We made our way upstairs and met up with Mark and his groomsmen; his brother Mark (Best Man) and best friend Toby.  Along with Mark's parents (Judy and David), Anneliese's parents (mom Elise and husband Jeff, dad Fred and wife Ivelisse), and the flower girl Sophia we got everyone ready for the processional.  Once everyone was in the correct order the processional began and the wedding was underway.  Anneliese's sister Andrea was the officiant, and her comments had everyone laughing.  Both Anneliese's mom Elise and Mark's mom Judy also spoke.
The Reception
At the conclusion of the ceremony the guests all moved inside the Manor for Mimosas and a variety of pastries while the family and wedding party stayed outside so we could take the formal photos that we had not taken before the ceremony.  Once we finished the photos everyone moved inside except the newlyweds, who then made their grand entrance and went right into their first dance.  They had clearly done some practicing, and their first dance was one of the best that I have seen in a long time.
And now it was time for brunch.  Anneliese had told me that one of Mark's few requests for the wedding was that there be plenty of bacon, and (as another bacon lover) I am happy to report that this was indeed the case!  Everyone enjoyed a leisurely brunch, with people drifting back and forth between the outdoors and indoors and enjoying the beautiful day.  After a bit it was time for toasts, with Andea going first followed by Fred, Mark and Iris.  Then the party back outdoors, where people could either try out their skills at lawn bowling and corn hole, or just sit and enjoy the sunshine.
As the reception drew to a close everyone moved back indoors, where Mark and Anneliese did the traditional cutting of the wedding cake.  They had apparently agreed beforehand that there would be no cake-smashing, and the cutting process was done without either the bride or groom wearing any cake.
Enough of me talking, please scroll down and check out some photos from the day.