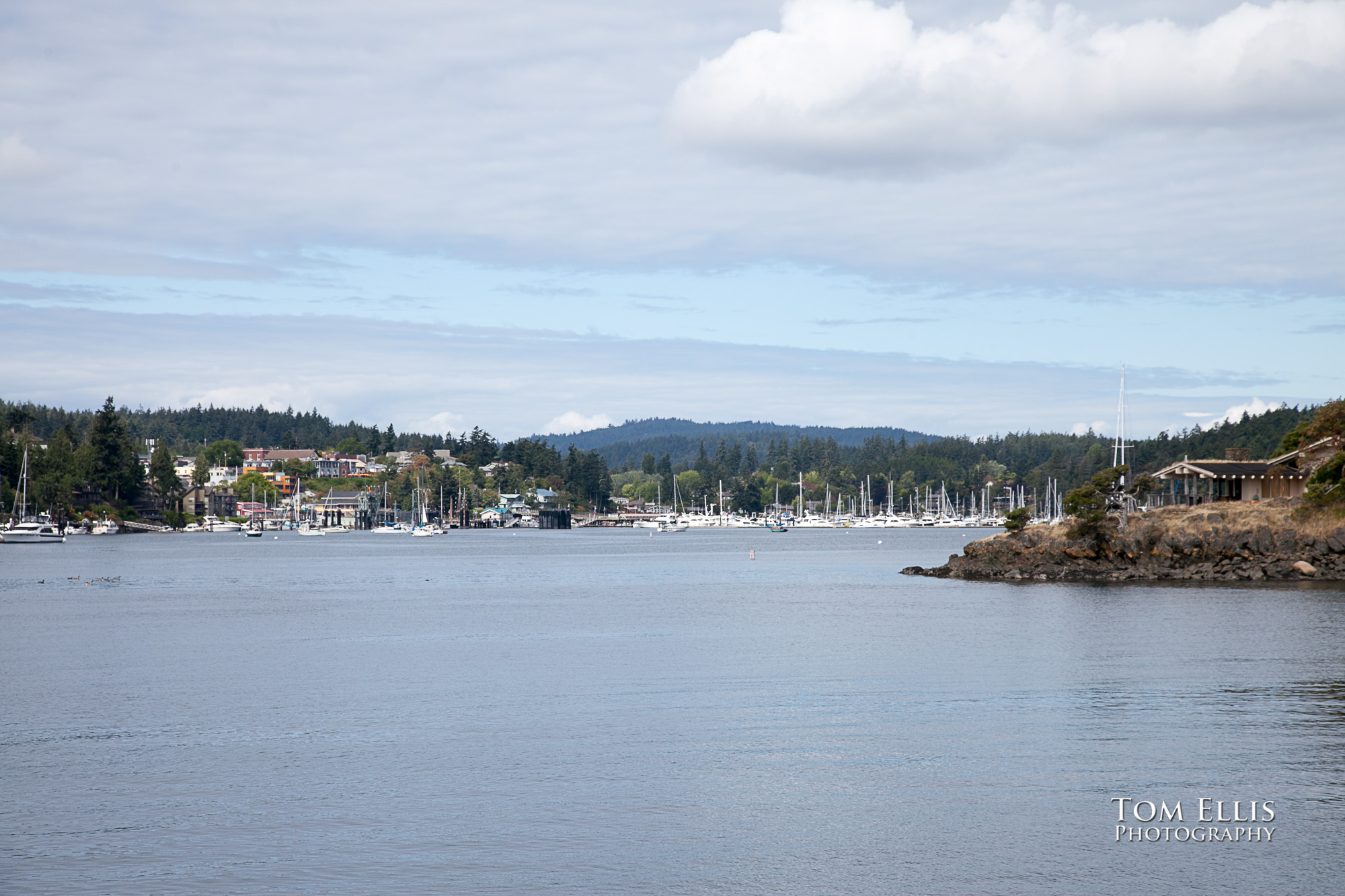 "Stag Cruise" to the San Juan Islands
Two weeks ago my father, my son Dan and I took a short boat trip together on my father's boat.  When Dan was younger we did this every year for several years, but as he hit his teens he lost interest in hanging out with Dad and Grandpa and the trips came to an end.  But my father needed to move his boat from moorage in Bellevue to Friday Harbor on San Juan Island so he and my mother could spend some time cruising the Islands.  I volunteered to help him get the boat moved, and when I mentioned the trip to Dan he said he would like to come along too.  So what my father had dubbed the "Stag Cruise" ~15 years ago was going to happen once again, if in a somewhat abbreviated form.
We spent the first day getting the boat out of Lake Washington, through the locks, and then made the long cruise north up Admiralty Inlet and across the Straits of Juan de Fuca to the San Juans.  We lucked out with perfect power-boating conditions, almost no wind and very little current, and had a very uneventful trip.  Not at all like some trips on the identical route that I suffered through as a kid, when we had our whole family on a 39′ sailboat and crossed the Straits under small-craft warnings with huge waves, and most of the family trying not to lose their lunch over the side of the boat.  Though I must admit those were some pretty exciting sails!
Once we reached Friday Harbor we moored at the dock of a good friend of my father's.  I call this a "dock" but it was as nice as any paid moorage or Yacht Club outstation I have ever visited, with a concrete float, water and power.  Dan and I walked ashore and spotted something on the beach that looked like a small log, but when we got closer we discovered it was a seal pup.  Initially we thought it was dead, as its eyes were closed and it made no response as we approached it.  It had an odd tag on the top of its head, looked like a little block of wood with "H2" printed on it had been glued to the pup's forehead.
When we got about 6 feet away the pup's eyes finally opened.  He had no fear of us, and just lay on the beach as we checked him out.  I had seen several adult seals in the bay as we were docking the boat, so I figured (hoped) that one of them was the pup's mother.  I took a few photos and we headed back to the boat.  For the remainder of our stay we kept an eye on the pup, and he was clearly quite mobile when he chose to be, moving up or down the beach as the tide changed, even crawling ~50 yds to the other side of the dock at one point.  But we never did see any other seals approach him.  We learned that the H2 tag had been placed on the pup the day before we arrived, and we watched other people approach and even pet the pup as he lay on the beach.
The next day we decided to motor over to nearby Deer Harbor on Orcas Island.  Dan had never been there, and I had not been to Deer Harbor since my early teens.  Another near perfect day for weather, though if we had been in a sailboat it would have been annoying because of the lack of wind.  We had a nice lunch on the dock at Deer Harbor, and took a few minutes to look over the schooner Adventuress, which was tied at the fuel dock.  Adventuress is a 133 ft schooner and a really beautiful old boat.  I had seen her under sail at various times over the years, but had never been able to get this close before.  I put a few of the photos I took below.
Then Dan and I had the bright(?) idea to rent bikes and do a little exploring.  Orcas Island has some SERIOUS hills, and Mt Constitution is over 2000 ft tall, but I looked at some topo maps and it didn't look like our planned course would be too bad, though there were going to be several decent hills.
We got our rental bikes and I discovered the flaw in my planning.  The seat on my bike would not go high enough to allow me to get full extension of my legs when pedaling.  So hills were going to be considerably more challenging than I had thought!  Still, our planned route was only a bit over 15 miles round-trip so I figured I'd be OK.  Big mistake!  The first hill we hit was short but steep, and while I made it over it was clear that the seat height was going to be a real problem.
We rode from Deer Harbor to the ferry dock, and then turned around and rode back.  I have to admit that twice on the trip back I stopped and walked for part of some particularly nasty hills; if I had been on my own bike I don't think I would have had any serious problems, but the rental bike just didn't fit me well.
The bike ride was beautiful, taking us around West Sound near the water at many times.  We discovered that cell reception on Orcas is rather spotty.  Dan got reception in a couple of places but my phone never did pick up a tower anywhere until after we left Deer Harbor on the way back to Friday Harbor.  Ba
The next day was our last, and we needed to catch a late afternoon ferry to Anacortes where my wife Sue was going to pick us up.  Dan and I did a little exploring in the inflatable boat we carry to use as a dinghy, and ended up at the main marina.  At the foot of the dock there is a seafood sales shack, and we noticed a good crowd of people looking into the water nearby.  When we got there we saw that the attraction was a rather well-fed looking seal, who we were told is a regular there.  She has learned that if she hangs out near the dock many people will feed her fish, and the seafood people happily sell tourists fish that they can feed the seal.
Finally it was time to head home.  Dad's friend gave us a ride to the ferry dock, and we walked on with all of our gear.  The final photo is a panorama of Friday Harbor taken from the stern of the ferry just before we left the dock.