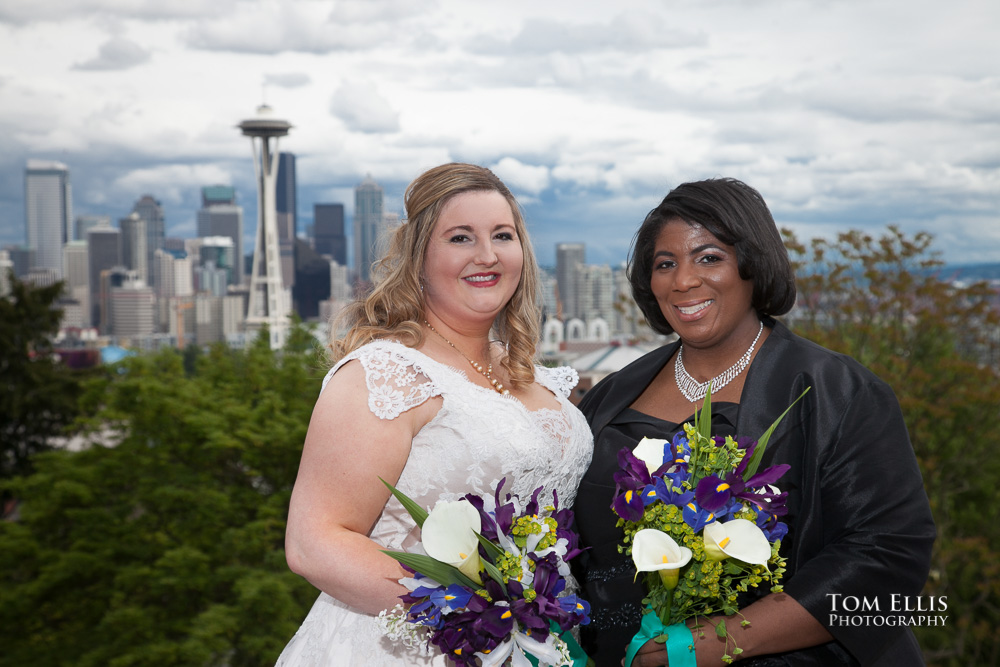 Happy 4th Wedding Anniversary to Erin and Stephanie!
Wow, time really does fly by!  I remember this wedding very well, it is really hard to believe that it was four years ago.  I posted a number of photos from the wedding in my blog, which you can see by clicking here – Erin & Stephanie get married at Epiphany Parish.
It was a crazy day, with us starting off with photos at Kerry Park and then planning to meet at another location for more photos, before going to the church for the ceremony and reception.  But traffic was horrendous and Erin and Stephanie's limo driver got lost, and by the time he figured out where he was supposed to be going it was too late to take photos at the other spot.  It all worked out fine in the end, we were able to meet at the church and get lots of good photos on the church grounds before the ceremony.
But what I remember most about this wedding was the reception.  It was held at the church, and was a fantastic party and celebration of the wedding of two really cool ladies.  A great dancing crowd, and a lot of fun to attend – even better since I got to photograph the whole thing!
Stephanie and Erin now have a beautiful little boy, who I am hoping to meet in the near future for a photo session with his moms.
Here are a few photos from the day, lots more on the blog link I listed above.