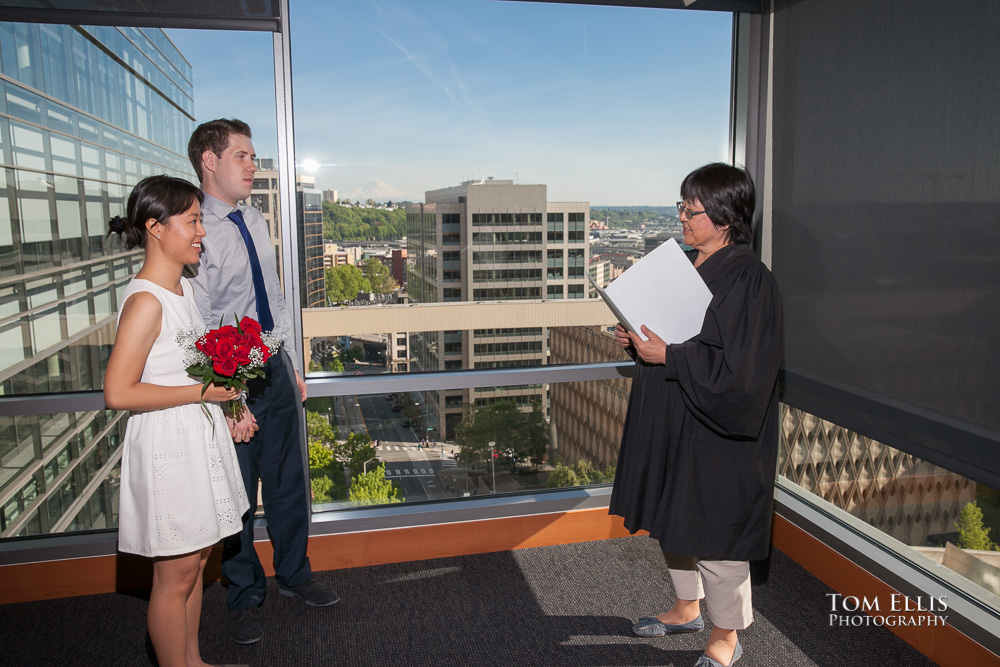 Happy Anniversary Claudia and Brandon!
I want to wish a very Happy First Wedding Anniversary to Claudia and Brandon, who were married just over a year ago at the Seattle Courthouse.  You can see a selection of photos from their wedding by clicking this link – Claudia and Brandon get married at the Seattle Courthouse.
Even though this was a springtime wedding, the weather that day was MUCH different than what we have been experiencing this spring.  Funny how this has stuck with me, but I remember very well that it was unseasonably warm, with temps in the upper 70s.  For those who have never visited the Seattle Courthouse, weddings are performed on either the 10th or 12th floor in very nice rooms, or if the weather is cooperative and the couple wishes, on a rooftop patio on the 12th floor.  Both of the rooms are spacious; the 12th floor room is the Jury Selection room and can easily accommodate groups of more than 20.  And you might be surprised how many weddings of that size are performed at the Courthouse!
The rooftop patio is my favorite place at the Courthouse for a wedding, with sweeping views to the south and west over Quest and Safeco Fields, with Mt. Rainier clearly visible if the clouds cooperate.  Obviously not the place where you want to have a ceremony in inclement conditions, and it can be a bit noisy as traffic sounds can usually be easily heard.  But still a wonderful spot for a small wedding ceremony.
Brandon and Claudia were only accompanied by Brandon's parents, and they opted to have their ceremony indoors on the 10th floor.  Another beautiful room, with a great view of the Smith Tower and South Seattle.
Happy Anniversary Claudia and Brandon, and I hope that you have many more!