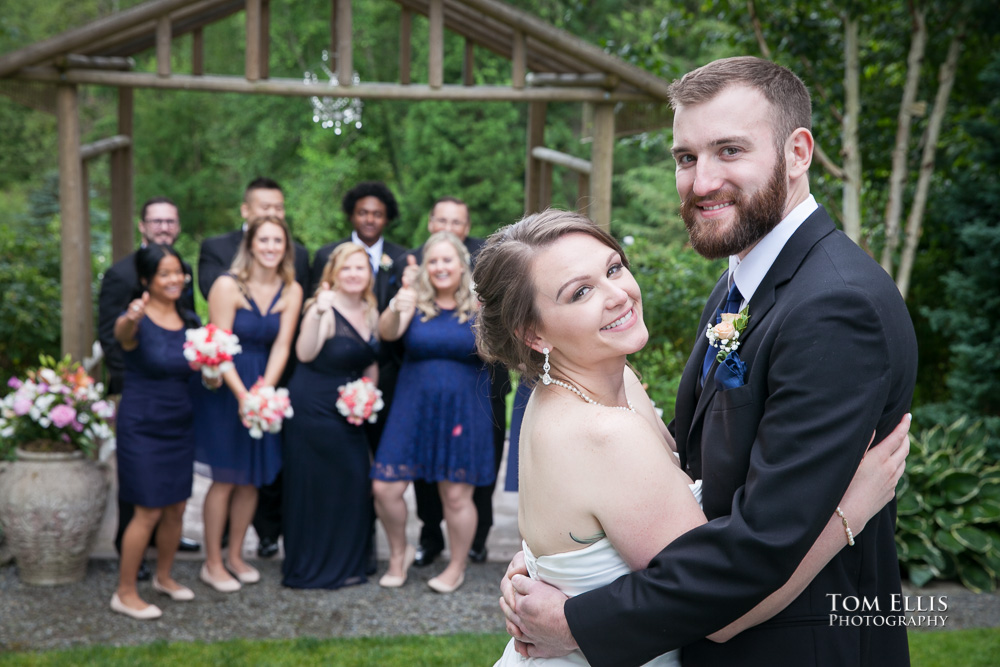 Happy First Wedding Anniversary wishes to Ashley and Justin!
I want to wish a very Happy 1st Wedding Anniversary to Ashley and Justin Draeger, married one year ago at Jardin del Sol in Snohomish.  This is a particularly easy anniversary for me to remember, because it also happens to be my birthday!  And as I told Ashley and Justin after the wedding, I got to go to a MUCH better party as their photographer than I ever would have had for my own birthday party!  😉
It really was a wonderful wedding, but I remember being very nervous in the days immediately preceding the wedding because the weather was rather wet, and while Jardin del Sol is a fantastic venue it is primarily an OUTDOOR venue, and anything more than a sprinkle would mean being unable to use to beautiful grass wedding area for the ceremony.  Unless of course you did not mind getting wet!
But apparently the "wedding gods" decided that Justin and Ashley did not need a rainy wedding, and while we had a few minor sprinkles early in the day it turned out to be very pleasant.  The ceremony and reception were absolutely wonderful, and I can't think of a better way to have spent my birthday!  🙂
You can see a pretty substantial number of photos from their wedding by visiting my blog posting, Ashley and Justin get married at Jardin del Sol