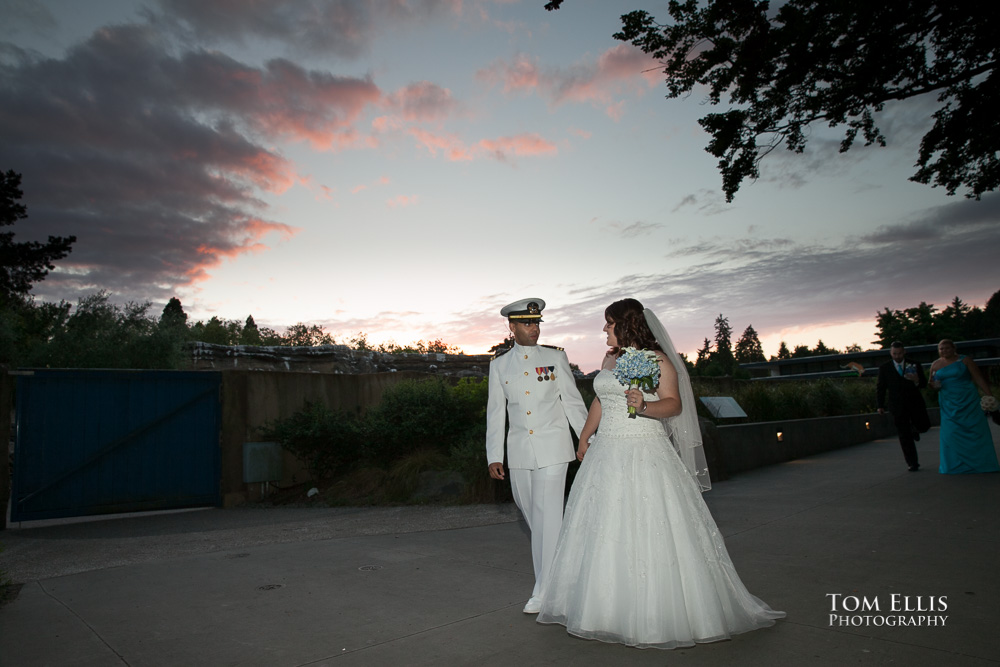 Seattle wedding photos at the Woodland Park Zoo
On June 11, 2015 I was privileged to be the photographer at the wedding of Jennifer Hallal and Cyle Hawkins.  We already had one photo session together just a few weeks ago, when I took their engagement photos at the Kubota Garden.  They chose a very cool location for their wedding, the Woodland Park Zoo in Seattle.  Cyle and Jennifer met on a blind date in the spring of 2013 in Pensacola.  Cyle was in flight school, and Jennifer was working on her undergrad degree in Psychology.  Apparently everything clicked from the very beginning, and they have been together since then.
The actual ceremony took place in the Northern Trail area of the zoo, on a deck overlooking the a habitat that includes both elk and wolves, and members of both species made their presence known both during and after the ceremony.
Best friends Kyle and Leah served as the best man and maid of honor, and another friend, Rob, got himself ordained online so he could perform the ceremony.
After the ceremony, the guests enjoyed drinks and snacks at the Tropical Rain Forest, while the wedding party and family stayed behind and took photos.  It must have been feeding time for the wolves, and they gave us a very nice (and loud) howling serenade while we were busy with pictures.  Once the photos were completed, everyone met at the Zoomazium for the reception.
Deck where the ceremony will take place, with several elk in the background.
There is a beautiful long wooded walkway that winds through and above the habitat, here the bride and her father are approaching the deck where the ceremony was held.
Note the elk on the hill in the background leisurely observing the ceremony.
I loved Jennifer's blue basketball shoes!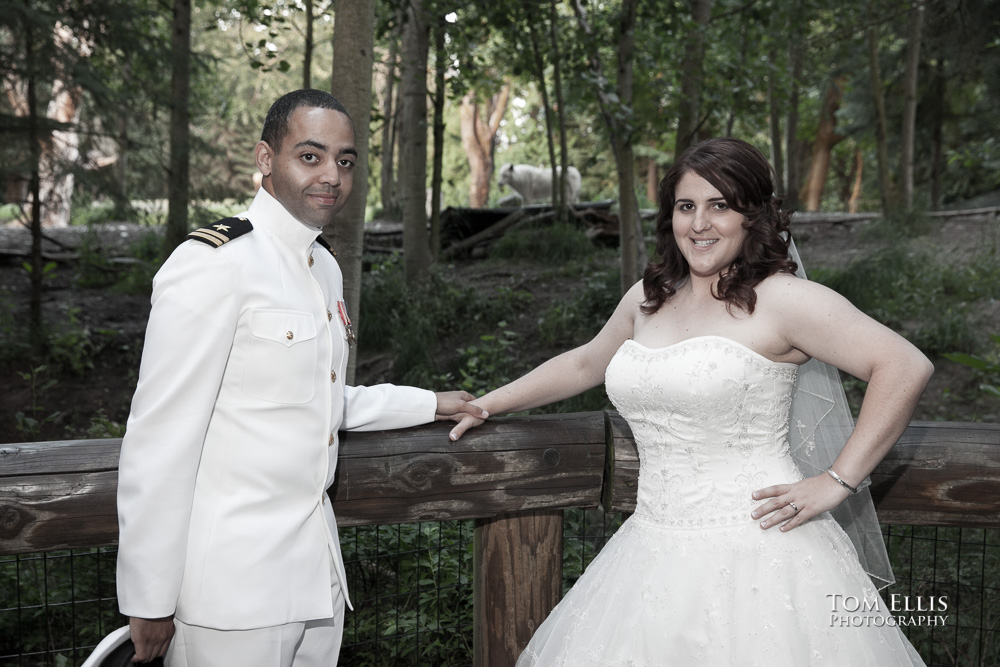 Look closely and you'll spot a white wolf in the background.  We got a nice serenade from the wolves shortly after the ceremony ended.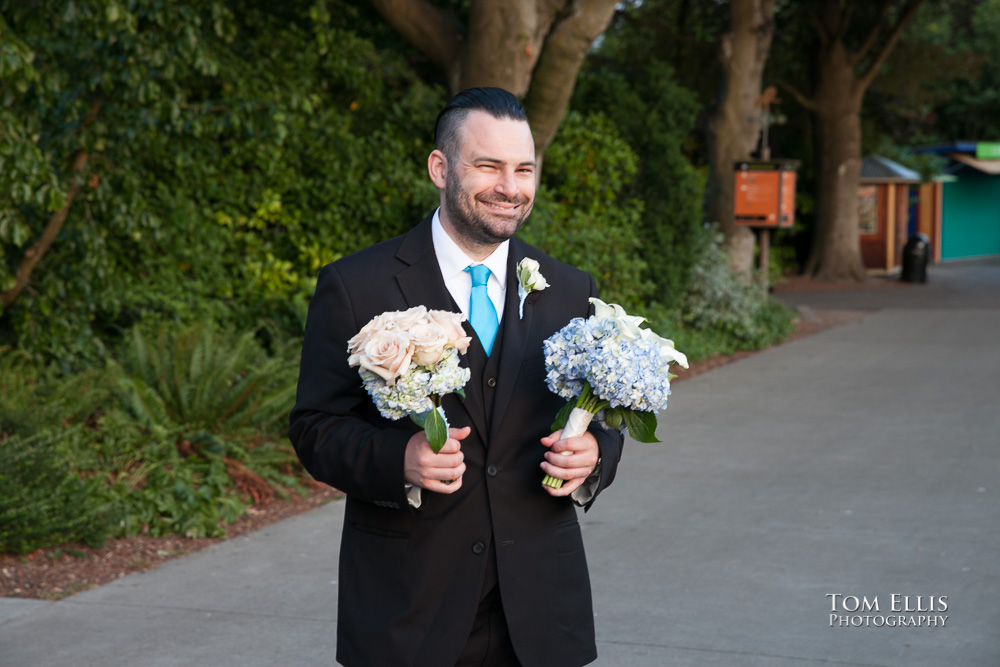 Best Man Kyle, better known as "K"
While walking to the Zoomazium for the reception we enjoyed a great sunset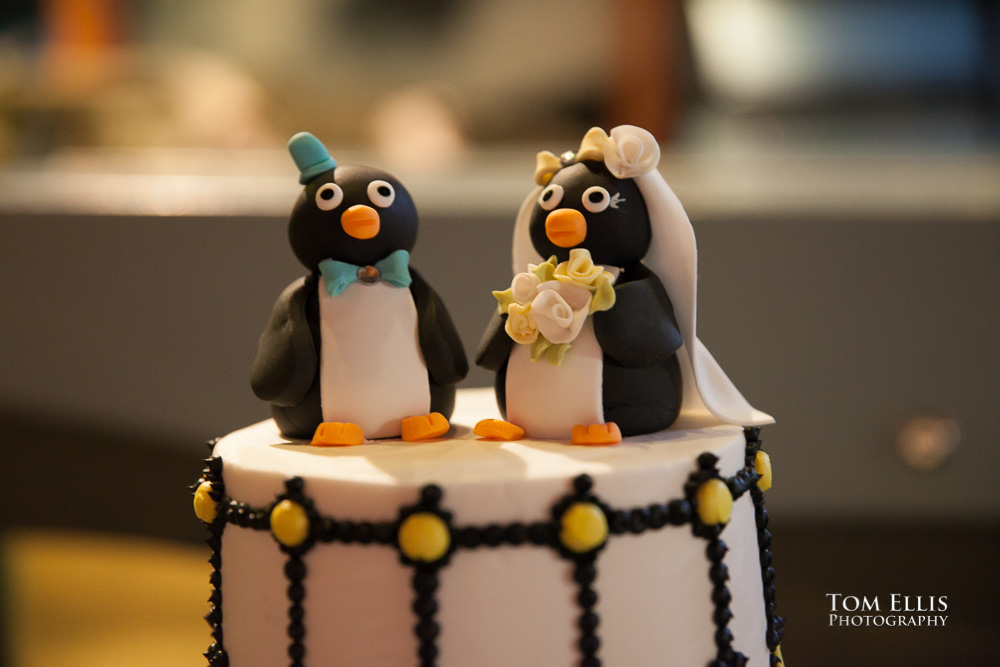 Wonderful penguin cake topper!
Jennifer on one of the slides at Zoomazium
Check out the ring!
Not many grooms own a sword, but Cyle is a Commander in the US Navy!  Cyle and Jennifer make use of his sword to cut their wedding cake.
The wedding party and guests pose for a group shot