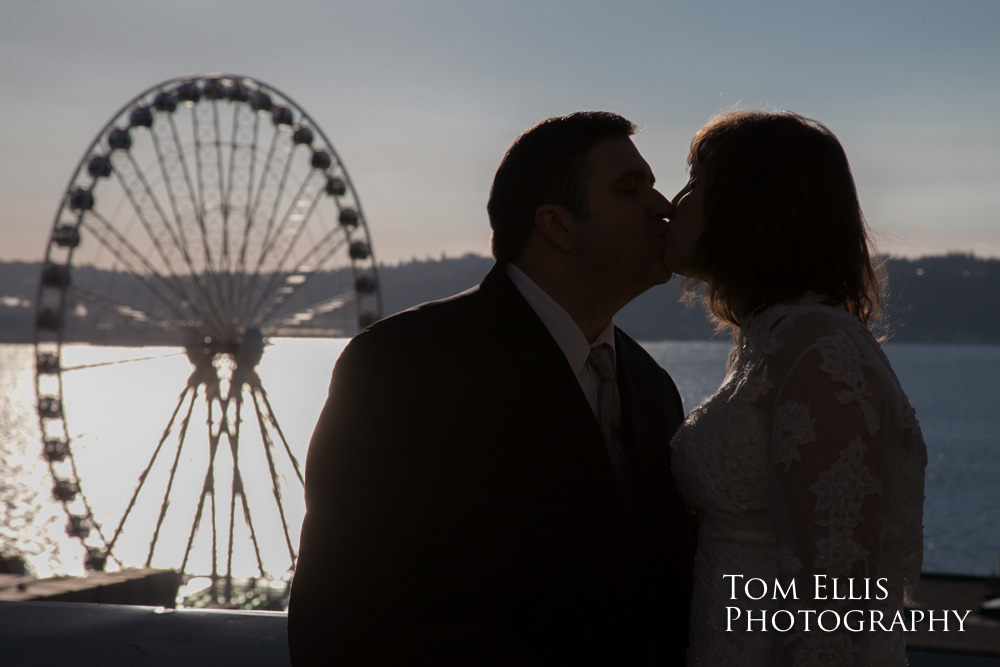 I have been taking wedding photos since 1980, and have photographed well over 1200 weddings. And I have seen a lot of crazy things happen over the years. But in all that time, I have never had a wedding like this one.
The plan was to meet the bride and groom (Jen and Jim) before the wedding and spend an hour or so wandering around Pike Place Market before meeting the rest of the guests at Maximilien for the ceremony and reception.
But we just started walking from the hotel to the market when Jim, who was wearing some rental shoes with VERY slippery soles, slipped on the sidewalk and landed on his left knee. After an initial scream of pain, he told us through gritted teeth that we needed to call 911 because he thought he had broken his knee!
An aid car was there within minutes, and at that point I went in to "photographer mode" and started taking photos of the scene. The ambulance arrived a minute or two later, and Jim was placed on a stretcher and he and Jen headed for the hospital. Before they left, I clearly heard Jim say "Don't worry Jen, we're getting married today!" But I must admit I had my doubts. The wedding was scheduled to start at 11AM, and it was now close to 10AM. Even if Jim was able to see a doctor quickly, he would probably still be in a lot of pain and not be able to participate in a wedding and reception. I and a few of the family members who were already there went to the planned location for the ceremony to let them know what had happened, and to tell any earlybird guests that there would probably be (at least) a delay in the plans for the day.
But a few minutes before 11 we got a call from Jen. She and Jim were leaving the hospital and would be back at the Market in 5 minutes! Sure enough, they pulled up in a cab and Jim climbed out, grabbed some crutches and headed for the restaurant.
The ceremony started a bit late, but Jim was able to stand with Jen and their two girls and they had a very nice ceremony. Jim then moved to a chair for most of the reception. But that he was able to be there AT ALL was a remarkable testament to his love for Jen and his determination to keep his promise to get married as planned.
As it turned out, Jim had completely shattered his kneecap, and returned to the hospital the next day for surgery to repair the damage. Consequently, Jim is now the first (and hopefully the last) recipient of my "Iron Man" award for the groom who truly went WAY beyond any reasonable expectations while enduring severe pain to make sure that his wedding came off as planned.
I have already talked with Jim and Jen about having another photo session so we can take some of the photos that we weren't able to do before the accident. Jen tells me that he should be back to normal in ~3 months, so sometime this spring we will meet at Pike Place and try again. And this time we will make sure that Jim wears some shoes that are actually designed for walking!