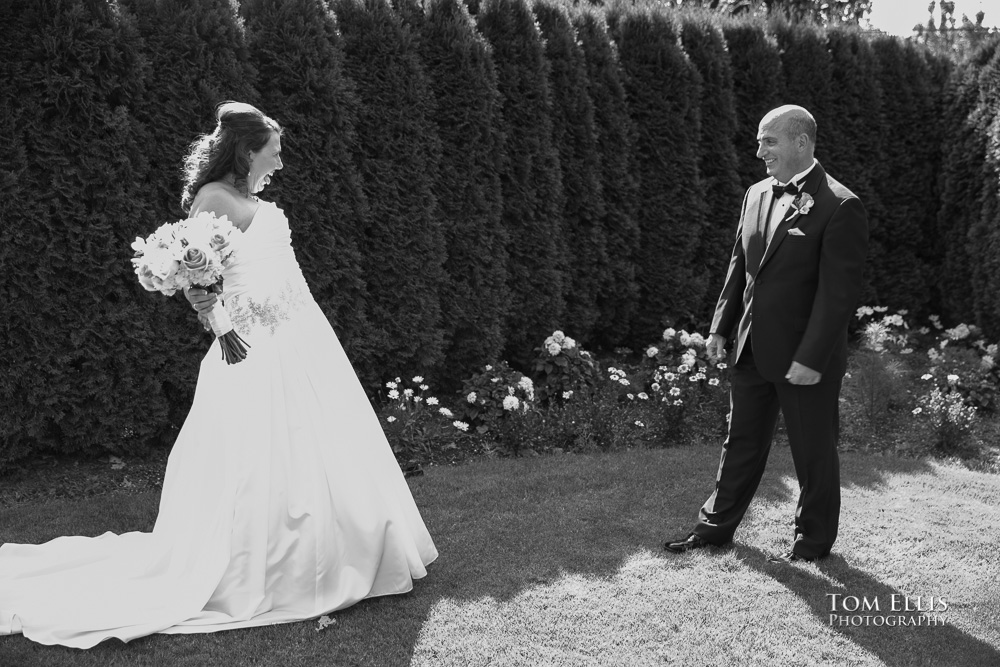 Seattle area wedding at the Hollywood Schoolhouse in Woodinville
A few days ago I did "sneak peek" with several photos from the wedding of Tony and Joyce on June 27.  I am really sorry for the delay in getting these photos online!  But I wanted to be sure that everything was properly edited before putting the photos online for all to see.
This was a fantastic wedding from start to finish.  The event took place at the Hollywood Schoolhouse in Woodinville, WA.  The original Schoolhouse was built in 1912, and while there was an extensive addition in 1994 the original brick exterior is otherwise almost unchanged.  Beautiful facility, and a wonderful place for a wedding.
I asked Joyce if the wedding had a theme, and she told me the following – "There was no theme, which made it easy.  The colors were aquamarine and coral.  We tried to keep it simple, have it be pretty without being garish.  We wanted to share our special day with our friends and family and not go over the top."
The day was gorgeous but hot!  We started photos ~4PM, and tried to do our best to stay in the shade, but the grounds of the Schoolhouse are just too nice and we found ourselves out in the sun as we moved around the outside of the venue.  Lots of great photo opportunities, and you'll see some of the results below.
By the time the ceremony began at 6PM things had cooled a bit.  The ceremony was held on the lawn behind the Schoolhouse, and was officiated by Marybeth Digledy, a Snohomish County judge and close friend of Joyce's.  The wedding party included Joyce's daughter Alexis, and Tony's son Matt and daughter Miranda.  The Best Man was Steve Peden, and the Maid of Honor was Jasmine Hutchinson.
After the ceremony cold drinks and appetizers were served outside on the lawn, and then everyone moved indoors for the remainder of the reception.  Fantastic food, good music and lots of great dancers!  DJ Eddy Mineishi was in charge of the music, and had the crowd dancing until it was time to close down the party.  Everyone had a wonderful time, truly a day to remember!
I did not know how Joyce and Tony originally met, and when I asked this is what she told me – "Joyce winked at Tony, and being the technical guy that he is he didn't reach out because she said she was looking to meet someone up to age 49 and he had just turned 50.  Luckily Joyce winked again and Tony quickly responded with a wink of his own and an email.  We went to coffee for our first date (safe 30-60 minute date) and talked for four hours (which surprised both of us as we completely lost track of time).  After their first date Tony cancelled a date he had made with someone else and dedicated his time to romancing Joyce and quickly sweeping her off her feet.  It was right between us from the moment we met."
For their honeymoon they spent a week+ in Jamaica at Sandals Montego Bay (lucky couple!),  they had a beachfront room, and managed to get in 5 dives while there.  Most impressive, they "unplugged" for the duration of the honeymoon and just enjoyed the location and being together as a newly married couple.