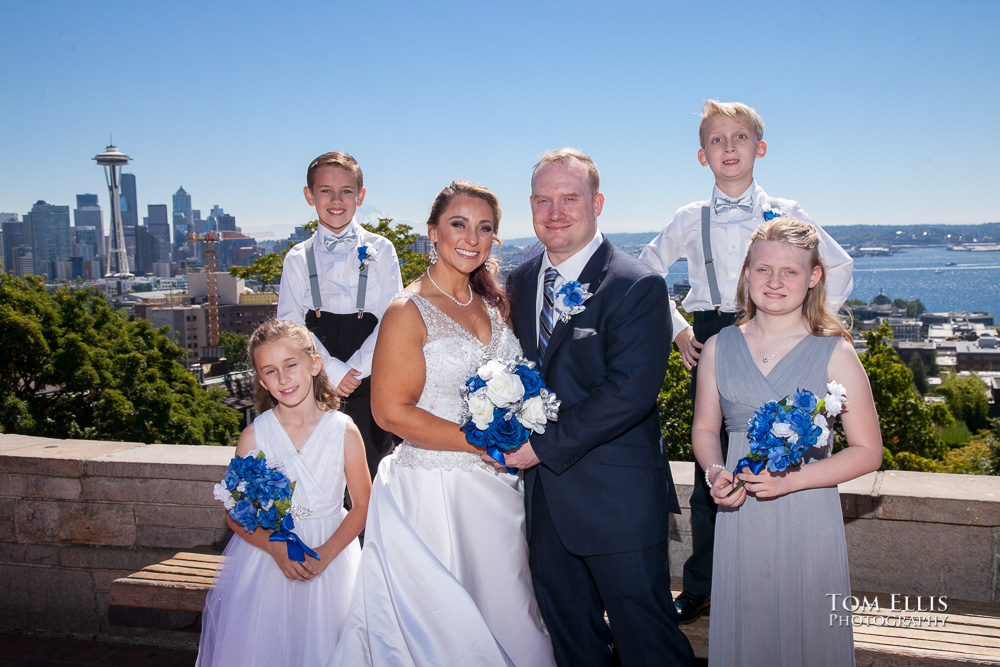 Richelle and Lance get married in Seattle on August 26, 2017
Okay, most of you who see this blog will look at the title above and think something along the lines of  "Of course they got married on Seattle!  That's why they hired you!".  But the point is that Richelle and Lance do not live in Seattle themselves.  They traveled all the way from Fairbanks AK to get married here; not exactly a short trip.  Especially when you consider that they were also travelling with their 4 kids from previous marriages; Amelia (12), Ethan (10), Joaquin (9), & Ariana (8).
When Richelle first contacted me about being their photographer we discussed lots of possibilities for places where we could get some good photos of their group.  Because the actual wedding and reception were taking place at Zoe's on Capitol Hill, we narrowed the choices down to Volunteer Park (which is practically  just down the street from Zoe's) and Kerry Park.  Even though Kerry Park is a 15 minutes drive from Zoe's, after talking with Richelle about the kind of photos they wanted I thought this would be a better choice.  The final decision was not made until the day before the wedding, after Richelle and Lance and their kids had been in town for a few days, and we knew that we were going to have perfect summer weather.
Photo session at Kerry Park
The day of the wedding the plan was for everyone to meet at noon at Kerry Park for some "First Look" photos for Richelle and Lance, and then photos with their kids and some family and friends who were also in town for the wedding.  However, things quickly got a bit screwed up.  After Richelle finished her hair and makeup, she and some of the ladies were trapped in very slow moving traffic on an I5 traffic jam that had turned the freeway into more of a "creepway".  The wedding gods were definitely laughing at us at that point.
While we waited at Kerry Park I took advantage of the chance to get some photos of the kids, as well as several of the friends who were there for the wedding.  Once Richelle arrived I got Lance into position and we got some great photos as Lance saw Richelle in her wedding dress for the first time (and it was a fantastic dress!).  We then moved on to taking photos of the couple, their kids, their friends, etc., pretty much every combination we could come up with.  As I said earlier, the weather was about as perfect as it gets in Seattle during the summer; sunny skies and a very pleasant warm (but not hot) temperature.  Since this was a Saturday, there were a LOT of other people enjoying Kerry Park at the same time we were there, with tour busses arriving every 20-30 minutes with another batch of tourists wanting to get photos of the Space Needle and Mt. Rainier.
But I have done photos many times at Kerry Park, and we managed to stake out a prime piece of real estate to allow us good photos without a bunch of "photo bombers" ending up in every photo.  We got a lot of good photos of Richelle and Lance and the kids, as well as Lance's parents Jean & Delwin, matron-of-honor Jennifer Luke, and her daughters Aaliyah (9), & Adeline (6 months).
Ceremony and Reception at Restaurant Zoe
After wrapping up the photos at Kerry Park it was time to move on to Restaurant Zoe on Capitol Hill for the ceremony and reception.  Once again things got slightly complicated, as the cake needed to be picked and brought to Zoe's.  So Richelle and the kids headed for Zoe's in one car, while Lance took another car to make the trip to the bakery for the cake.  Traffic on I5 was still ugly, meaning strategic use of side streets was a must, especially for Lance.  I still don't know just how Lance did it, but even though he had to drive considerably further than the rest of us he arrived at the venue only a few minutes after the rest of us.  Unfortunately there was a casualty during the drive – one of the wedding cakes managed to get shaken about a bit, and was definitely looking the worse for it (see the photo below).  But no one really cared, we were all here for the wedding and a somewhat smooshed cake wasn't going to dampen any spirits!
The ceremony went perfectly, with all four kids as well as Jennifer (Matron of Honor) and Delwin (Lance's father and best man) standing with the couple during the ceremony.  Friend Elizabeth Swan performed the wedding ceremony.  And we soon had not just some newlyweds, but a brand new family.
Everyone there had a wonderful time at the reception that followed, which included toasts by Jennifer and Delwin as well as the cutting of a rather interesting looking wedding cake by Lance and Richelle.  🙂
Enough of my yacking.  Here is a selection of photos from the day, I hope that you enjoy them!