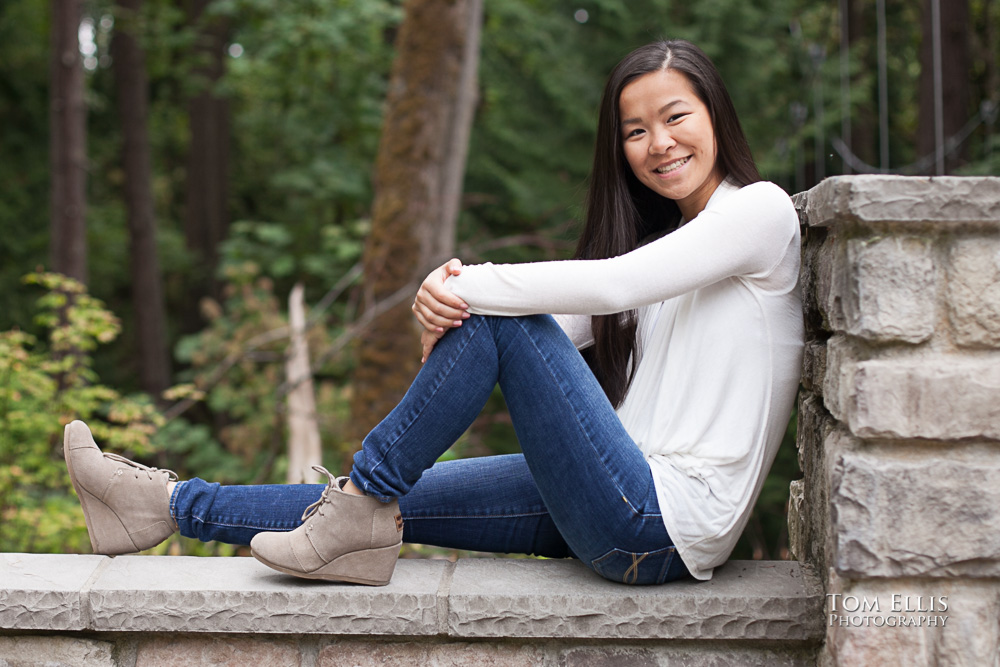 Senior photo session at the Bellevue Botanical Gardens
Time for some high-school senior photos!  This is Linley Porter, a senior at Bellevue High School.  I photographed her older sister a couple of years ago, and she was very photogenic and a lot of fun to work with.  Linley was even more photogenic than her older sister, and we had a great session.
We met at the Bellevue Botanical Gardens for our photo session.  This is one of my favorite locations in the Bellevue area for senior pictures, but (unlike most Bellevue parks) there is a fee to take photos here so it is not usually a location that I suggest.  The Gardens have a wide range of backdrops available for photos, especially during the summer.  Lots of flowers, a Japanese garden, wonderful deep woods, waterfalls and even a cool suspension bridge over a ravine.
We spent about 2 hours wandering the various parts of the Garden, and I took a ton of photos.  As I said earlier, Linley is very photogenic and it was hard to take a bad photo of her; except for a couple of "blinkies", and those don't really count.
Here are Linley's favorite photos from the session, I hope you enjoy them!
To see a larger version of the horizontal photos just click on the picture, and a larger photo will open in another window.