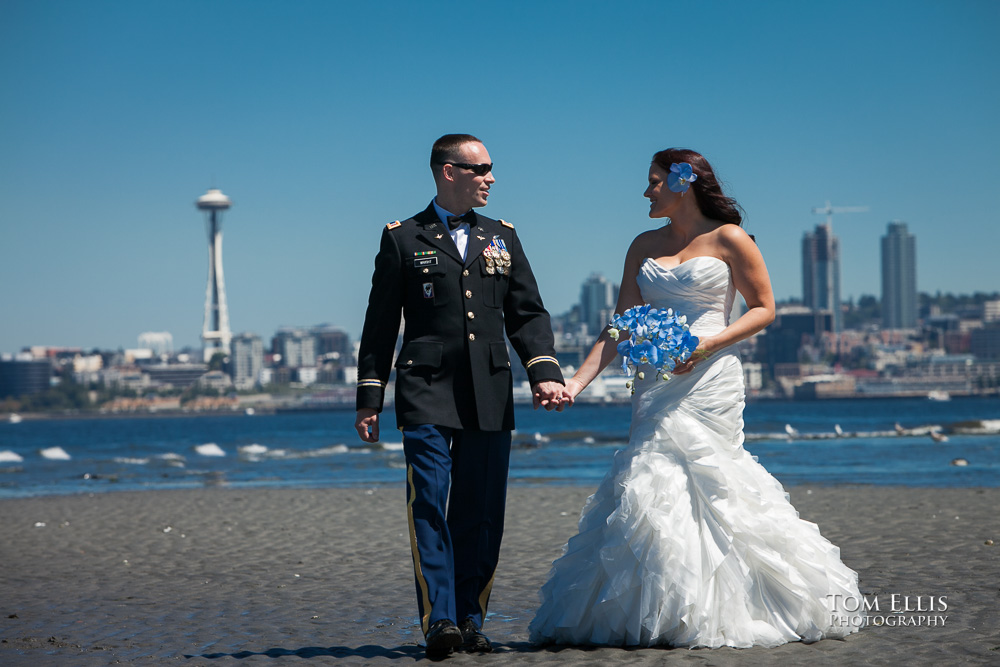 Seattle wedding photography – Luna Park in West Seattle
On a gorgeous summer day on July 31, Lisa and Justin were married at Luna Park in Seattle.  For those of you who are not familiar with this park, it is at the location where Seattle once had a large, Coney Island style amusement park that operated over 100 years ago, between 1907 and 1913.  On this particular day we had a very large minus tide, and the exposed tide flats showed evidence of the pilings that had once supported the amusement park.  Not a frequent occurrence, and the exposed beach let us take some fun photos.
Justin is a Blackhawk helicopter pilot, and he and his fellow pilots planned a special surprise for the wedding.  Just before the ceremony began, we got a rather close flyover by some of Justin's friends in a Blackhawk.  I had never seen one other than on TV or movies,and was impressed with the size of the copter; that is a big beast!  And at only a couple hundred feet overhead we could really see just how big it was.
Once the Blackhawk had flown off, the ceremony began.  The conditions were perfect.  Even though the temp was already well into the 80s, the breeze blowing off Puget Sound kept everyone cool.  The backdrop of the Olympic Mountains to the west, and the Seattle skyline to the east, meant that almost no matter where you looked the view was spectacular.
Justin wore his dress uniform, and Lisa looked fantastic in her gorgeous dress. The ceremony was conducted by Ricardo Quintana, their pastor from New Life in Renton.  Ricardo is moving to California soon, and Lisa and Justin were delighted that he was able to take the time to conduct their ceremony in the midst of getting ready to move.
There is a very cool story behind the flowers that Lisa had in her hair and bouquet.  She wanted to use flowers in the wedding just like the first flowers that Justin had given her.  But she didn't realize that this type of orchid needed to be injected with a special dye at just the right time to bloom blue, and at the time of the wedding none were even available to order.  But Lisa's aunt Laura came to the rescue.  Laura is a florist, and figured out a way to airbrush the flowers to just the color that Lisa and Justin wanted.  I was shocked when Lisa told me the flowers were airbrushed, they looked perfect and completely natural.  I never would have known or guessed if she hadn't told me.
After the ceremony I took Lisa and Justin out onto the exposed tide flats for some photos.  Fortunately Lisa did not care that her dress was would almost certainly get muddy (at best), and we wandered around taking photos until we realized that the incoming tide was going to cut off our access back to the shore if we didn't get moving fast!  After a bit of splashing and wading we made it back to the actual beach.  Sure enough, the dress had gotten more than slightly dirty, but Lisa was fine with that.
According to Lisa, she and Justin met when she decided that she would like to learn how to defend herself, and her cousin suggested that Justin teach her how to shoot.  Lisa was hesitant, and Justin really didn't want to give lessons, but obviously things ended up working out rather well!
Here is a selection of photos from the day, I hope that you enjoy them and will leave some comments for Lisa and Justin to see.