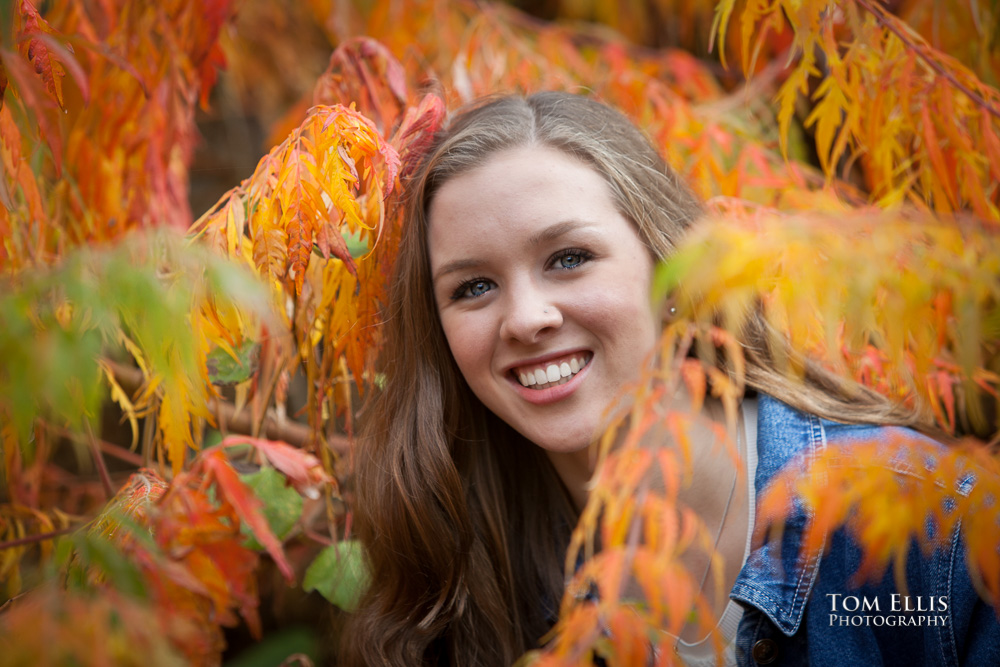 Seattle area senior photos – Mary at Chism Park
I have known Mary for several years.  I took her sister Julia's senior photos a few years ago, and I also am one of Mary's coaches on the Bellevue High track team.  Before choosing where she wanted to have her photos taken, we talked over the possibilities.  There are a crazy number of good locations for senior photos in the Seattle area, so making a decision really wasn't easy.  Mary finally chose Chism Beach Park in Bellevue, only about a mile from Bellevue High.  Chism is one of my own favorites, because it offers so many varied backdrops, everything from deep woods to grass to water.  This time of the year there are usually some nice fall colors, so we made our plans and then hoped that the weather gods would smile on us the day of the shoot.
We planned the session for a weekday morning, at a time that Mary had no classes.  When we met at the park, it was a bit cold and gray.  No rain, but also no sign of the sun, which was hidden behind heavy clouds.  We started our session in the wooded part of the park, where Mary demonstrated her athleticism by climbing out onto a fallen tree for some photos, about 15 feet up in the air.  As we moved through the park the sky kept getting brighter, and after about an hour we actually had fairly sunny conditions.  Mary was an excellent model, and had a number of ideas for photos.  I always like it when my clients have some definite ideas of what they want for their photos, since it lets me do a better job of really personalizing the pictures.
We had a lot of fun with the session, finishing up in one of my favorite patches of ferns (good thing Mary isn't afraid of spiders!).  Here is a selection of photos from the day.