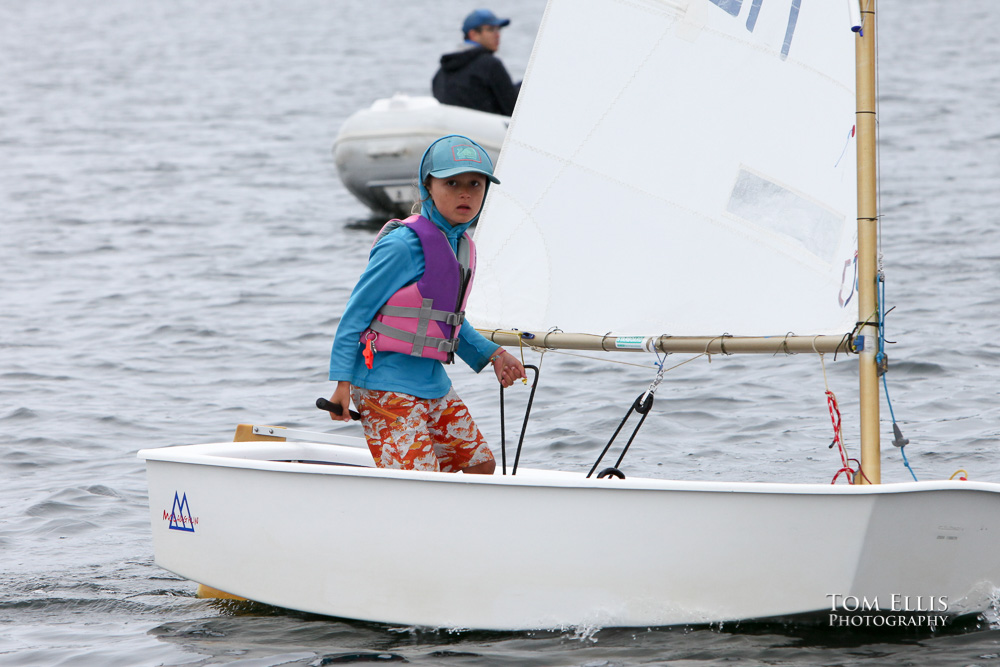 Youth Sailing Races at Meydenbauer Yacht Club
Last Saturday July 25 I spent a few very enjoyable hours in my speedboat taking photos of the Milfoil sailing regatta held at Meydenbauer Yacht Club on Lake Washington.  I help run the Youth Sail program ay MBYC, and was in charge of the racing program for a couple of years.  Our family has always been avid sailors, literally spending time sailing well before we could walk, on the many sailboats that my father owned over the years.
The Milfoil races are held on almost every weekend from late June through late August, at a variety of locations on Lake Washington.  There are ~6 youth sail programs on the lake, and all cooperate in setting up and running these regattas.  Kids as young as 6 and as old as 18 compete in a variety of sailboats, including Optis, Lasers and V15s.  There is a wide range of skill levels, but the races tend to be pretty competitive and are certainly always a lot of fun!
The morning of the race, it was quite grey and drizzly, and I found that I needed to put up the cover on my boat to stay dry.  There was a light breeze as the racing began, but the weather quickly improved and the wind came up nicely, blowing hard enough to make for good racing but not so hard that capsizing was an issue (though there were a few close calls!).  Roughly 15 boats sailed in the three classes, and over the space of two hours 9 races were sailed.  I followed the boats around a did the best I could to get some good shots while also staying out of the way.
Afterwards there were awards and pizza!  The kids all did a great job on the water, and everyone there had a great time.