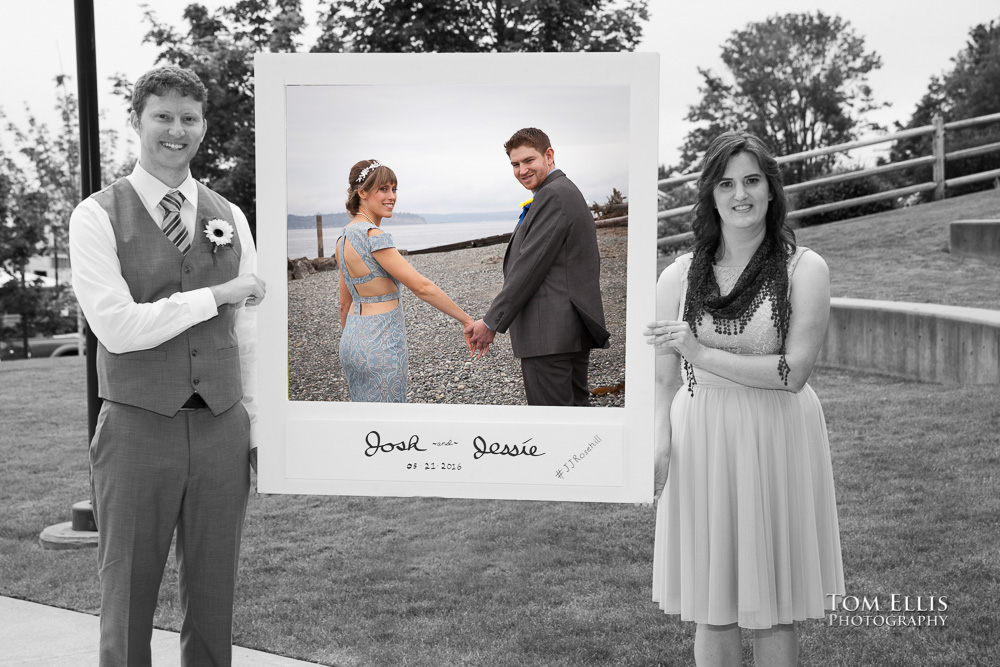 Jessie and Josh at Rose Hill in Mukilteo
Jessie and Josh were married on May 21 at the Rose Hill Community Center in Mukilteo, a very nice (and also quite new) venue that overlooks the Mukilteo beach and ferry dock.  I met Jessie in 2012 when she was a bridesmaid at the wedding of Jessie and David Sterling, and I was very happy when she and Josh contacted me about photographing their wedding.
Jessie and Josh are hard-core world travelers, having visited 6 countries in the past 4 years, and I don't think that counts their honeymoon which was spent in Cambodia.  I am looking forward to seeing the photos they post from their honeymoon trip, too bad they didn't need a full-time photographer to accompany them!  😉
The day began with the wedding party getting dressed at Rose Hill, where I met up with them for a few dressing room photos.  Once Jessie and Josh were ready, we set up a "first look" for the two of them just outside the center.  It had been fairly wet all morning, but by the time we started the photos things had improved and all we had was an occasional light drizzle.
After we finished the first look photos, I drove Jessie and Josh down the hill so we could take some photos on the beach, and at the historic Mukilteo Lighthouse.  The weather continued to cooperate, with no worse than what I would describe as "spitting".  Because the weather was less than perfect, we had most of the beach to ourselves, and spent some time taking photos just with Jessie and Josh.  We were soon joined by the rest of the wedding party, and after some beach photos we moved to the lighthouse to get some shots there as well.  We got lucky and only had to wait a short time before the soon-to-be-married couple was able to climb to the top of the lighthouse so we could get the photos we wanted.
Then it was back up the hill to Rose Hill for the ceremony.  Because the weather was still a bit iffy, Jessie and Josh had decided to hold the ceremony indoors.  The great thing about Rose Hill is that there are HUGE windows in the main room, and the extra elevation of the room gives a great view out over Puget Sound as a backdrop, actually better than if held on the lawn.  So in some ways it is actually a better place for a ceremony than outdoors.
The ceremony went perfectly, and we soon had some brand-new newlyweds!   We then dragged EVERYONE in attendance outdoors so I could get a group shot of the whole bunch, as well as some shots of both Jessie's and Josh's extended families.
Bridesmaids – Lisa Enell, Tracy Michaels, Marie Enell, Jessie Sterling, Rebecca Bilyeu
Groomsmen/women – Mike Jasklowski, Daniel Stokely, Eliot Winder, Laura Moss, Will Lockmiller
Officiant – Sascha Alexander
Catering – Fare Start
Following is an assortment of photos from the day, I hope you enjoy them!