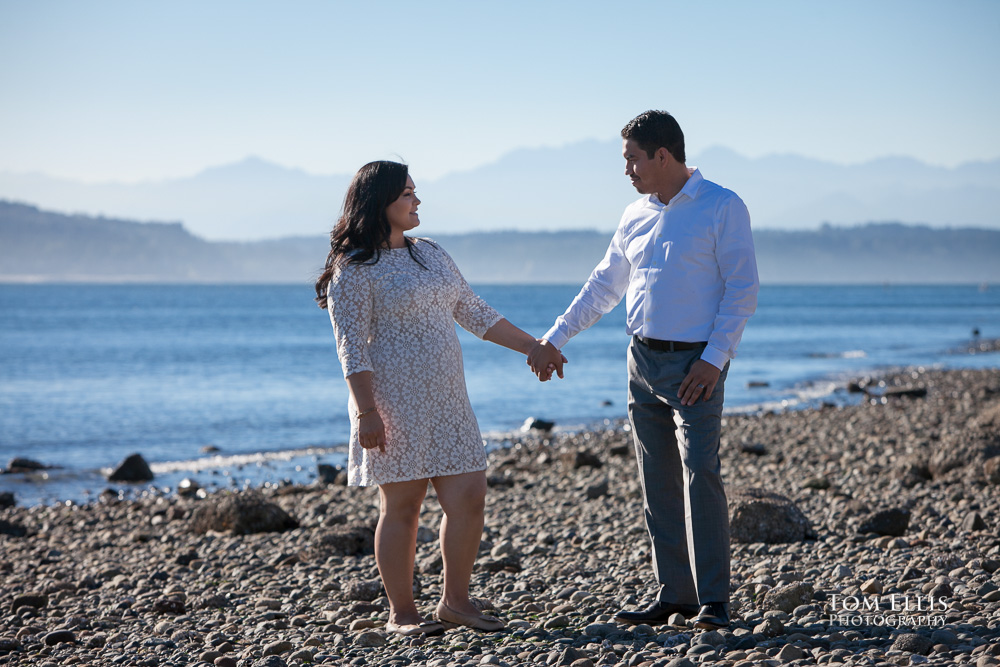 Couple's post-wedding photo session on Alki Point
I was contacted by Baltazar several weeks ago.  He and his fiance lived in the Sacramento area in California, and they were planning to come to Seattle to get married the next week.  They wanted to get married at the Seattle Municipal Courthouse, and had seen samples of my work at other courthouse weddings online and hoped I'd be able to be their photographer.  I have photographed numerous weddings at the Seattle Courthouse, and after talking to Baltazar for a few minutes it was pretty clear that he really did not know how the process worked.  I gave him as much info as I could about how the logistics of a courthouse wedding worked, and recommended that he contact the courthouse ASAP to find out what he would need to do to get married in Washington as a California resident.
It was a good thing I gave Baltazar that advice, as he discovered when he called that the process of applying for a wedding license would not be complete by the date he and his fiance Yolanda planned to get married.  So we talked again, and the new plan was for Baltazar and Yolanda to get married in Sacramento and then fly to Seattle the next day.  We talked over possible locations, and they really wanted to get some photos with the Seattle skyline in the background, as well as Puget Sound if possible.  I immediately recommended Alki Point, where I knew we could hit a couple of different viewpoints that would give them the photo backdrops they wanted.
Baltazar and Yolanda did not have a car, and had an Uber drop them off near the old Luna Park location on Alki.  I met them there, but the bright sun made that a bad spot for photos so we moved on to another place where the sun would not be such an issue.  We started our photo session near Salty's where we had a great look back across Elliot Bay at Seattle.  We took advantage of that viewpoint, as well as some convenient trees that let me get some nicely backlit closeups.  The I drove them across to the other of the point to a spot south of the lighthouse that I like to use for photo sessions.  Wonderful views across the sound to Vashon and Bainbridge, as well as the mountains of the Olympic Peninsula.
At the conclusion of the session I drove Baltazar and Yolanda back to Salty's so they could get dinner before getting another Uber back to their hotel.
Here are some photos from the session, I hope you enjoy them!