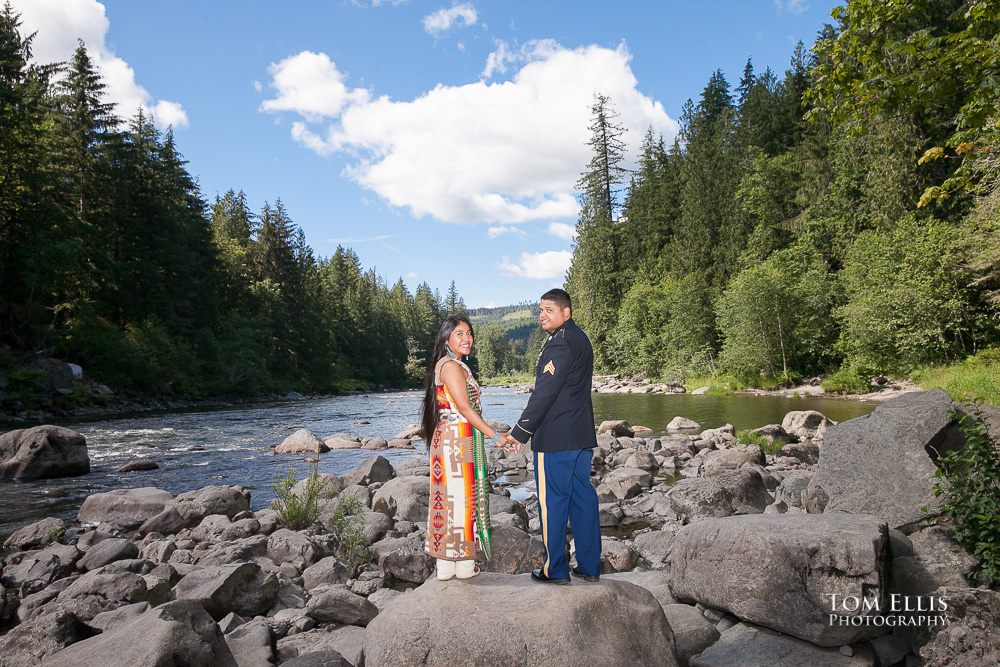 Newlywed photos at Snoqualmie Falls
A couple of months ago I was contacted by Cheryl, who is in the army and stationed in Utah.  She and her new husband Devon, who is also in the army but stationed in California, were planning a trip to the Seattle area to visit some friends and relatives and wanted to have some "couples photos" taken while they were in the area.  They had gotten married in Washington DC in the spring, but Cheryl told me that their photographer had not been very good, and they did not have any good photos of the two of them.
Cheryl and Devon were not sure just where they wanted to have their photo session.  They debated between a more urban setting in Seattle such as Pike Place Market, or something more scenic.  I gave them several suggestions, and they decided on Snoqualmie Falls, certainly one of the Seattle area's best known landmarks and a great place for photos.
The day of the shoot we didn't even mess around with pictures in the park at the top of the falls, but instead went straight to the trail that allows you to access the base of the falls.  Unfortunately when PSE rebuilt the walkway at the base of the falls a few years ago they made it next to impossible to walk along the river as had alway been possible in the past, but the walkway still ends at a place with a nice view of the falls.
Devon wore his dress military uniform, and Cheryl, who is Native America, wore an amazing native outfit that unfortunately did NOT look like it was designed for an 80F day!
After taking photos at various places along the walkway, we moved to the far side of the lower power plant where we were able to get out into the river and get photos of Cheryl and Devon on large rocks.  WE finished by taking a brief walk into the woods near the powerhouse to take advantage of the great light coming through the trees.
Here are a few of the photos that we took, I hope you enjoy them.