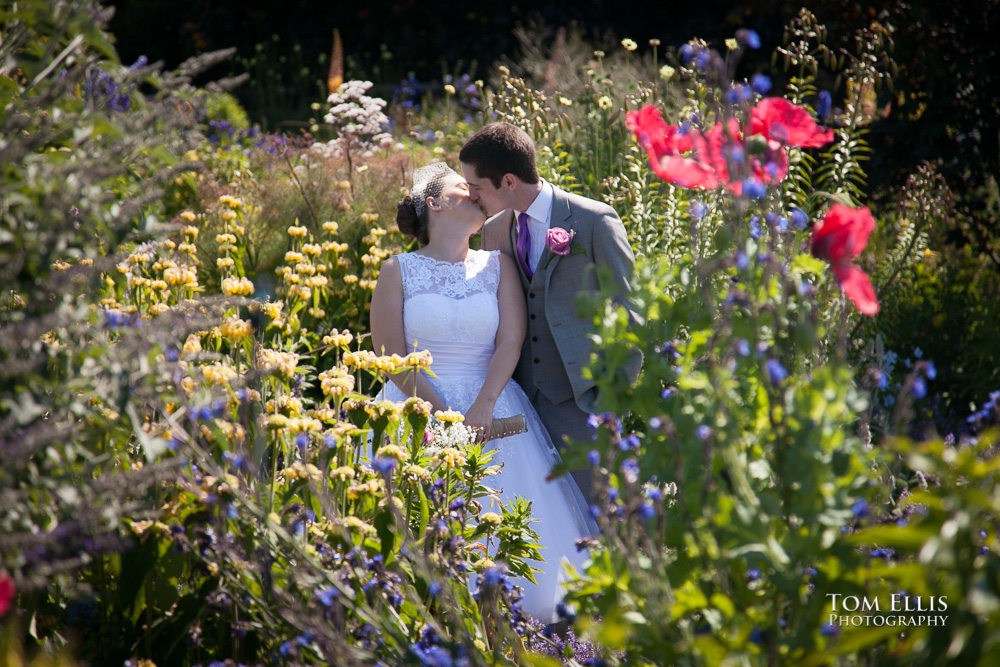 Wedding photography at the Cutting Garden in Sequim
Here is a selection of photos from the wedding last Saturday June 20 at The Cutting Garden in Sequim WA.  Over the years I have photographed more than a dozen weddings at The Cutting Garden, even though it is a nearly 3 hour drive from Seattle.  This is because while it is not exactly a close-in venue, it is simply gorgeous, and couples who are fortunate enough to discover it fall in love with the beauty of the venue.  The gardens are amazing, with flowers of pretty near any color you can imagine.  The Olympic Mountains form a fantastic backdrop to the south.  Even when I have photographed weddings in the rain at the Garden, it has still been a wonderful experience.  And the wedding of Nichole and Andrew was no exception.
I did an engagement photo session with Nichole and Andrew last fall, you can see that session on this page.
The weather for the day was pretty nearly perfect, sunshine and low 70s.   And since it was rainy and windy the day before, everyone breathed a sigh of relief when the sun made an early appearance and then stuck around for the rest of the day.  Nichole and Andrew arrived early and helped with the setup for the day, along with their families.
This was a garden-themed wedding with a purple palette.  The choice of theme was clearly a no-brainer, as this is one of the most beautiful gardens in Western Washington.  Nichole and Andrew wanted to make their wedding something fun, and didn't want a traditional church wedding.  Since (according to them) neither can dance, they decided to go with lawn games for the reception.  You'll see many of the games in the photos below.
The wedding was officiated by Clare Hatler, from the Unitarian Church in Sequim.  Nichole's mother was in charge of arranging the flowers, and they came out great.  Her job was made at least a little easier since the Garden itself provided such an amazing display of flowers that other than bouquets and table decorations, not too many other flowers were needed.
The wedding party consisted of Andrew's best friend Brad acting as the best man, and Nichole's sister Jessie as the maid of honor.
Enough of my yammering, here are the photos!  Hope you enjoy the pictures, and please feel free to leave comments!