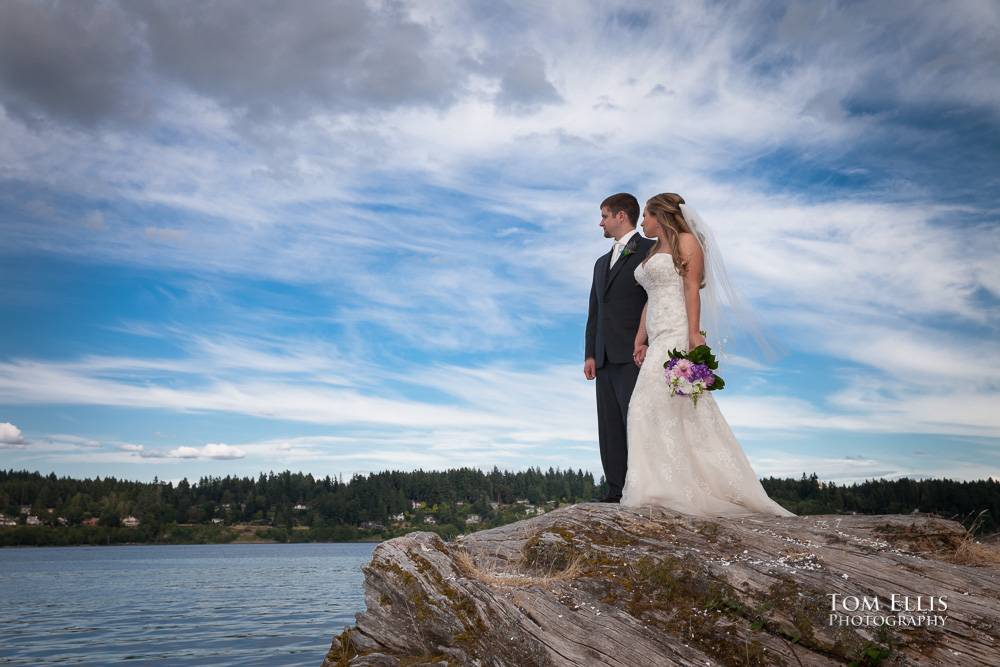 Seattle area wedding photography at Kiana Lodge
On July 12 I was fortunate to be the photographer for Sarah Harris and Ryan Cherwien at their wedding at the Kiana Lodge in Poulsbo.  The Kiana Lodge has long been one of my favorite Seattle area venues, and when I was hired by Sarah and Ryan for this wedding last summer I was already excited to think about having another chance to shoot a wedding there.
Sarah and Ryan and I met up in early June for their engagement photo session, you can see some of those photos by clicking on the link.  It was a lot of fun working with them for those photos, and I knew that the wedding was going to be something special.
Though we had been dealing with temps in the low 90s just a few days earlier, the weather gods smiled on us on Sunday and gave us a beautiful sunny day with a much more tolerable temperature, especially for those wearing tuxedos for the wedding.  Kiana always does an incredible job of decorating their facility with amazing flowers, and today was no exception.
Sarah and Ryan had elected not to see each other before the wedding ceremony, so I got a few shots of the ladies as they got ready and also some of the guys as they waited for the ceremony to get under way.  The ceremony was officiated by Ryan's uncle, David Lechelt, and everything went perfectly.  The Ambrosia String Quartet provided music for the prelude and postlude, and a choral group made up of family and friends sang during part of the ceremony (and they were very good!).
Once the ceremony concluded we took care of all the family and wedding party photos, then everyone got down to the business of having a great party!  DJ Scott Fijolek did an incredible job of providing music throughout the reception, and once the dancing got underway he kept everyone up on their feet and on the dance floor.  Scott even got out on the floor himself to teach the group the steps to a couple of dances.
One of the highlights of the dancing was an impromptu dance by Dan Harris and Stephen Cherwien, the fathers of the bride and groom.
While Sarah and Ryan did have an actual cake for the cake-cutting ceremony, they went a different route and rather than cake had a selection of pies available for dessert.  And judging from the one that I tasted they were all excellent!
After a lot of dancing the party finally had to come to an end.  It was a great day, and I had a blast working with Sarah, Ryan and their family and friends.  Following is a selection of photos to give you a good overview of the day.  I hope you enjoy the pictures!