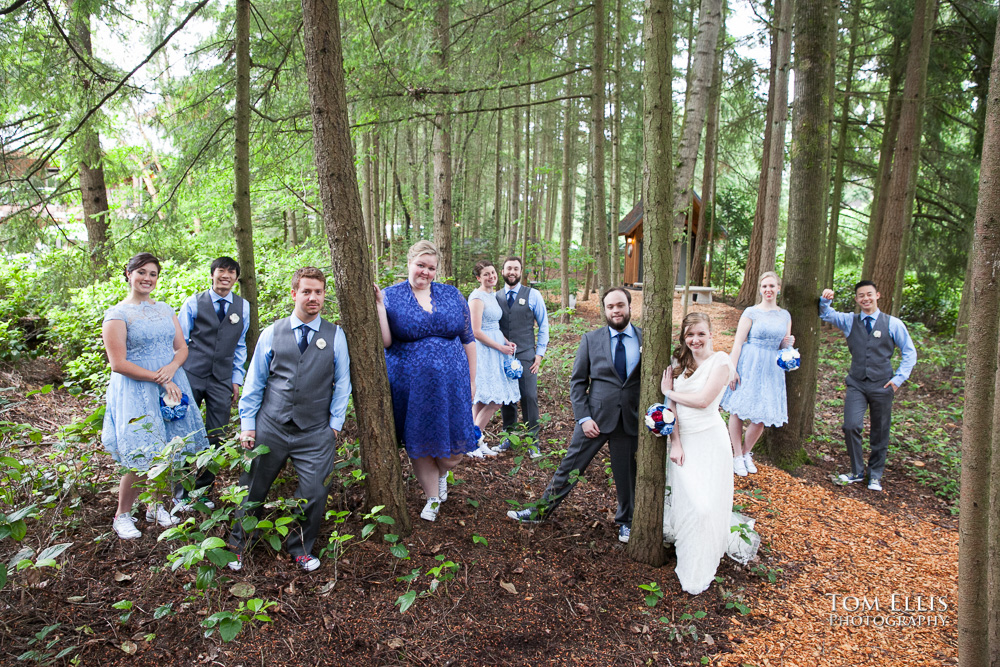 Kelly and Taylor – now "More Married"!
On May 28 Kelly Hartmann and Taylor Manners were married at the Dragonfly Retreat, a very nice (and relatively new, only in operation for a couple of years) venue located in Bothell.  I did Kelly and Taylor's engagement photos last February and really enjoyed working with them, and had been looking forward to this wedding.
But before going any farther there is something you need to know.  This is NOT the first wedding for Kelly and Taylor!  They have actually been married for over a year, and this ceremony and celebration was held so this time their friends and family would be able to come and have a party.  The theme of the wedding was "Kelly and Taylor get MORE married" which pretty much says it all.
They have a pretty cool story for how they met.  Kelly is from Holland, and Taylor is from Los Angeles.  A couple of years ago, Taylor was a student at UCLA while Kelly was going to school in Amsterdam.  Not exactly a couple who would be likely to ever meet!  But in one of those crazy quirks of fate, they both wanted to travel and study abroad, and both decided that the place they wanted to go was the University College in Dublin, Ireland!  For more on how they actually met, here is what I was told by Kelly –
"Taylor and I met in Dublin at a dancing party called a céili, that was organized in the introduction week for all the exchange students. We initially thought it was just a party where they would do some Irish dancing for us; little did we know the audience was expected to dance as well! What happens next is a little unclear. Taylor believes he asked me to dance but I think I asked him. Either way, we danced together all night and exchanged phone numbers afterwards.
After our semester in Dublin was over, we did the whole long distance relationship thing for a while, with lots of traveling back and forth, until we decided to get married! By that time Taylor was living in Seattle, I moved in about six months after he moved up, and we got officially married in March 2015. Because that wedding was more dominated by visas and paperwork and what not, it was really small and casual. Only when all of that was over with did we have the time to plan a real wedding, which was the one we had last week. So this is how we got more married (our wedding hashtag is #hartmannersgetmoremarried for hartmann + manners and because we were already kind of married)"
The weather the day of the wedding started off rather gray and damp, but by the time I arrived at Dragonfly the sun was making brief appearances through the clouds.  Dragonfly Retreat is located in fairly deep woods, and I was hoping that we would be able to make use of the woods for some of the photos.  Not so feasible if the day is very dark.  But by the time Kelly and Taylor were ready for their "first look", the weather gods had decided to smile on us and conditions were quite nice.  We made use of numerous locations on the Dragonfly grounds for the photos with Kelly and Taylor and well as the wedding party and family, as you will see in the photos below.
Kelly's parents, as well as a number of other relatives and friends, had made the trip from Holland to be there for the wedding.  Thank goodness that Dutch kids all learn English, or the language barrier would have been interesting.
The ladies side of the wedding party was made up of maid of honor Kim Hartmann (Kelly's sister), bridesmaids Kaitlyn Manners (Taylor's sister), Amanda Manners (Taylor's sister-in-law) and Lotte Morskate.  For the guys, the best man was Jason Manners (Taylor's brother), Eric Jue, Roger Ho and Alex Barrick.  Both the men and women had found special shoes for the wedding, low-top Converse basketball shoes in silver for the girls and purple (including super-hero shoelaces) for the boys.  The ladies' bouquets were incredible artificial flowers created by Kelly and the other ladies in the wedding party.  Really beautiful work!
The ceremony was officiated by Taylor's father, and went perfectly.  After the ceremony everyone enjoyed appetizers and drinks while the tables were set up for dinner.  Even though a light rain had started, some of the guests were still playing Cornhole out of the lawn.
A great dinner was provided by Pacific Northwest Catering and was enjoyed by everyone.  After dinner the dance floor was opened for real, and most of the guests spent at least some time dancing.
At the conclusion of the evening, there was a great send off for the "more-married" not-so-newlyweds, with all of the guests armed with sparklers to wave goodbye.
A LOT of photos from the day are below, I hope that you enjoy them, I sure had a lot of fun taking them!