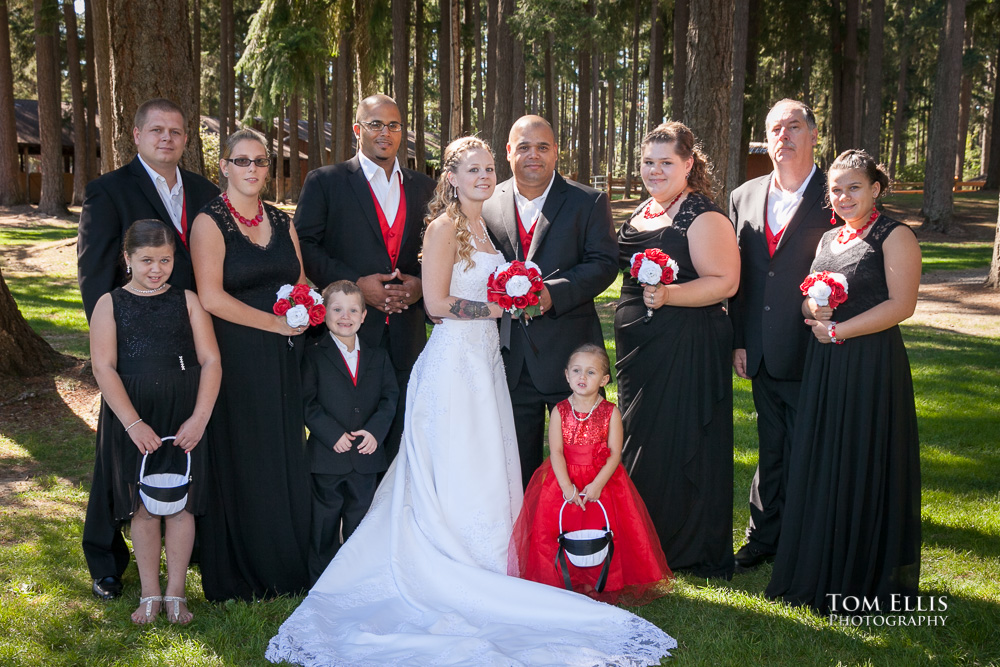 Wedding of Jessica and Mark at the Frontier Lodge
Jessica and Mark were married on September 14 at the Frontier Lodge in Graham in front of their family and friends.  This was a mid-week wedding, so the crowd was relatively small.  I had never been to the Frontier Lodge, and was very curious to see the building and grounds.  because of Graham's location, there are great views of Mt. Rainier form many locations, and I had high hopes that the Lodge would be situated such that i could get some good shots of the bride, groom and wedding party with the mountain in the background.
Wouldn't you know it, there was no view of Rainier from anywhere on the Lodge grounds!  But that was OK, because the grounds were quite nice with lots of trees and grass.  the day was quite warm and sunny, so being able to hide in the shade of the trees would help for the photos.
The ceremony was held inside the Lodge building, which is large enough to accommodate a much larger crowd.  Jessica was escorted down the aisle by her father, and her kids acted as flower girls and ring bearer.
After the ceremony we moved outdoors for photos of the family and wedding party.  Then it was back indoors for a late lunch and some traditional wedding reception activities.
Some photos from the day are below, I hope you enjoy them!