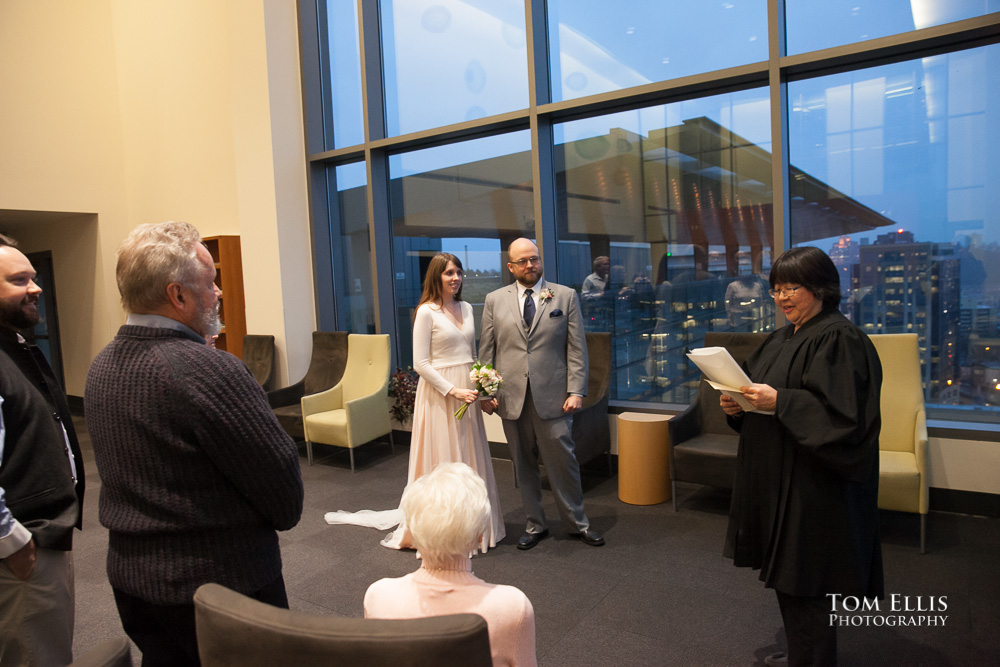 Seattle Municipal Courthouse Wedding
Two weeks ago I had the pleasure of working with Julia and Matt as their wedding photographer.  I always like to ask the couples that I work with how they met; it is fascinating how this has changed over the last 20+ years.  Julia is a fairly recent transplant to the Seattle area, while Matt is a long-time resident.  And as an ever growing percentage of people are doing, they met online (I believe through Match.com).  Of course, 20 years ago there were no online dating services so the odds that Matt and Julia would have otherwise met is quite small.  My own research with "my" wedding couples is that roughly 1/3 of them first met online.   With most of the couples both people already lived in Seattle when they connected online, but almost half the time they lived in widely different parts of the country, further increasing the odds that they would never have met without the Internet.
Julia and Matt had decided to do a small wedding at the Seattle Courthouse, with just a small number of family and friends in attendance.  The Courthouse holds weddings every weekday after 4:30PM, and most of the times I have been there to photograph a wedding there are multiple couples waiting for an appointment with a judge to perform their ceremony.  I have been the photographer at several dozen weddings at both the Seattle Courthouse and the King County Courthouse, which is located just down the street.   The size of these weddings varies from just the bride and groom to groups of up to ~30; larger groups just won;t fit into the available spaces.  At two of the weddings I photographed at the Seattle Courthouse I was recruited to be one of the witnesses to the ceremony!
We planned to meet at the Seattle Library at 3PM, to give us time to get some photos before the 4:30 check-in time at the Courthouse.  The weather was not exactly cooperative for outdoor photos, so we started at the outer part of the Library in some covered areas and then moved indoors and took photos at a variety of places inside the library.  If you have never visited the Seattle Library, it is a very cool building with unique architecture that allowed us to take some very fun and cool photos.  Unfortunately I had not known that professional photography is "frowned upon" inside the Library unless a fee is paid, but we still managed to get a good selection of photos before we had to leave.
At the Courthouse we were met by Julia and Matt's families, and after waiting a bit for a judge to be available Matt and Julia were married in a very nice room with a great view over the south part of downtown Seattle.  After getting some family shots the entire group took off for Ray's Boathouse for a celebratory dinner.