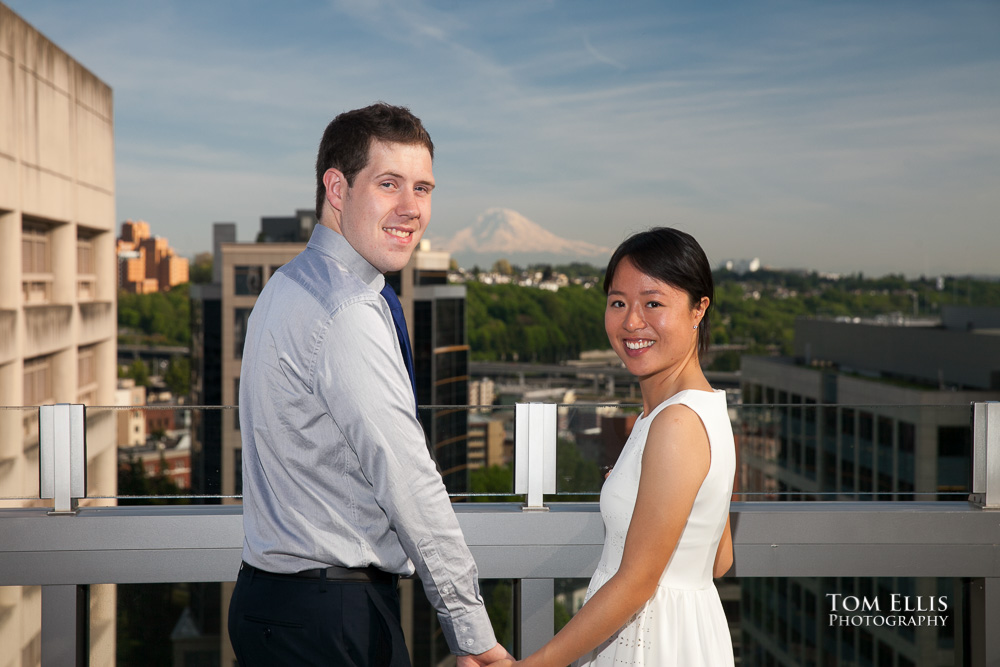 Seattle Courthouse Wedding – Claudia & Brandon
I was contacted by Brandon several weeks ago.  He and his fiance Claudia were planning to elope soon, and he wanted to know if I was available to photograph their wedding at the Seattle Municipal Courthouse.  We corresponded by email over the course of a few days, discussing the options for photos both at at near the courthouse.  Of course, with an April wedding in Seattle you always have to take into account the "X-Factor" of the weather when planning for any outdoor photos.  But as I told Brandon, one of the great things about the courthouse is that there is a very nice rooftop location for photos, that even will allow for some good outdoor photos in less than perfect conditions, and in nice weather offers some great views of south Seattle and Mt. Rainier.
As it turned out, the weather was not only good it was just about as perfect a day as anyone could hope for, sunny and warm, actually setting a record temperature for the date!  I met at the Claudia, Brandon and Brandon's parents Randy and Nancy at the courthouse.  Randy and Nancy had made the trip from their home in Texas to be present at the wedding.  After Claudia and Brandon checked in with the clerk, we took a few shots in the hallway/waiting area, while we waited for a judge to be free to conduct the wedding.
The wait wasn't long, and we were soon ushered into a very nice (and very spacious) room for the ceremony.  Beautiful views out of the floor to ceiling windows, though the bright sunshine necessitated the use of shades.  The judge placed everyone into position, and in short order Claudia and Brandon were pronounced husband and wife!  Randy and Nancy acted as the witnesses, and everyone signed the necessary documents to finalize the proceedings.
After the ceremony we all moved to the roof to take advantage of the great views for photos of the everyone.  You will now have the chance to see a few photos from the day, I hope that you like them!