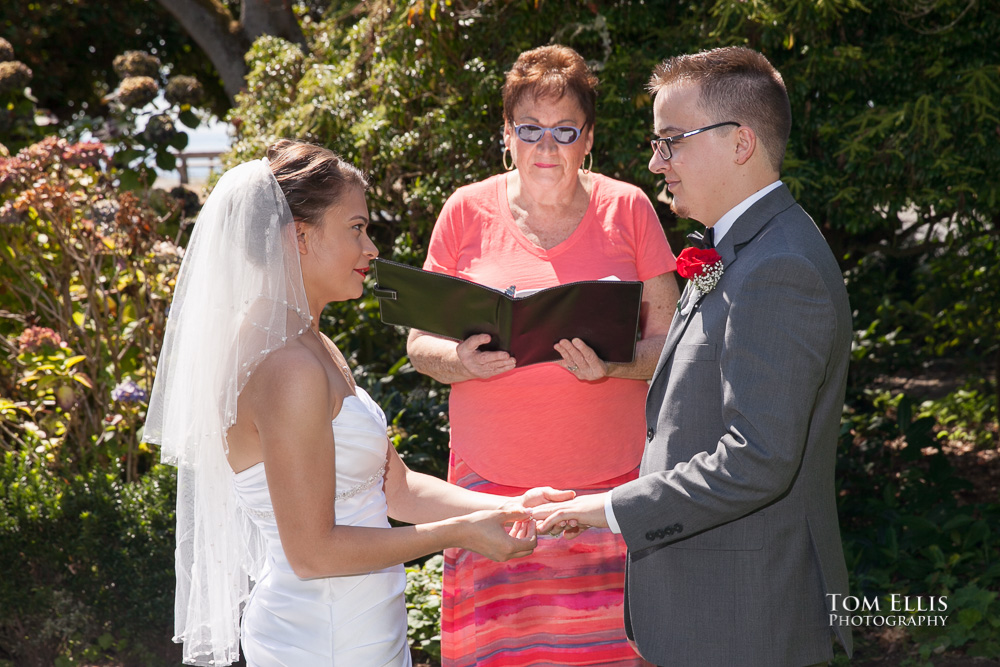 Lois and Logan elope at Parsons Garden
Back in early August I received an email from Lois.  She had been looking for a photographer for her planned elopement, and after looking through my online portfolio and seeing all my reviews thought that I was the person she wanted to record this special day.  I was delighted to be able to help her.  She and her fiance Logan wanted to get married in Seattle, but she really didn't know what a good location would be for the ceremony.  We talked about the date they wanted for the wedding, and the kind of backdrop they wanted both for the ceremony and for their photos.  Because they planned to get married on a weekday we had a lot of good choices, and after talking through the options she and Logan decided they wanted to have the ceremony at Parsons Garden, located on Queen Ann Hill.  This has been one of my favorite locations for small weddings and engagement photo sessions since I first discovered it years ago.  Not only is it a beautiful little "pocket park", it is right across the street from a great outlook over Magnolia, with a fantastic view of Puget sound and the Olympic Mountain range.  And to make it even better, just a few hundred yards down the street is Kerry Park, with probably the best (and most photographed) view of Seattle Center, the Space Needle and on a good day of Mt. Rainier as well.
We met at Parsons Garden about a half hour before the planned start of the ceremony so we could get some photos beforehand.  It was an almost too perfect summer day, with a near cloudless sky but a very manageable temperature.  I always cringe on hot days as I watch the poor groom in a tuxedo slowly melting!  But that was not a concern today.
We were soon met by Joanna Marie of Forever, Together, who was going to officiate the ceremony.  I have worked with Joanna and her husband David Cooper at numerous weddings over the years, and had just worked a wedding with David two days before at Echo Falls.  This was to be a VERY small ceremony, so small I was needed to be one of the witnesses to the wedding.
Once we talked over the procedure the ceremony got underway.  We had the park all to ourselves, a great advantage of having the wedding on a Monday afternoon!  Joanna did her usual marvelous job, and we soon had a newlywed couple.  After dealing with the legalities of paperwork, Lois and Logan and I spent the next hour or so walking the nearby portion of Queen Ann Hill looking for nice spots for photos.  You will see some of the results below, though we took far more photos then I am sharing here.