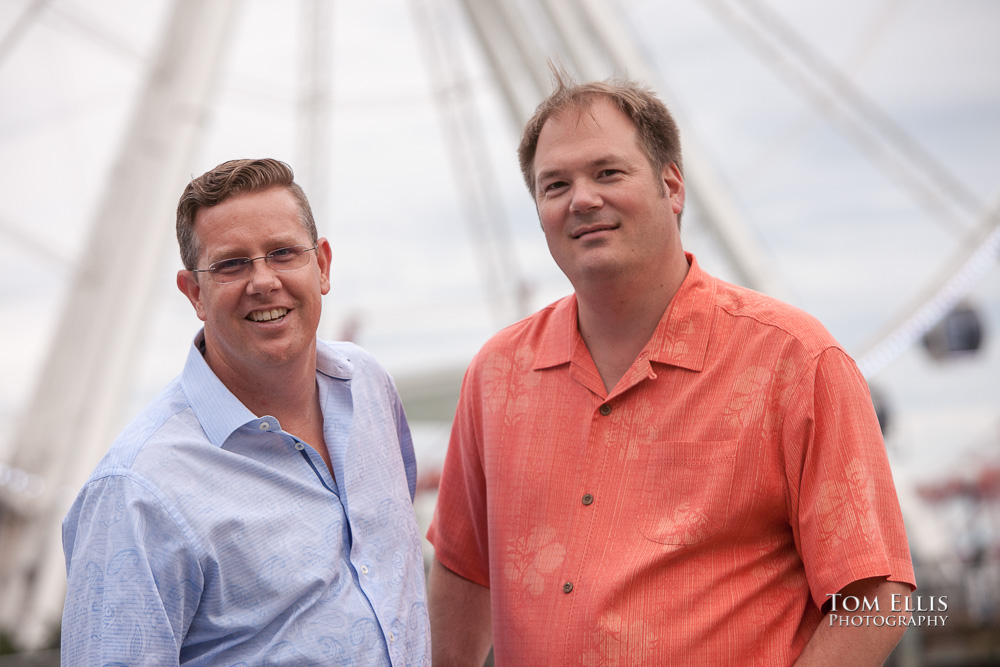 Chris and Matthew's engagement session at Pike Place Market
A couple of weeks ago I met up with Mathew and Chris at the Pike Place Market for an engagement photo session.  I will be photographing their wedding in October and I was looking forward to the chance to work with them, as well as getting to know them a bit better.
We discussed best timing and chose to meet at the Market in the evening, after it was closed so we would not have quite as many extra bodies in all of the photos.  But when we got to the Market we found that despite all of our planning we had made a mistake – this was the first night of the summer Wednesday Farmer's Market.  Oh well, so it goes!
We started with some photos in some of the usual photo spots in the Market; in front of the sign, at the Gum Wall, Post Alley, etc. but then decided to make the short walk to the waterfront.  One of my favorite things about a photo session at the Market is that the waterfront is so close, and it is a great place for more (and completely different) photos.  We stopped on the way down to the waterfront at several places that looked like good photo opps (as you'll see below).
Once we reached the water, we took advantage of the Puget Sound background (complete with ferries) for a few shots, then moved near the huge ferris wheel.  I was bummed to discover that a fountain that I always like to use for photos was put of commission, as it was impacted by the construction currently underway along a good sized stretch of the waterfront.
We finished the session by walking back up to the Market, and getting a few more photos at the park/overlook at the north end of the Market.
A selection of photos from the session is below, I hope that you enjoy them!