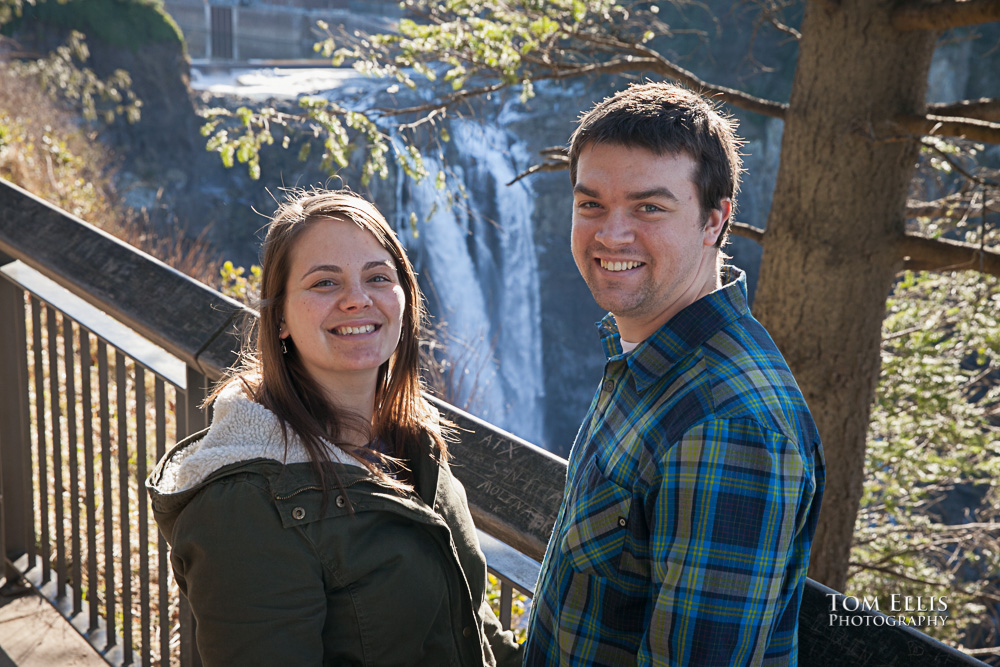 Shannon and Kevin's Engagement Photos at Snoqualmie Falls
Shannon, Kevin and I met just a week ago at Snoqualmie Falls for their engagement photo session.  I will be photographing their wedding next September in Bellingham, and after talking over the various possibilities for locations for their engagement session they opted for the Falls, to give them a completely different look than they will get for their wedding photos.
Photos at Snoqualmie Falls
We arranged to meet at the Falls.  Neither Kevin or Shannon had been there before, which added to the fun.  It was a beautiful clear day, but quite cold; no longer freezing in the sunshine, but you could see lots of ice that had formed around the sides of the Falls that showed no signs of melting.  Because the weather was so nice, there were a LOT of other people there to visit the Falls, making it rather difficult to get many photos in the best locations without photo-bombers (unintentional or not) showing up in the background.  We did our best and got a few good shots near the falls and in the park nearby, but not nearly as many photos as I hoped for.  So I suggested that we move to another of my favorite photo spots in nearby North Bend, where we would be able to get photos without a lot of other people to deal with.
Second photo location – River and Trestle in North Bend
I love this spot for photos, and frequently take couples here either for engagement photos or even wedding photos if they are getting married somewhere near North Bend.  As you will see in the photos below, it is located in the woods and features a train trestle that crosses the Snoqualmie River.  I love train tracks for photos, and a trestle is even better!  This section of track has not been used for years, so there are no worries of dodging an unexpected train.
The river was so smooth that it acted like a mirror, with wonderful reflections of the trees and sky.  We spent another half hour or so walking the woods and making use of the trestle and train tracks for photos.  We ended up with a nice selection of photos, and you can see some of them below.