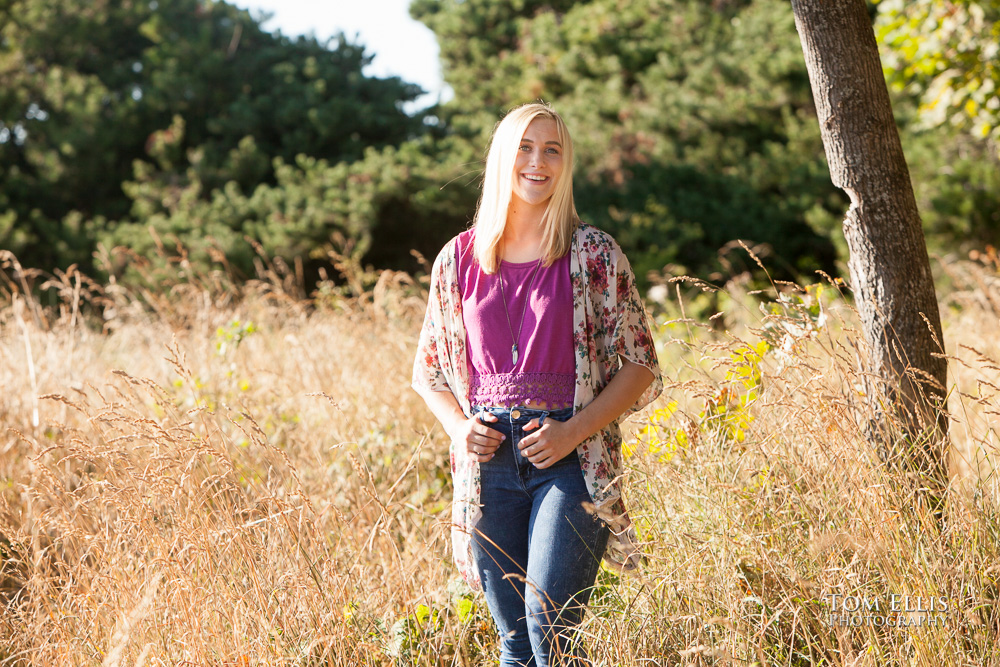 Seattle senior photos at Carkeek Park and Golden Gardens
In early June I received an email from Krista.  She and her daughter Kayla were planning to travel from their home in Billings MT to visit Seattle in late July, and Kayla wanted to do her senior photos while in Seattle so she could have something different than her classmates.  But they did not know the Seattle area at all, and had no idea of what would be good places for photos.  So I sent them a list of great Seattle photo locations, along with links to my blog of postings where I took photos at those locations.  It took awhile to decide, but shortly before they arrived in Seattle I heard back that Kayla had chosen Carkeek Park and Golden Gardens – definitely NOT the kinds of backdrops that anyone would find in Montana!
Carkeek Park photo session
We arranged to meet at Carkeek Park at 4PM on a Friday.  The weather was beautiful; really a bit too nice, as it was very sunny and to a photographer that means dealing with harsh highlights, strong shadows and squinting subjects.  Not to mention that on a nice Friday afternoon, the number of Seattleites who wanted to be out taking advantage of the nice weather was bound to be high.  Sure enough, Carkeek Park was a challenge to reach, as they were running a day-camp there and all of the parents were trying to pick up their kids at the same time we were trying to get into the park.
But once we found parking we discovered that the day camp was a blessing in disguise, as it had chased away a lot of people who might have otherwise been there.  We started on the beach, then moved into the forested area above the picnic area.  Kayla did a clothes changed and we went back to the beach and got more photos, including a set of mom/daughter shots that were a lot of fun.  We moved onto the train tracks for a few quick shots (yes, we were very careful not to get hit by a train!), and it was time to move on to the next location.
Golden Gardens photo session
I knew that our good luck with low numbers of people at Carkeek was never going to happen and Golden Gardens, but hoped that we would still find some nice places there for photos.  I have done quite a few wedding and engagement shoots there, and know the park pretty well.  Deciding that it would be silly for Krista and Kayla to get an Uber to transport them to Golden Gardens, I had them ride with me.  Also made it a lot easier for us to find each other at the park!  It took some "creative" parking, but we did manage to find a place to park at GG and headed out to find  some good photo spots.
In spite of sharing the park with several thousand people, we managed to find some very quiet areas for some shots, and I shot at angles that made more populated spots look considerably less occupied.
After a couple more clothing changes and quite a bit of hiking, we decided we had a good selection of photos and called it a day.  I am really excited about this session, not only was it a lot of fun working with Kayla and Krista, we got a lot of fantastic photos.  I had a terrible time trying to decide which photos to include, because I loved the entire session.  But I don't think my blog would accept 200+ photos on one posting, so I cut it off at 27.   OK, I will admit to being prejudiced, but look for yourself and see what you think!  Be sure to leave comments!