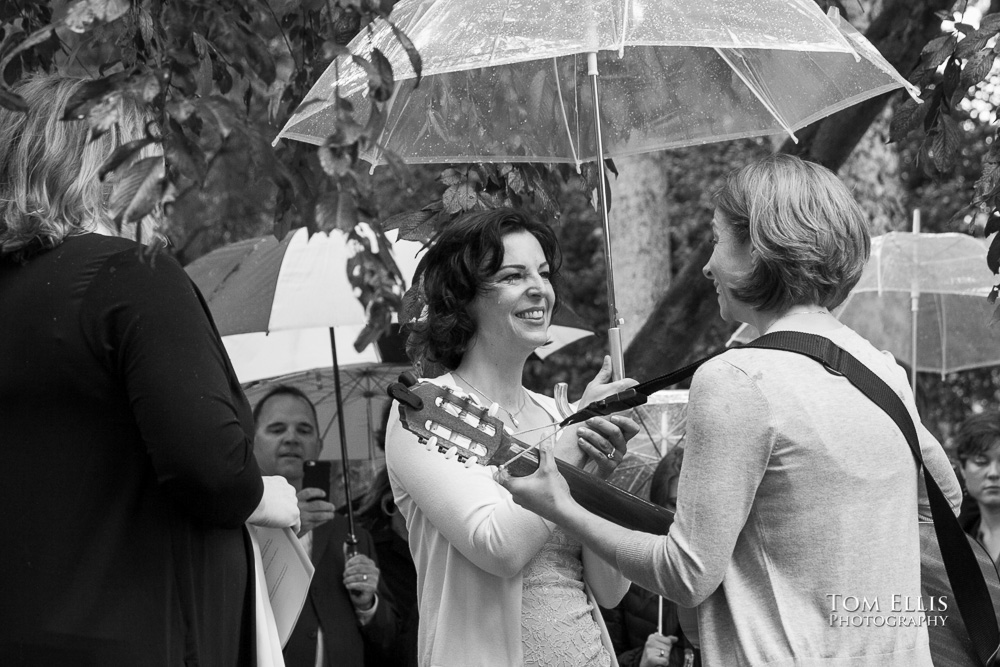 Sarah and Kelline – Wedding at Volunteer Park
Sarah and Kelline were married in Volunteer Park in Seattle on May 21, on what can only be described as a very wet day.  But the weather really didn't matter to either Sarah or Kelline, or to any of the family and friends in attendance.  Fortunately the ladies had been aware that rain was likely that day, and had bought a large number of umbrellas, just in case some of the guests came unprepared.  They turned out to be clairvoyant, as most of the guests arrived without an umbrella and thankfully were able to borrow one.
Rainy weather and umbrellas can make for some rather interesting situations for a photographer.  I need to try to keep my gear dry; water drops on the front of a lens do NOT lead to good photos, and electronics in general do not consider water to be a friendly environment.  So I tried to hide under an umbrella myself when possible, but mostly just worked to keep my camera from getting too wet while shooting the ceremony.
The other challenge about umbrellas is that they are very difficult to see through, even the clear variety such as supplied by Kelline and Sarah.  So I made my way to as many spots as I could find that gave me good sight-lines on the ceremony without being blocked by random umbrellas.
After the ceremony everyone walked to Kelline and Sarah's house, which is only a short distance from the park.  This was the location of the reception, and in addition to those who had actually attended the ceremony numerous other friends dropped by to congratulate the newly married couple.  Sarah is from Germany, and she had both family and friends who had made the trip to Seattle to celebrate with the women.
Following are some photos from the day, I hope that you like them!