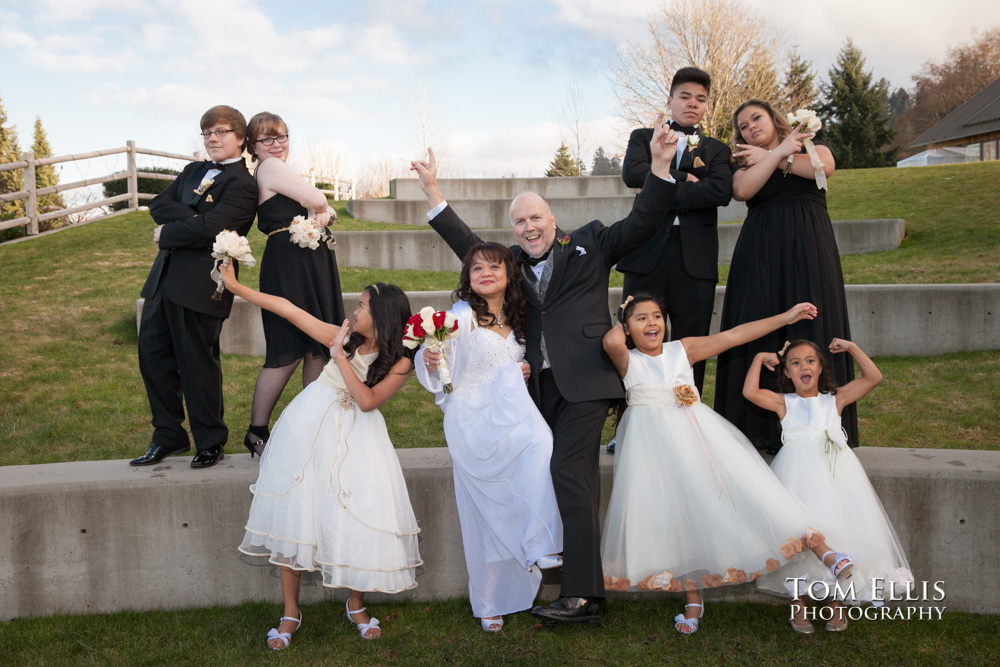 Seattle area wedding at Calvary Fellowship Church
Clarissa and John picked a great date for their wedding, 12-13-14. To make it even better, the time the ceremony was scheduled to start was 3:16PM, or in 24 hour time at 15:16. Which means the full wedding date was 12-13-14 15:16! Talk about an easy anniversary to remember!
With a December wedding there is always a question whether the weather will allow outdoor photos. Clarissa and John were interested in taking at least some of their posed photos outdoors, but only if it was not too wet or cold. We met a few weeks before the wedding date to discuss the options. Clarissa had the idea of going to the Rose Hill Community Center in Mukilteo, which I thought was a great plan. I have done several complete weddings at Rose Hill, and it offers some nice outdoor spaces with great views over Puget Sound, as well as the ability to take photos indoors and still have large windows behind to allow for nice outdoor backdrops.
As things worked out, we didn't need to be concerned about the weather. It was an amazingly warm and dry December day, and the sun even played peek-a-boo for most of our time at Rose Hill. We met there with the family and the wedding party and got a lot of good photos, then it was off to Lynnwood for the ceremony.  Even though weddings almost NEVER happen on time, at 3:16PM the music started playing and the wedding party started down the aisle right on schedule.
As I understand it, the wedding was originally planned to be a small affair. But Clarissa and John's friends apparently had other ideas. There were well over 100 guests in attendance for the ceremony and reception. Everything went beautifully, and everyone had a great time. Here are a few photos from the day –