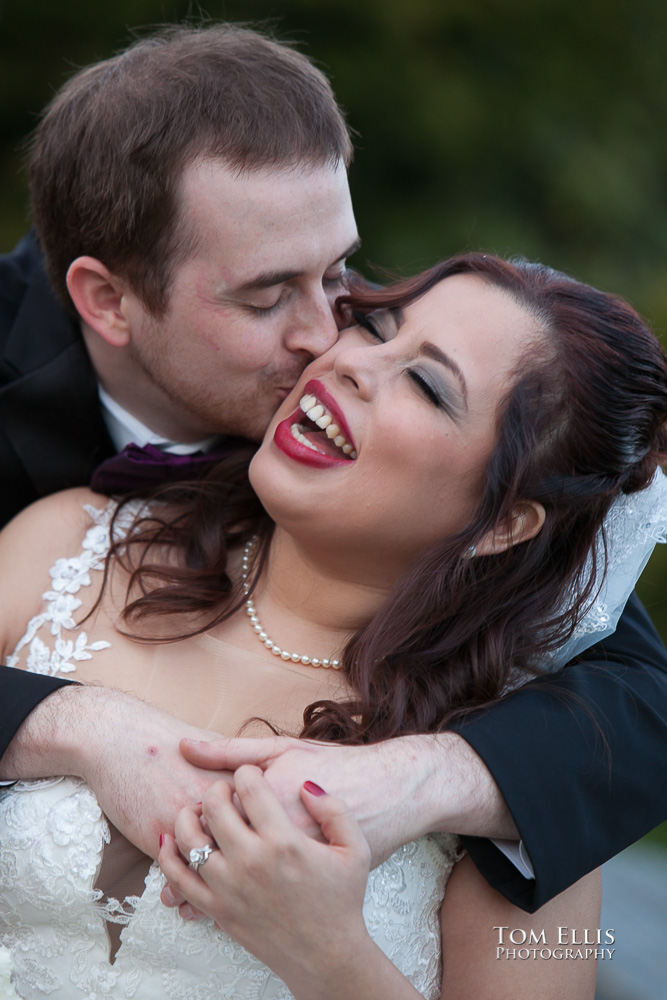 Wedding of Diana and Andrew at Trinity Presbyterian Church
On April 8, 2017 Diana Sofia Valderrama Negrete and Andrew Wilson were married at Trinity Presbyterian church in Shoreline.  I first met Diana and Andrew just a few months ago when they came to visit me to see if I was the person they wanted to photograph this special day for them.  I always enjoy these sessions, when I get a chance to know the couple a little bit while we find out whether we would be a good match to work together.  It was very clear from the first moment that we met that Diana had a very clear vision of how she wanted her wedding day to happen, and that Andrew was happy to do whatever he could to make everything go as Diana wanted.
Getting ready at the church
I arrived at the church for the pre-ceremony photos, only to discover that due to some sort of snafu with hair/makeup, Diana was running slightly behind schedule.  Since this is the case at almost half of the wedding I have photographed I was not particularly surprised or concerned.  While we waited for Diana and the ladies to arrive, I took Andrew and his Best Man Harrison Clifford and Groomsman Ryan Lofthus and we did some photos of the three men in the chapel.  Next Andrew and the guys got the carpet runner laid to the aisle – this is a lot trickier than it looks, if you are off by just a tiny bit the runner will not be straight and lots of ugly lumps will appear.  But after a couple of tries they got the runner down and now all we needed was a bride!
Diana and the other ladies arrived a few minutes later, and immediately want to the designated "Bride's Room" to get dressed.  Once they were all more or less dressed I got some photos as Diana's mother  Rosario helped her daughter with the final adjustments of her wedding dress – and you'll see a few of those photos below.
The Wedding Ceremony
Now it was time for the big moment, the ceremony!  Bridesmaids Sandra Valderrama and Andrea Ramz started the processional, along with Flower Girl Zadie Ramz.  Then the beautiful bride, accompanied by her mother, made their walk down the aisle where Diana and Andrew then met to begin the ceremony.  Everything went exactly as planned (not always the case at a wedding!) and a short time later Diana and Andrew were officially husband and wife.
The Reception
All of the guests now moved downstairs to the room where the reception would be held, while the wedding party and family stayed in the chapel so we could take the formal posed photos.  Both sides had a fair number of family present; in Diana's case this was particularly impressive as many of them had to travel all the way from Peru to be at the wedding.  Once we finished the photos we moved downstairs to join everyone else at the reception.  A receiving line was set up and the newlyweds greeted all of their guests.
Next up was the first dance, done to a mix of two songs, Savage Garden's "I knew I loved you" and "A pedir su mano" by Juan Luis Guerra; only fitting to have a mix of music to reflect the backgrounds of both Andrew and Diana.  Partway through the dance the couple was joined by family and wedding party members, and the dancing really got started!
I almost forgot to mention that the DJ and MC was Andrew's father Jim.  Jim clearly has had a lot of experience on stage and holding a microphone, and I was especially impressed when he sang a number of songs during the reception.  The man has a great voice!
After dinner and toasts, I asked Diana and Andrew to come outdoors with me to take advantage of the rapidly fading daylight for a few more photos of the two of them that would give them some different "looks" than the posed photos we had taken earlier in the chapel.  The sun was almost completely hidden as it neared sunset, and the soft lighting and some nice backdrops allowed us to create some very nice photos.
The party and dancing continued for another couple of hours.  Jim Wilson sand a few more songs, and Diana even took the microphone and sang a couple of songs herself.  But finally it was time to turn off the music and start cleaning up – even the best parties have to eventually come to an end!  A wonderful day, and I really enjoyed sharing it with the couple and all of the family and friends.
Now for the photos!  I hope you enjuy them, and I'd love it if you'd take a minuet and leave some comments.