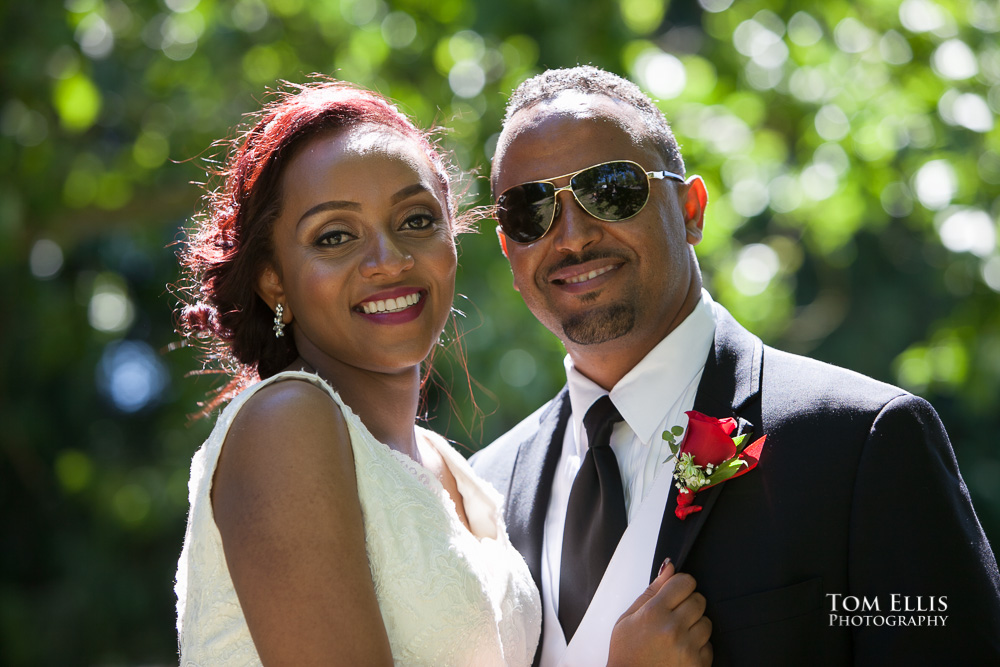 Seattle Wedding Portrait Session with Kalkidan and Yosef
Kalkidan and Yosef heard about me from Kalkidan's brother Yonas, whose wedding portraits I had taken about a month earlier.  Kalkidan and Yosef live in Las Vegas, and though they had gotten married some time ago they had never had any wedding portrait photos taken.  They really liked what I had done for Yonas and his wife (you can see photos from Bezawit and Yonas' Seattle wedding portrait session by clicking on this link), and contacted me about doing something similar for them.
Meeting at Golden Gardens Park
The day of the session the weather was perfect, as it was for most of the summer.  The plan was for us to meet at Golden Gardens for the first location on a tour of some of my favorite Seattle places for good portrait photos.  But because neither Kalkidan or Yosef were familiar with Seattle, they got lost on the way to Golden Gardens.  To make matters worse, phone service at the park is spotty and I was not able to reach them, so I had no idea what had happened to them.  About an hour after our scheduled meeting time they finally arrived at the park, extremely apologetic about their difficulty in getting there.  They both looked fantastic, almost more like models than an actual "real life" couple.
Now we had to deal with another problem.  There was some sort of Seattle school function at the park that day, with ~15-20 schoolbus loads of kids at the park.  Golden Gardens is a large park and usually even with a lot of people there it is possible to find good places for photos, but this was probably the busiest I had ever seen the park, and it was pretty clear that we were going to be dealing with a lot of "unintentional photo-bombers" in most of our photos.  After talking it over, we decided to just skip photos at Golden Gardens and move on to our planned second location, Kerry Park on Queen Anne Hill.
Photos at Kerry Park
The traffic was quite decent, and we made the drive to Kerry Park in good time.  Even though the weather was so perfect, there were far fewer people at Kerry Park than I have encountered at times in the past, for which I was very grateful.  Of course neither Yosef or Kalkidan had ever been to Kerry Park though they had seen the photos I had taken there earlier of Kalkidan's brother and his wife.  This is probably the best view of Seattle and Mt Rainier that can be found, and they loved the various photos that we were able to create at the park.  We also spent some time on the street near Kerry Park, making use of the wonderful lighting through the trees to make even more great photos.
More photos at Gas Works Park
After a really fun session at Kerry Park, it was time to move on to our next location, Gas Works Park on Lake Union.  Gas Works is another extremely popular park, and I was a bit concerned about how many others would have decided to get out and enjoy the amazing weather by spending time at the park.
Once again, the traffic was relatively light and we made it to Gas Works without any difficulty.  When we arrived at the park we managed to find parking in the main lot, which I hoped would mean that the crowds would not be too bad.  Sure enough, the number of people at the park was quite low for such a gorgeous day.  And where we did encounter other people they tended to quickly move out of the way when they saw what appeared to be a couple taking photos on the day of their wedding.
We worked our way around the park, hitting all of my favorite places there for photos, as well as a few spots that are often unavailable when there are lots of other people present.  We had been working together long enough now that both Kalkidan and Yosef were very relaxed about having their photo taken, and they both were having almost as much fun with the session as I was!  The thing I love about Gas Works for photos is that there are so many different options there for pictures, and depending on the time of day and lighting conditions photos taken in exactly the same place can look totally different.  We began at the old concrete arches that once supported a loading/unloading area for trains, and then moved around the park.  Second stop was the lakefront with views of the city across Lake Union, then some photos in front of the remains of the fractionating towers, then up the Kite Hill and finally into the trees for some more photos making use of the wonderful lighting through the leaves.
While it seemed like we had just begun, we realized that we had been taking photos together for more than 4 hours, and it was time for Yosef and Kalkidan to head off to meet with some friends.
Here is a selection of photos from the day.  So many more that I'd like to post that I might have to do a "Part Two" for this session.  I hope you like the photos!