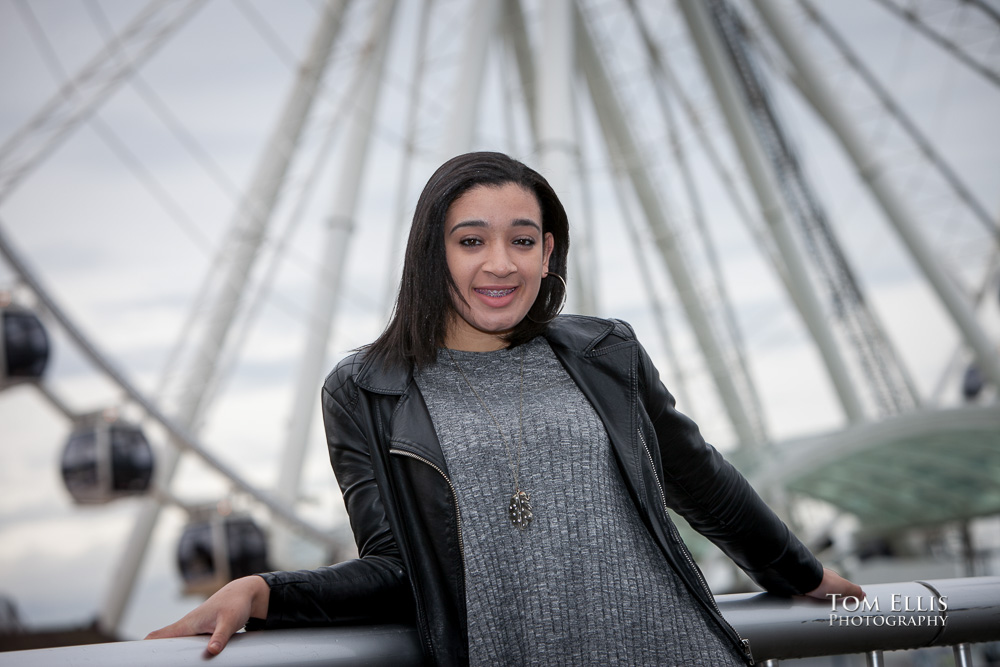 Aleisha's senior photo session at the Seattle waterfront
A couple of weekends ago I met up with Aleisha and her mom for Aleisha's senior photo session.  Due to uncooperative weather it took a couple of tries for us to make this happen, and I was starting to worry that we were not going to be able to get the photos taken in time to meet Aleisha's yearbook photo deadline.  But we lucked out.  Even though the forecast for the day was for more rain, when the day started out dry we decided to give it a shot and hope that we could get at least a few photos taken before the wet weather made its appearance.  As it turned out, we never had even a drop of rain, and if anything it was kind of bright.  But for any seniors (or their parents) reading this, DON'T wait on getting your photos taken until close to the photo deadline!  Much easier to take them earlier in the fall, or even during the summer.  And your chances of good weather will be a lot better too!
We met at the fountain right next to the Seattle Aquarium to start things.  I was disappointed to find that the fountain had been shut off for the winter, and was not working (another reason to get the photos taken earlier).  But the waterfront area has so many great places for photos that it was no big deal, and even empty the fountain proved to be an interesting spot for a few shots.
As we wandered the waterfront looking for good photo spots I had a chance to get to know Aleisha a bit.  She is a senior at Franklin High School, which is also where my father went to high school.  Aleisha was just wrapping up the high school volleyball season, and would soon be starting play with a select level team.  She had not yet gotten started on her college applications, and hopes to attend the University of Washington next year.
The waterfront offers a lot of different and unique photo opportunities.  We got shots with Puget Sound and the Olympic Mountains as a backdrop, and others using some of the posters advertising the Aquarium (these were some of my favorites).  Then we crossed the street and moved under the Viaduct, where we found some other fun spots for photos.
I have placed a decent sized sampling of of session below.  Only a small fraction of the complete session, but it will at least give you a good taste of what we did.  I hope you enjoy the photos, and please leave coments if you'd like to do so!