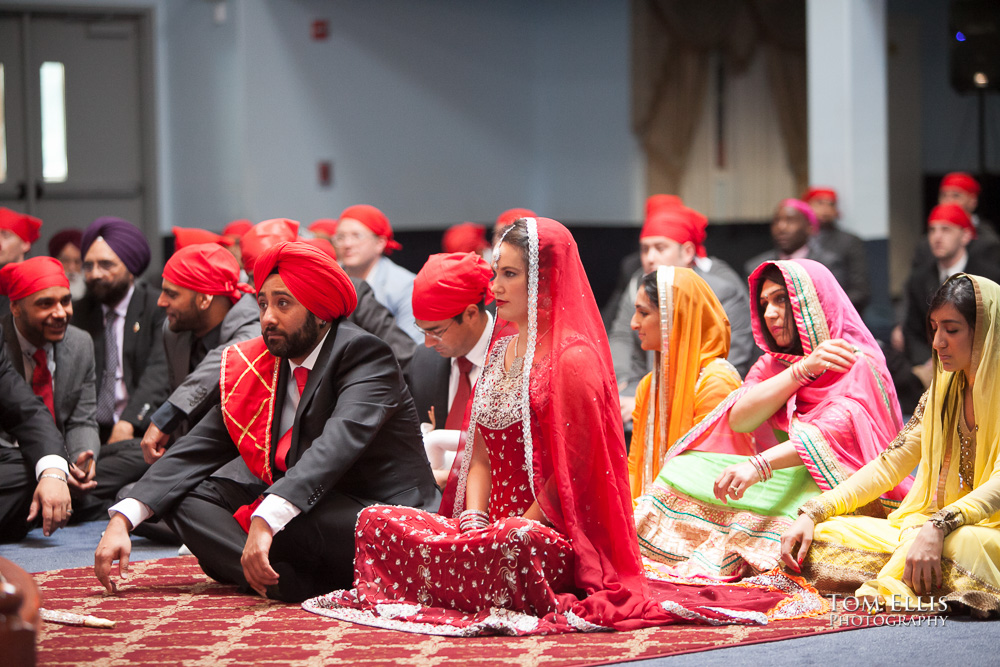 Anna & Sundeep – Sikh wedding at Gurudwara Singh Saba
Anna and Sundeep were married on June 18 at the Gurudwara Singh Saba in Renton.  I have never been to the Gurudwara before, but I have photographed a few smaller Sikh weddings so I knew a little of what to expect for the ceremony.
It was a rather dark and cloudy day, though by the time I arrived at 10AM it had not yet started raining.  The day began with a breakfast for the wedding party and guests, though in this case Anna (the bride) did not appear at the breakfast.  One of the rules of the Gurudwara is that everyone must cover their head.  Fortunately there were a large number of headscarves available for those who did not have their own, which seemed to be the great majority of the guests.  I do not mean this to be at all disrespectful, but I did find it quite amusing to watch all of the men (myself included) struggle to tie the scarves.  And the result looked like what I would image a group of well-dressed pirates would look like, in their suits with the headscarves.  You'll see for yourself as you look at the photos below.  Too bad there were no turbans available for all of the men, that would have made for some great photos!
After the breakfast, at ~11AM the ceremony began.  Sundeep had told me that Sikh rules said that the wedding must be completed before noon, and because it is a lengthy ceremony it was important that things got underway in time.  Anna and her parents shortly before at 11, so things were able to start on schedule.
There are no chairs in the Gurudwara, so all of the guests, as well as Anna and Sundeep, sat on the floor throughout the ceremony with a couple of notable exceptions.  It was a rather low-key ceremony, with guests free to take photos of the proceedings, and occasionally various people would move about the room to find a good angle for a photo.  I always have a bit of a chuckle about this, as almost all of the time they are shooting photos with a phone or pad instead of a camera, and I know what kind of quality photo they are going to get, especially in a low-light situation such as this wedding.
Sundeep wore a western style suit, with the addition of a turban and special sash.  He also carried a sword, a traditional element of the Sikh wedding.  Anna was in a beautiful Indian dress, and also had some incredible jewelry; bracelets, necklace and earrings.  Sundeep had told me when we first talked that he had been growing his beard for several months, which is another required element of the Sikh wedding.  He also joked about how much he was looking forward to getting rid of it as soon as the ceremony was finished!
The ceremony went smoothly, and shortly before noon Anna and Sundeep were officially married.  We got a few quick photos of the couple with family, which was quite important because the couple planned to change out of their wedding attire before the reception, so this was our only opportunity to get posed photos in the Indian clothing.
Then it was off to Redhook Brewery in Woodinville for the reception.  Originally the reception was planned to be outdoors, but the weather was so cool and wet that it was moved indoors, to a "party room" at Redhook where I have photographed several other receptions.  The guests all made their way to Redhook (about a 20-25 minute drive from the Gurdwara) and then we waited for Anna and Sundeep.
When they arrived I almost did not recognize them!  I am pretty sure I would have recognized Anna, she had changed out of the beautiful red Indian garment into a more conventional white dress, something I imagine was considerably more comfortable while still looking gorgeous.  But I almost certainly would not have recognized Sundeep unless I was looking for him.  He had not only changed his clothes and discarded the turban, sash and sword, he was now clean shaven and looked like a completely different person, as well as maybe 10 years younger than in his "bearded version"!
Once Anna and Sundeep arrived the party go underway in earnest.  Cake was cut, toasts were offered and drank, and lots of great food was eaten!  Everyone obviously was having a great time, and it was a shame that the party finally had to come to an end and everyone had to go home.
Following are a selection of photos from the day, I hope that you like them and will leave some comments.  Click on any photo to see a larger version.