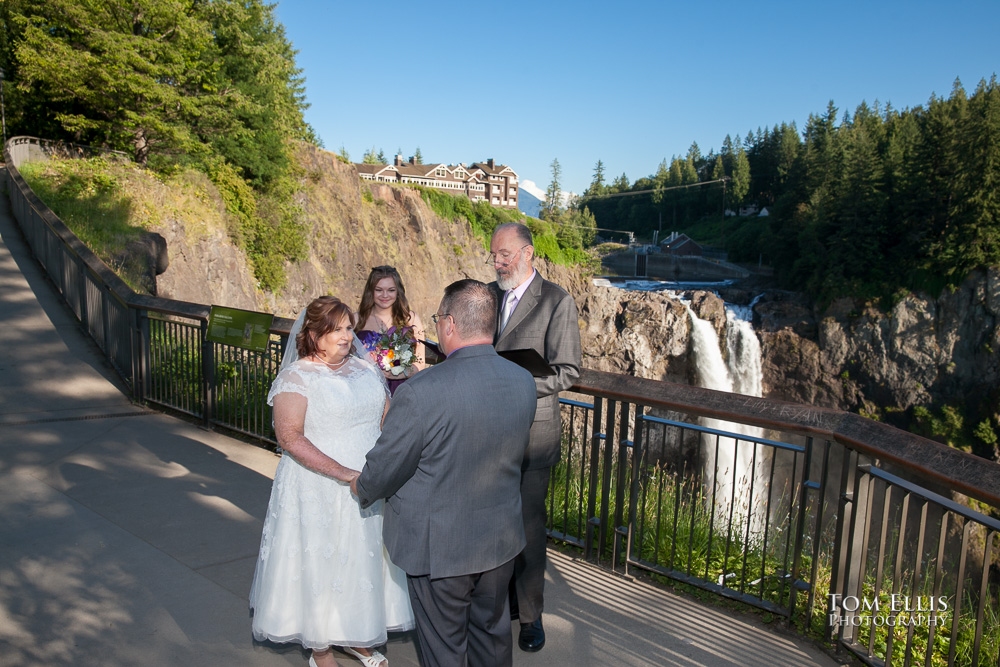 Elopement wedding at Snoqualmie Falls
John and Michele met many years ago, but their story was not one of "love at first sight", at least not on Michele's part.  John was quite interested, and let Michele know that he'd like to go out with her.  But Michele was having none of it, and shot him down hard!
Obviously things changed over time!  I got a call from John at the end of June, asking if I was available to photograph their wedding at Snoqualmie Falls on July 20.  It was going to be a small ceremony, just the bride and groom, John's teenage daughter Taylor and Michele's best friend Carrie.   John had never been to the Falls, and wasn't sure where the best place would be for a ceremony.  I assured him that I knew the area very well and could help with selection of the site for the ceremony.
The weather on July 20 was almost too nice, warm with near-cloudless skies.  Both a blessing and a curse for a photographer, as bright days mean harsh contrast with overly bright highlights and dark shadows, and potential issues with squinting in the bright sunlight.  And the Falls is one of the Seattle area's most popular tourist destinations, so on a nice summer day the odds were that we would be sharing the grounds with hundreds of other people.
But we lucked out and found that while the park was by no means empty, there were far fewer people there than I had expected.  I directed John and Michele to a spot at the very end of the park, out of the way of where most of the Falls viewers tended to walk, but with a great view of the Falls.  Sure enough, there were only a few people there and when they saw Michele in her wedding dress they graciously moved out of our way.  We even had a few trees there to give us a little shade.
The ceremony was officiated by Kent Buttars of A Heavenly Ceremony.  I have worked with Kent at numerous other weddings and always enjoy his ceremonies.  We got ourselves organized and Kent began the ceremony.  Afterwards, I learned that since John's daughter was not 18 they needed me to be one of the witnesses for the ceremony.  Not the first time this has happened, and always kind of fun to get to write my own name on the wedding paperwork rather than just talking photos of others as they do it!
Kent left, and I took the rest of out little group on a tour of the park, getting some other photos at a few spots that gave nice backdrops of the Falls.  Then we drove to the trail at the base of the Falls, that allows people to access a long walkway to reach a decent view of the bottom of the waterfall.  Unfortunately not nearly the access of a few years ago, when it was possible to literally walk right to the base of the actual falls  🙁   But we were still able to get some nice photos of the Falls and the river below them from the walkway.
Here is a selection of photos from the day, I hope you enjoy them!