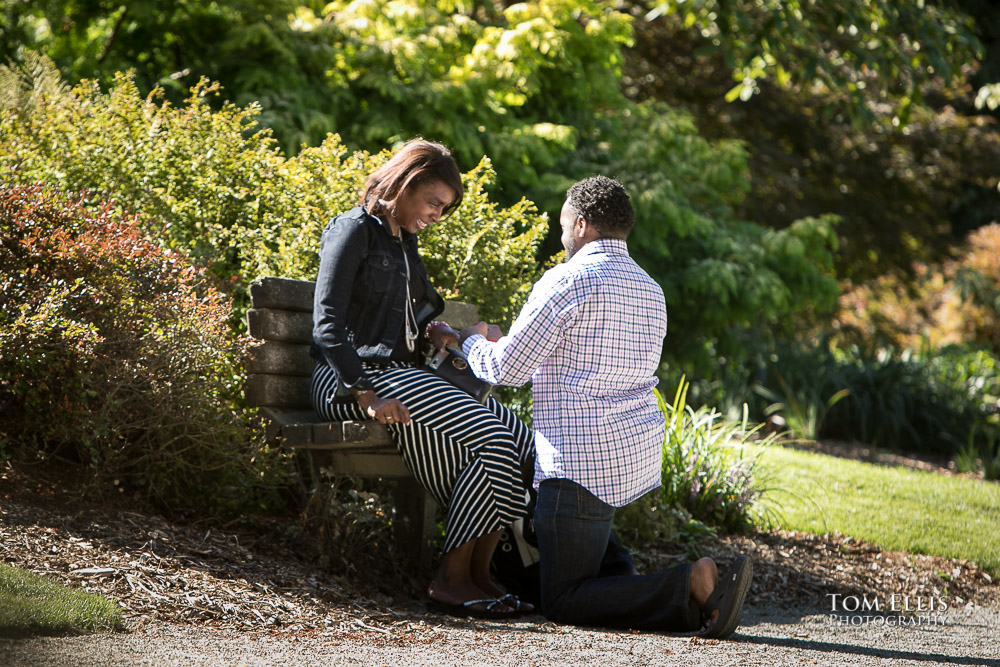 Surprise Wedding Proposal at the Kubota Gardens in Seattle
Brian and Teresa are from Maryland, and they had planned to make a trip to Puerto Rico in mid-September.  But Hurricane Maria badly messed up those plans, and they decided to travel to Seattle instead.  On September 22 I received an email asking whether I could take photos of a surprise proposal.   Brian had been planning to propose to Teresa while in Puerto Rico, and when their travel plans changed he simply decided that he'd propose in Seattle instead.  Problem was, he really didn't know Seattle at all and was hoping for some help in picking a good place for a proposal, to be followed by an engagement session.  I love photographing surprise proposals, and we talked a bit about various possibilities.  After I laid out a number of options Brian decided that the Kubota Gardens sounded like where he'd like to go.  And now the fun part began!
Planning the location for the proposal
Brian and I planned out when and where we would meet at the Garden.  Since the Garden is quite large, and Brian had never been there before, I had to pick a spot that would not only work well for the proposal but that would also be fairly easy for him to locate.  That took a little thought!  I finally described the location in the park that I thought would work for what Brian had in mind, and he agreed that it sounded like what he wanted.  We planned to use our phones to text each other once they arrived at the Garden so I could guide him to the correct location if necessary.  Since we had not yet met in person it was a little bit trickier, since neither of us really knew what the other looked like.  I just told Brian to look for the guy carrying the biggest camera in the park and it would probably be me!  😉
Brian proposes to Teresa
When they arrived at Kubota Brian texted to let me know they had arrived.  I was already in position, and was trying to find a good place to take photos of the proposal without being too obvious.  As it turned out that wasn't so easy to do!  It took awhile (and several text exchanges), but I finally spotted Brian and Teresa as they approached the spot I had described, a bench near one of the several ponds in the Garden.  Brian had planned this proposal very carefully, and had created a very nice book with the title "Te casarias conmigo?"  which is Spanish for "Will you marry me?".  But since Teresa did not speak any Spanish she was completely clueless as she started to read the book.  In the book Brian had text, photos and drawings of many of the things they had done together, and the final page asked the question (this time in English) "Will you marry me?"
While Teresa was reading the book with Brian I was trying to get some photos of them without being obnoxious.  But there were few places for me to hide, so I pretended to be taking photos of flowers, ponds, birds, etc. while every so often taking a quick shot of the two of them on the bench.  At one point Teresa caught me taking their photo and smiled and waved; I waved back and then moved to another spot to try to get photos of the actual proposal.  Fortunately Teresa was much more interested in the book than in the weirdo who was taking her photo, and it was very easy to tell when she reached the final page.  At that point Brian dropped to his knees in front of Teresa and presented her with a ring.  It was pretty easy to tell that Teresa's answer was an emphatic "Yes!"
More photos in the Garden
Once Teresa and Brian stopped kissing I approached them and introduced myself, and Brian explained to Teresa why I was there.  She laughed and said she had wondered why I had taken a photo of them earlier, but said she had had no idea what Brian was up to.  We then spent the next hour exploring the Garden.  It was a gorgeous autumn day, and the Garden still had quite a bit of summer color.
Below is a sample of the day.  Some of the final photos show the book that Brian made for Teresa.  I hope you enjoy the photos, I certainly had a great time working with Brian and Teresa to create them.