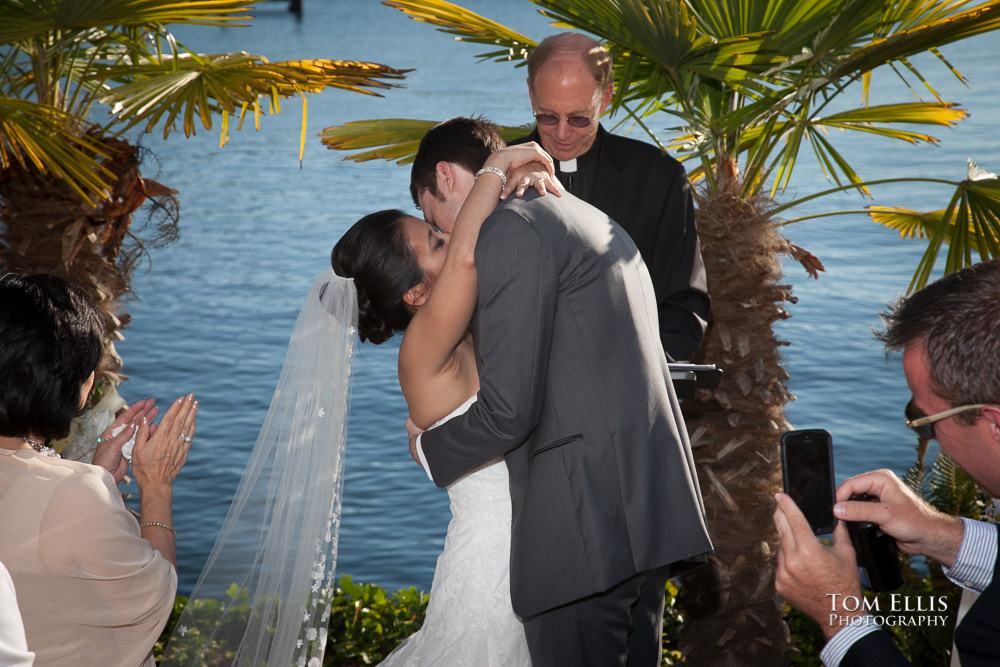 Seattle Wedding Venue Review – Ballard Bay Club
This is my review of the Ballard Bay Club, located on Puget Sound just outside the Ship Canal.  Known for years as the Shilshole Bay Beach Club, the venue was re-named a couple of years ago and is now operated by Jewel Hospitality.  This has been one of my favorite Seattle wedding venues since I first photographed a wedding there more than 20 years ago.  It is truly an all-season wedding and event venue that can handle both small and large crowds.
What makes this such a great place to have a wedding?  Simply put, "Location, location, location"!  The Bay Club has one of the best views of any venue in the Seattle area, looking to the south and west across Puget Sound at the Olympic Peninsula and the Olympic Mountains.  From a photographer's standpoint it is hard to imagine a better location for a wedding.  Not only are the views from the Bay Club fantastic, but just a short distance away is Golden Gardens and the Chittendon Locks, two other wonderful places for wedding day photos.  I will usually take the bride, groom and sometimes the entire wedding party to either or both locations so they can have a lot of different "looks" for their wedding photos.
But one of the best things about the Bay Club is that even if it is not possible to go to another location for photos, the grounds of the club offer plenty of great photo opportunities.  There are palm trees, a nice patio, and even a grassy area, all with wonderful views of Puget Sound in the background.  And immediately adjacent to the Beach Club is a small sandy stretch of public beach; while there may be other people there depending on the time of day, many times it is almost like having your own private beach for photos.
Another thing that sets the Beach Club apart from other Seattle wedding venues is that it offers both indoor and outdoor ceremony options.  There is a large concrete patio that is perfect for outdoor ceremonies, and it is large enough to hold a substantial crowd.   If your wedding is taking place during a time of year that it may be too cold or wet to have your ceremony outdoors (or if we have a bit of unfortunate and ill-timed summer rain), there is a perfect indoor area for your ceremony.  I have photographed numerous ceremonies both indoors and outdoors at the Bay Club, and have been very happy with both alternatives.
Indoors, the Bay Club offers several options for spaces depending on how large your group is, and how much space you need.  I have photographed weddings as small as 20 people at the Bay Club, and as large as 300+.  According to the Bay Club they can handle up to 400 guests fully seated, and as many as 1000  people in a cocktail style reception.  I think that might be a bit tight, but the point is that there is a lot of space at this venue.
There is a huge indoors dance floor, that can easily handle 100 dancers at one time.  Two large full bars can handle your crowd quickly and efficiently.  Jewel provides in-house catering services, and my experience has been that they do a very nice job with the food service.
Bottom line, if you are getting married in Seattle this is a venue that you should be sure to at least check out, you might find it to be that "perfect venue" that every bride and groom is looking for!
Following are a collection of photos from one wedding at the Bay Club.  There are many other photos from other Bay Club weddings on my blog, and in my website galleries, so feel free to explore if you'd like to see more photos!