Seattle area wedding venue review – Clise Mansion
Clise Mansion is a wonderful all-season venue suitable for both weddings and receptions.  Situated in the Willowmoor farmstead area of Marymoor Park, Clise Mansion offers sweeping views of the surrounding gardens and lawns. On the National Register of Historic Places, "Willowmoor Farm" was owned and developed by Seattle banker James Clise in the early 1900s. The property served as his family's country estate and working showplace farm for his Morgan horses and Scottish Ayrshire cattle. The grounds, which feature a selection of heritage trees, were designed by the Olmsted Brothers landscape architecture firm, the designers of Central Park in New York City. It was Clise who built the park's iconic windmill, which has never been functional!
Clise Mansion is a classic early 1900s country estate featuring a Great Room, Library, Veranda, several smaller rooms, and a spacious inlaid brick courtyard.  From April-October, the Mansion and surrounding grounds can accommodate well over 500 guests. The East Garden features a gazebo for outdoor ceremonies, perennial beds, and flowering trellises. The garden is enclosed and offers privacy for events, and is a wonderful place for an outdoor wedding ceremony.  For receptions during the summer months, you can make use of the garden as well as the indoor spaces of the mansion.
The Great Room of the mansion provides a good space for an indoor ceremony during those times of the year when having the wedding outdoors just isn't practical; and as we all know, in Seattle that is a good part of the year!  I have shot weddings at Clise in every season and have always had a good experience there.  While an all-indoor event at Clise is very possible, it does mean that the available space is smaller so the max number of guests is probably ~120.
The grounds of the mansion are located within Marymoor Park, and are wonderful for outdoor photos.  The old windmill is a short walk from the mansion, and is a great backdrop for pictures.  And just a short distance from the windmill is the Sammamish River, another great photo opportunity of which to take advantage.  Depending on the season, many of the gardens have beautiful flowers, and the flowering shrubs (huge Rhododendrons) can be spectacular.
The only issue with Clise is that due to their location in Marymoor Park, the mansion is not available on dates that conflict with the summer series of concerts that are held in the park.  Since the concert schedule does not come out until early Spring, this means that you have a very short time to book Clise before your wedding, meaning you might have to be flexible on your date.  But if you have the flexibility to make it work, Clise Mansion is a great place for your wedding and very much worth your time to explore further.  To find out more about booking Clise Mansion for your wedding, call 206-205-3661
Following are a few photos from both a Summer wedding and a Fall wedding, showing outdoor and indoor options.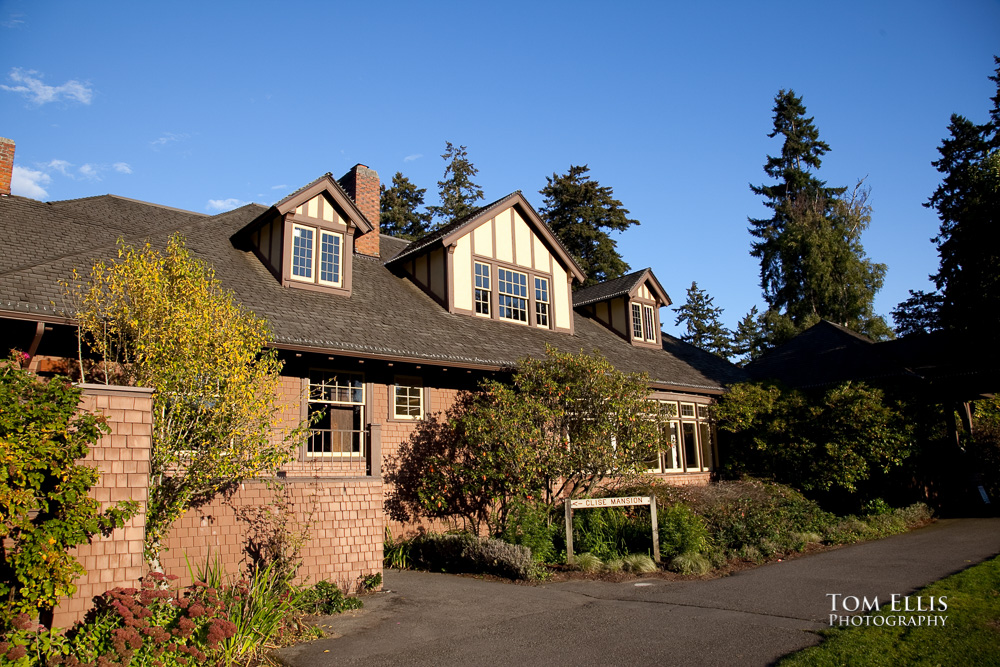 The Mansion is a beautiful building originally built in the early 1900s
The large garden area behind the mansion is a great place for outdoor ceremonies and receptions during the summer months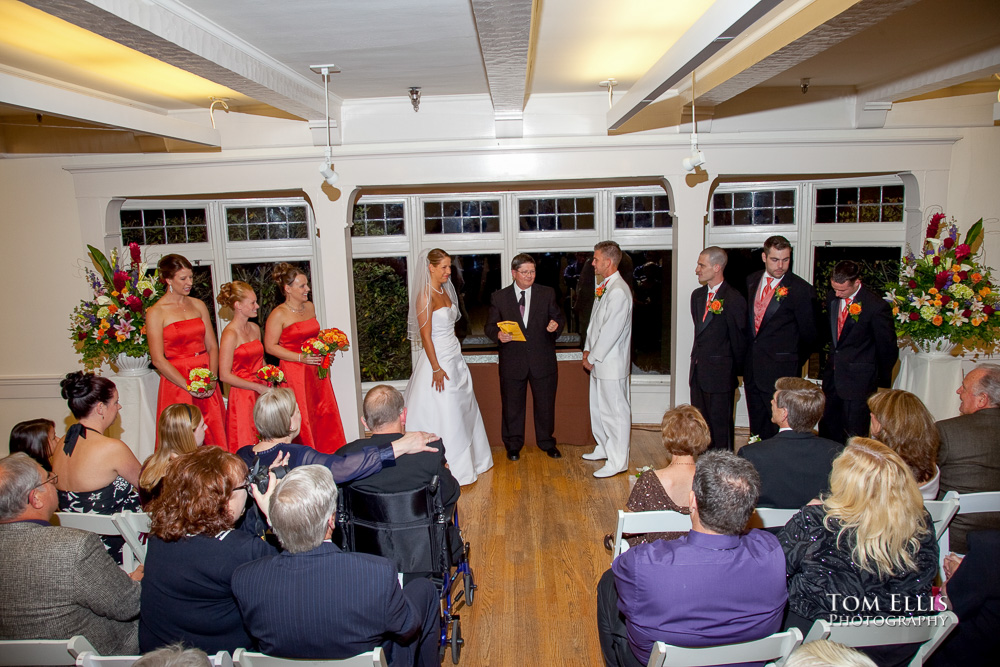 The Great Room works well for indoor ceremonies in good or bad weather, and also is a perfect place for an indoor reception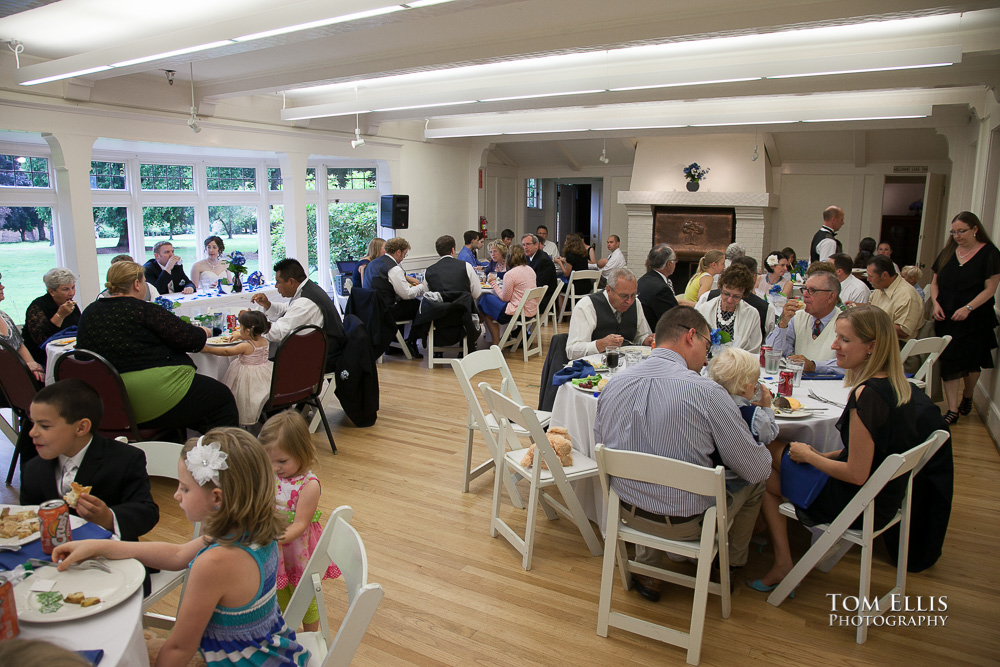 The Great Room set up for a reception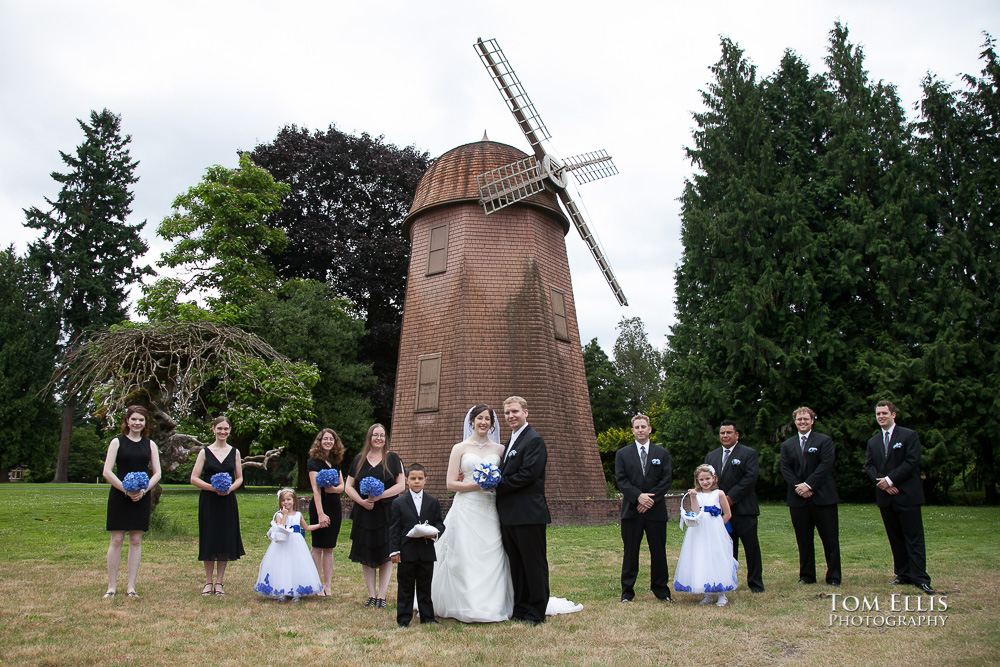 The grounds around the mansion include a non-functional windmill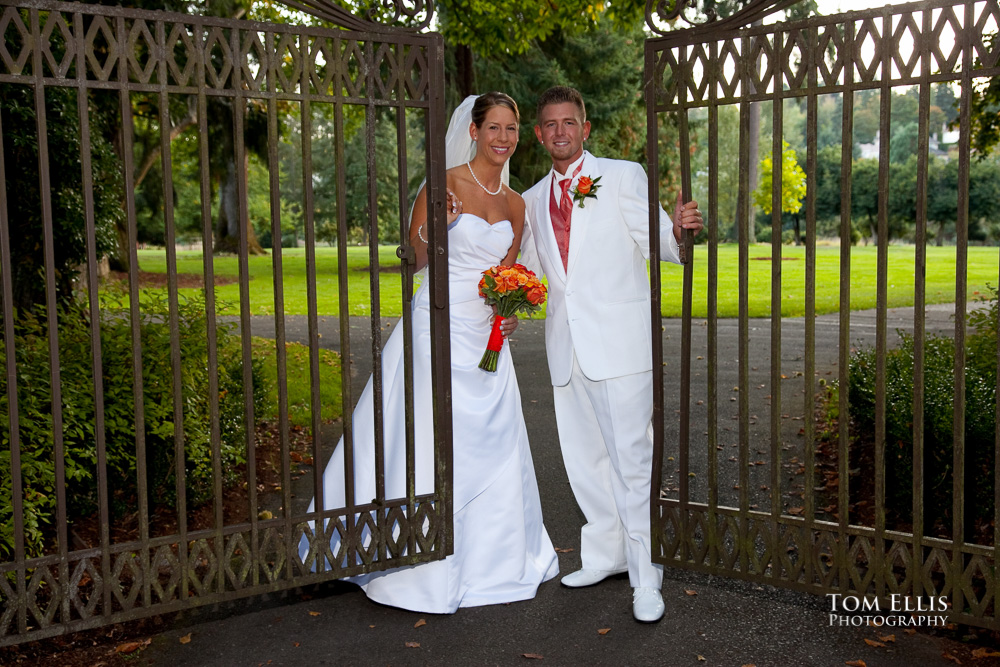 Molly and Kenny at the entrance gates to the mansion
The interior spaces of the mansion make great places for photos
Dancing in the Great Room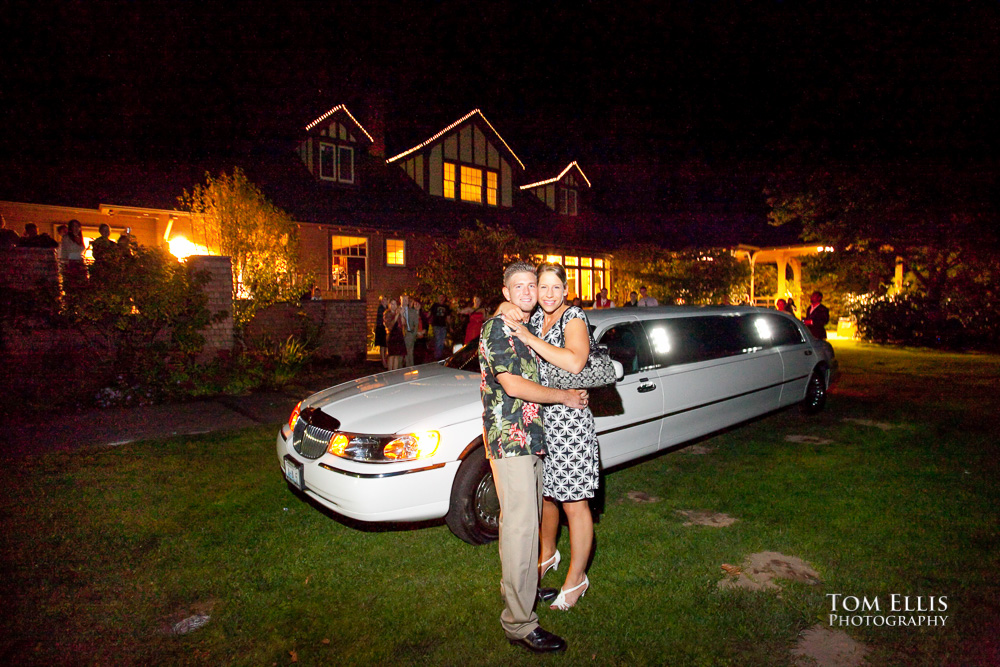 Outside the mansion at night