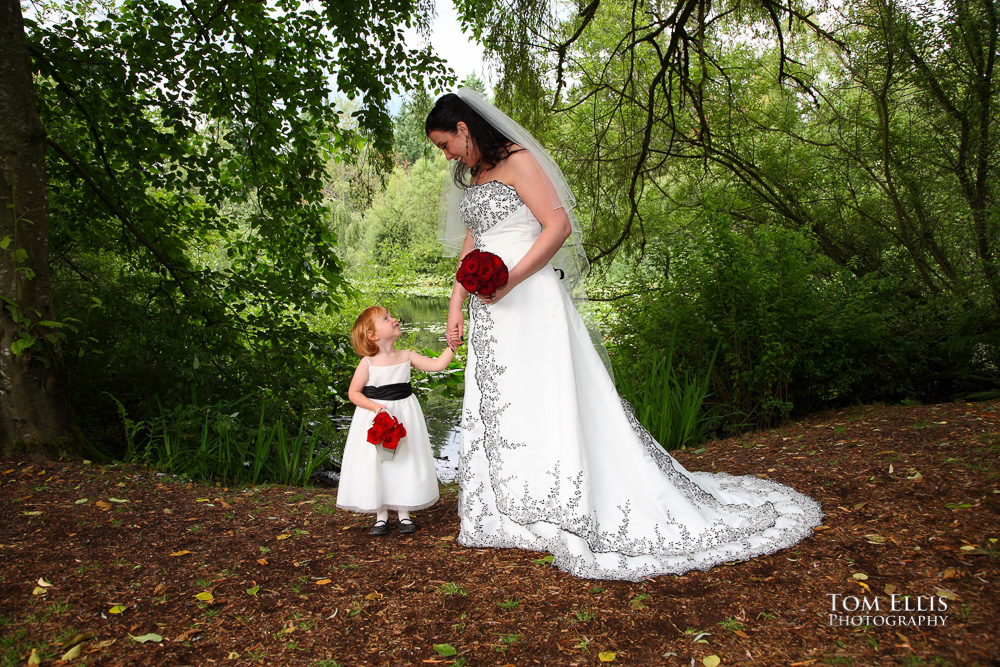 Bellevue Wedding Venue Review – Robinswood House
Because I am frequently asked by couples "What are great places to get married in the Seattle area?" I have decided to do a series of reviews of some of my favorite local wedding venues.  All of the venues that I review will be places with which I am very familiar.  For my initial review I have chosen Robinswood House, located in Bellevue.
Robinswood House has a special place in my heart.  In the first few years that I was doing wedding photography I did several weddings there, and I was hooked.  In the subsequent time that I have been a professional photographer I have photographed a variety of weddings, Bar and Bat Mitzvahs, and even corporate events at Robinswood.  It is one of my favorite wedding venues in the Seattle area, and now I will elaborate a bit on why I like Robinswood so much.
Robinswood is located in a large park in Bellevue, just off I90.  The original house was built in 1895, and has been added to over the years.  It features the original hand notched log framing, solid oak floors, and a vintage stone fireplace which has been converted to gas.  Gorgeous old house, lots of fun for photos!
You can rent Robinswood for both a wedding and reception, or just for the reception.  About 1/3 of the events I have done at Robinswood were "reception only", with the wedding ceremony usually being held at a church that was not suitable for a reception.  But what makes Robinswood so special is that it gives you the option of a full-outdoor ceremony in a beautiful garden, or if the weather is not conducive to an outdoor ceremony you can hold it inside a massive tent.  Tent rental is available through Robinswood between June 1 and October 1, and outside that period are available from other local rental companies.  For a large wedding, in the off-season I would strongly recommend a tent, and even during the summer it is something you should carefully consider.  Hey, this is Seattle and it rains a lot!
Robinswood house is basically a "park within a park".  The grounds of the old mansion include a large lawn (called the English Garden) surrounded by a hedge and gardens that is perfect for outdoor wedding ceremonies.  There are a couple of large patios that can either be left open or covered with tents, depending on the weather.  The English Garden will accommodate over 200 people for an outdoor ceremony, and the two patios together have more than enough space to hold over 200 guests.  The house and immediate grounds are separated from the larger Robinswood Park by hedges, trees and large shrubs giving a nice sense of privacy to the grounds.
The house itself has a large addition (the Cabana) that is appropriate for either a small to medium indoor wedding ceremony, or for cocktail or meal service.  During the summer I usually see this room set up for a buffet, with guests then taking their meals outdoors to the patio.  But I have done some winter weddings at Robinswood where the Cabana has been set up for the ceremony, and then turned over to be the reception hall.  The size of the Cabana allows for groups of up to ~60 people to be seated comfortably.  There is another nearby room inside the original house that is often used for buffets as well, allowing the entire Cabana to be set up with tables and/or chairs.
Robinswood does not offer in-house catering but does have a list of great caterers to handle any size event.
The main house includes a beautiful living room on the lower level that I love to use for photos.  The upper floor has been converted into meeting rooms, that can also serve as dressing areas for the wedding party.  Unlike many venues that offer rather meager dressing areas for the wedding party, at Robinswood you will find large well-lit areas for both the men and women, with plenty of space for the ladies to deal with hair and make-up if needed as well as getting dressed.
Now to get into why I like Robinswood so much as a photographer.
The old mansion is extremely photogenic both inside and out.  The living room windows allow some beautiful lighting to take advantage of the vintage construction of the room as a backdrop.
Outdoors, the patios have fences and hanging plants, and the house is almost completely surrounded with a variety of rhododendron bushes up to 15 feet and higher, offering incredible flowers when in bloom.
But maybe even better are the photo possibilities in Robinswood Park itself.  There is a huge lawn adjacent to the mansion grounds, and on the far side of this lawn os a beautiful pond that is full of water year-round.  It must be fed by an underground spring, as there are no evident streams coming either in or out.  The same spring does an almost magical job of keeping the huge lawn green even during the driest of summers.  The pond is surrounded by trees, with lots of access to the water, and there are lots of great places for photos.  Always plenty of ducks and/or geese, and many times you can see turtles either swimming or sunning themselves.  And when I am photographing the bride and groom near the pond we are frequently serenaded by the numerous (very loud) bullfrogs hiding in the underbrush!
In addition to the pond, there is a patch of woods that makes for a great place for pictures, it feels like you are miles from civilization.  Or you can go to the playground (always fun with an adventurous wedding party) and take advantage of the play equipment.  And there are plenty of "hidden" spots for photos all through the park that make this a photographer's dream.
If you are looking for a great venue that offers both indoor and outdoor possibilities I strongly recommend that you look into Robinswood House.  It is operated by Seattle Bride, just click on the name to see their website.  Or call them at (425) 865-0795.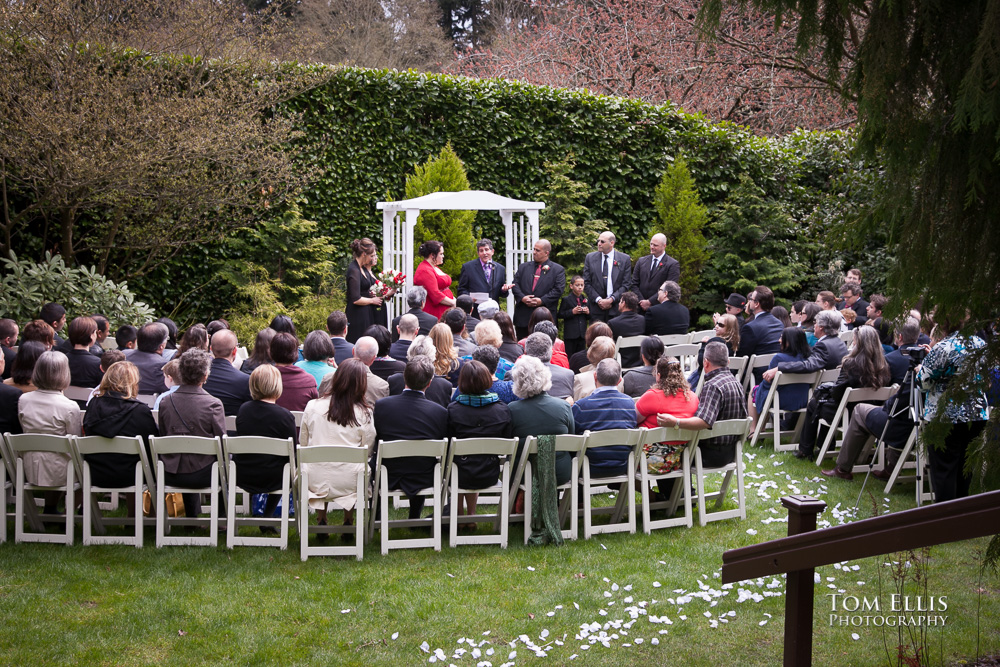 The English Garden on a sunny day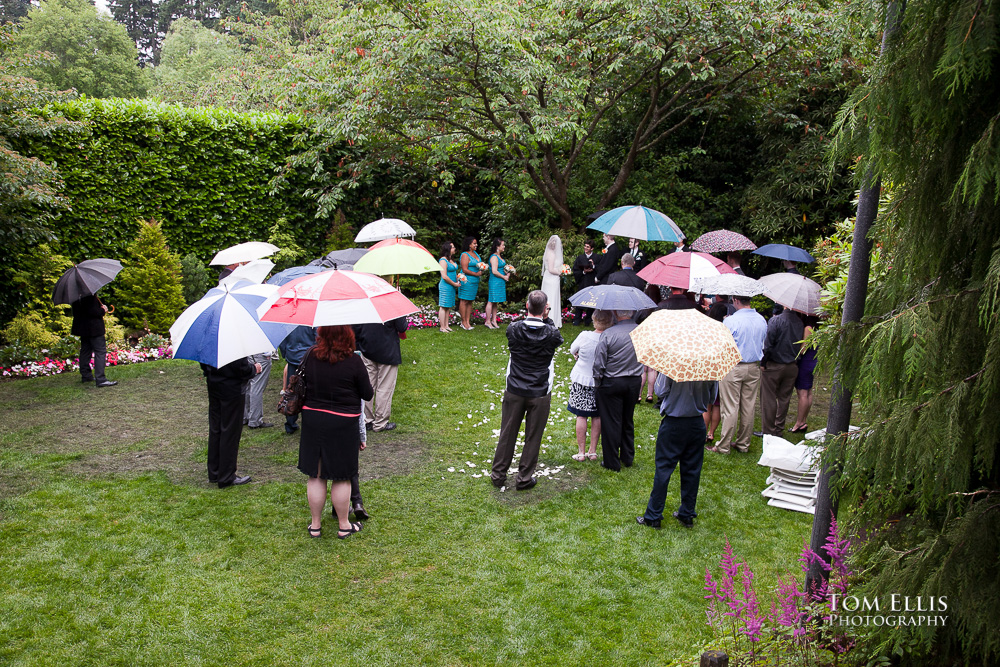 Hey, who cares if it is a little wet!  Umbrellas make for a very "Seattle" wedding!  And the garden setting is still beautiful.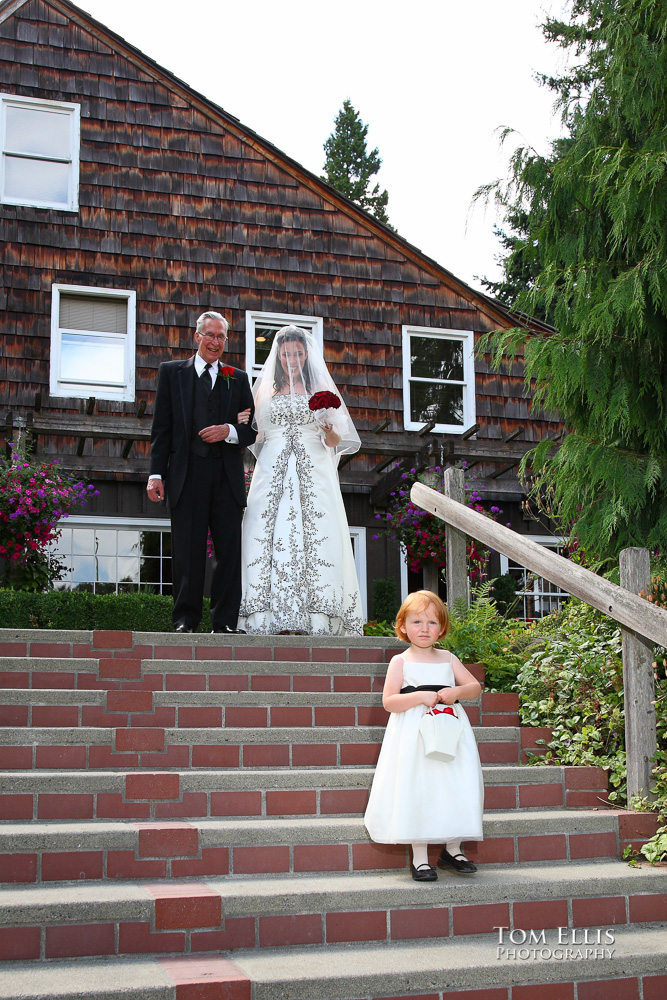 Steps leading into the English Garden, with the mansion in the background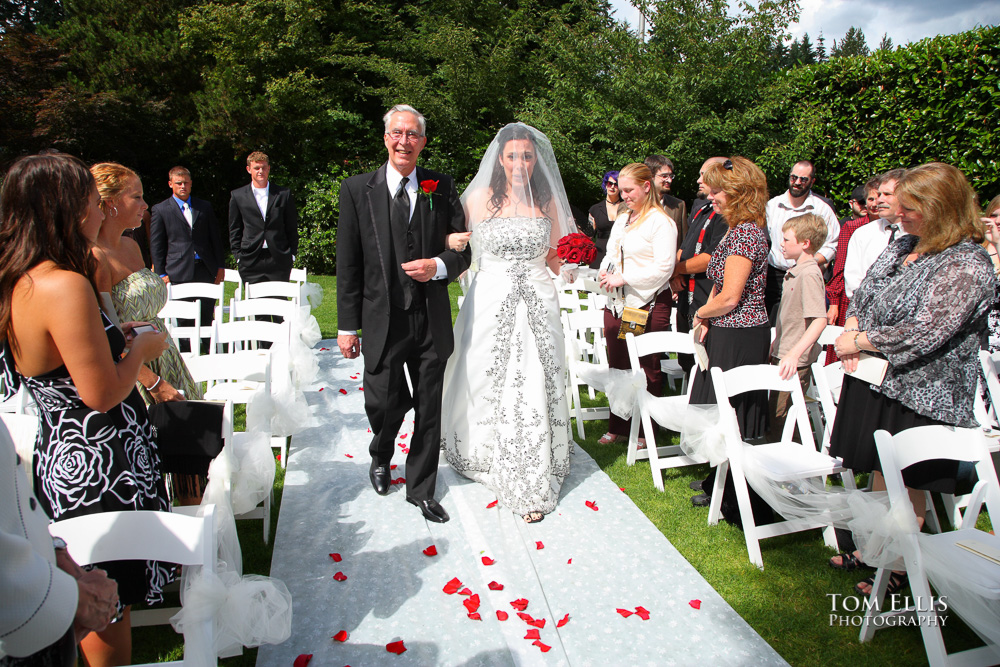 Light through the windows in the main house make a beautiful photo
Various options for the main patio, with or without a tent
At the nearby pond in Robinswood Park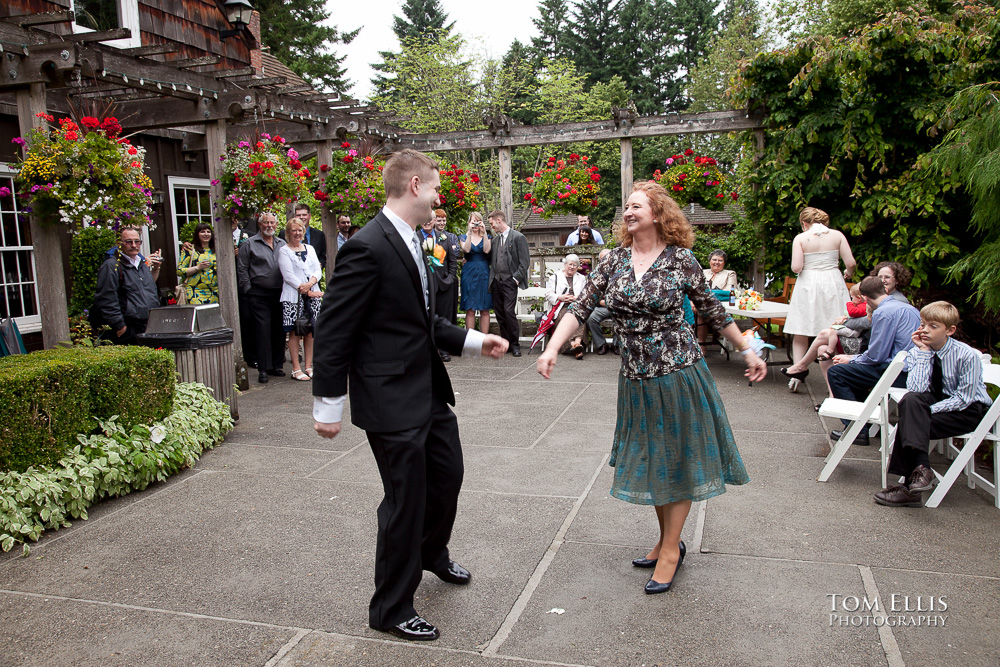 Dancing on the upper patio