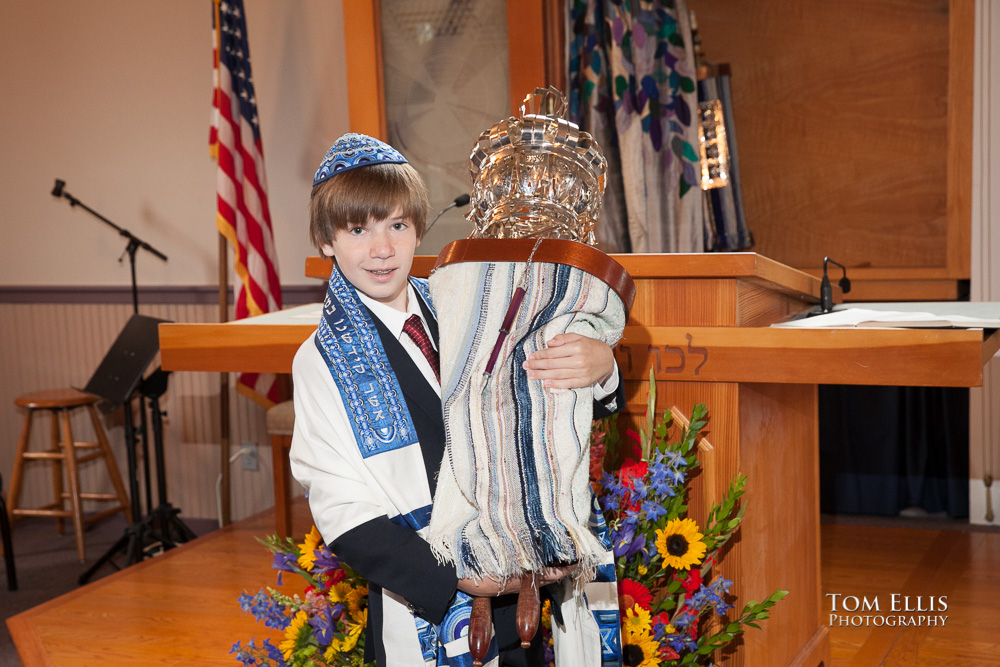 Seattle area Bar Mitzvah, Temple Beth Or and Seattle Space Needle
On Saturday August 8 I was the photographer for the Bar Mitzvah for Mark Fishman.  I met with the Fishman family that morning at Temple Beth Or in Everett, where the ceremony was to be held.  Unfortunately at Temple Beth Or photos are not allowed during the actual Bar Mitzvah ceremony, so I took some preliminary photos with the Fishmans and other family, as well as some photos with the rabbi and the torah before the ceremony began.  You will see some of these photos below.
Later that day I met up with the Fishmans again at the Seattle Space Needle, where the post-ceremony party was to be held.  After a few shots of the family around the base of the Needle, we moved up to the banquet floor of the Needle so the Fishmans could greet their guests as they arrived for the big bash.
And it really was one heck of a party!  For anyone who has not been there, the Space Needle has a special floor called the Skyline level located 100 feet up the Needle that is a private event and banquet venue.  Party guests are allowed to skip the usual lines for the elevator, and are quickly taken to the banquet floor.  The entire floor is used for the party, with three spaces that can be set up to accommodate your event.  There is a dance floor in one area, and (of course) the views are fantastic from anywhere on the Skyline level.
The Fishmans had two separate buffets, one for the adults and one for the kids, though there was quite a bit of crossover, with many of the adults sneaking some of the kids' food!  There was also what I would describe as a non-booth photobooth, with a dedicated photographer taking photos of guests in various costumes against a studio backdrop, and many of those present took advantage of this.
After everyone had a chance to eat, Mark did the traditional candle lighting ceremony but with his own special twist, with the honorees lighting candles in a cupcake tower (see photos below).
And then the party really got underway!  The DJ, Nicholas Barrat of The Celebration Specialist and his assistants kept the dance floor full of both kids and adults for the entire evening.
Enjoy the photos below, and please leave some comments for the Fishman family to see!