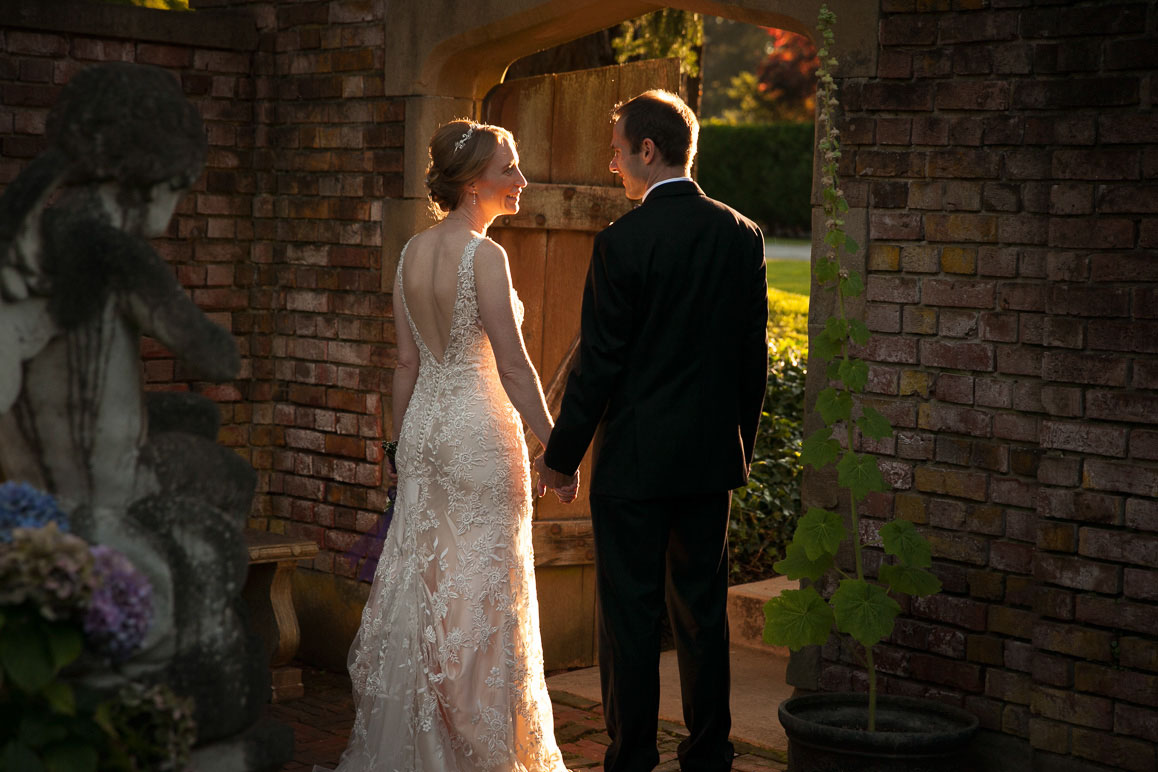 Renee and Dan take a moment before leaving the formal gardens at Thornewood Castle in Lakewood
---
We found out about Tom after searching online to plan our wedding in Tacoma from another state. From reading the articles on his website, we gathered that he is an enthusiastic and knowledgeable shutterbug. This intrigued Dan from the technical standpoint. Communicating with Tom long distance by email and phone, we were quite comfortable choosing him as he was very easy to work with.
When we finally met for our "engagement" picture shoot (which we did the week of our wedding in Tacoma), we were impressed with his eye for finding the best angles and lighting to create breathtaking pictures to share with the family. He truly is one of the best at getting the perfect shot.
On our wedding day, he arrived early and got right to work with his assistant to document the bride and groom getting ready. Tom's demeanor is warm and relaxed, which helped us focus on having fun that day and not stress out. Tom brought an assistant to the wedding, Catie, who took wonderful pictures that augmented the work Tom did. They stayed through the end of the reception and got pictures of our guests visiting and having fun.
A short time after our wedding, we received the digital images of all the pictures they took, along with prints. We hosted our own web albums on the cloud to share originals with family and friends. Moms especially loved being able to look through and download copies of their own. For the wedding album, we got to collaborate with Tom on the content and layout, so it was just what we wanted when it arrived. We highly recommend Tom Ellis and are so happy with the work he did for us on our big day.
Renee and Dan
---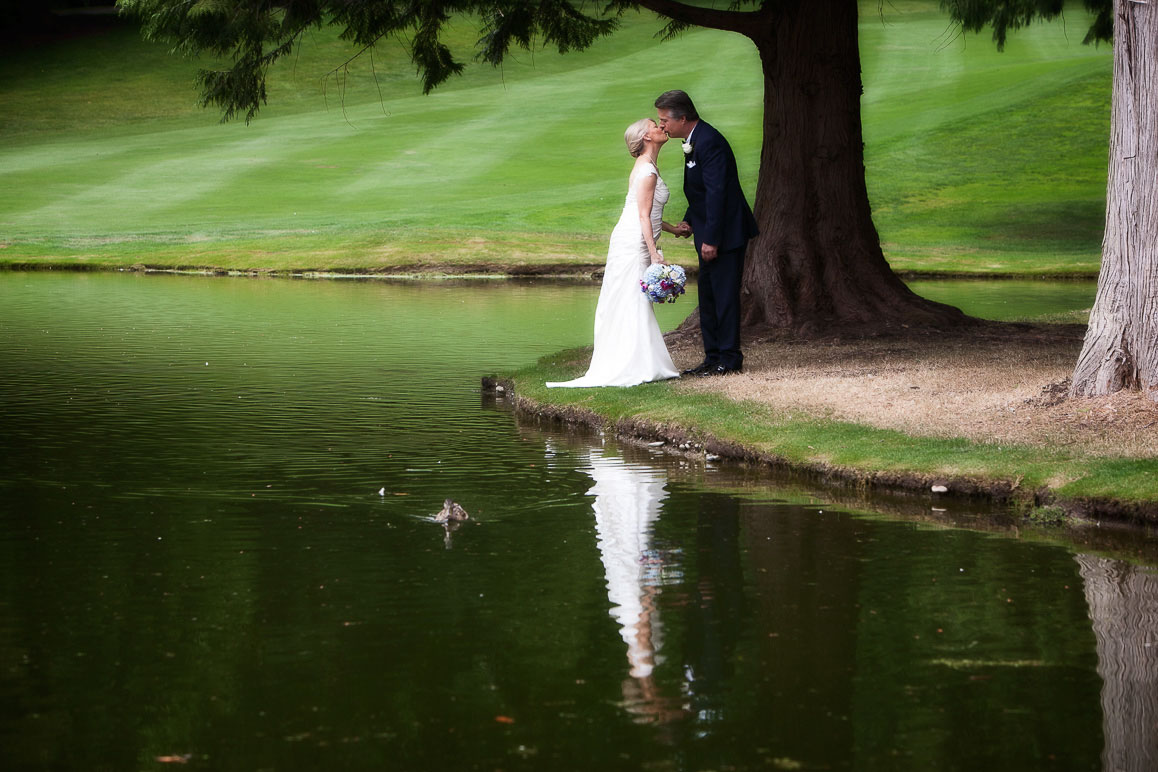 Sarah and David share a kiss along the side of a fairway pond before their wedding at Sahalee Country Club
---
Tom is the consummate professional. We are so pleased and would encourage anyone looking for a wedding photographer to choose Tom; you will not go wrong. He has a keen eye for color, detail, locations, and pretty much captured all of our wedding. A great sense of humor kept us on our toes and laughing. His style is effortless. HIRE TOM! LOVE LOVE LOVE HIS WORK!
Sarah and David
---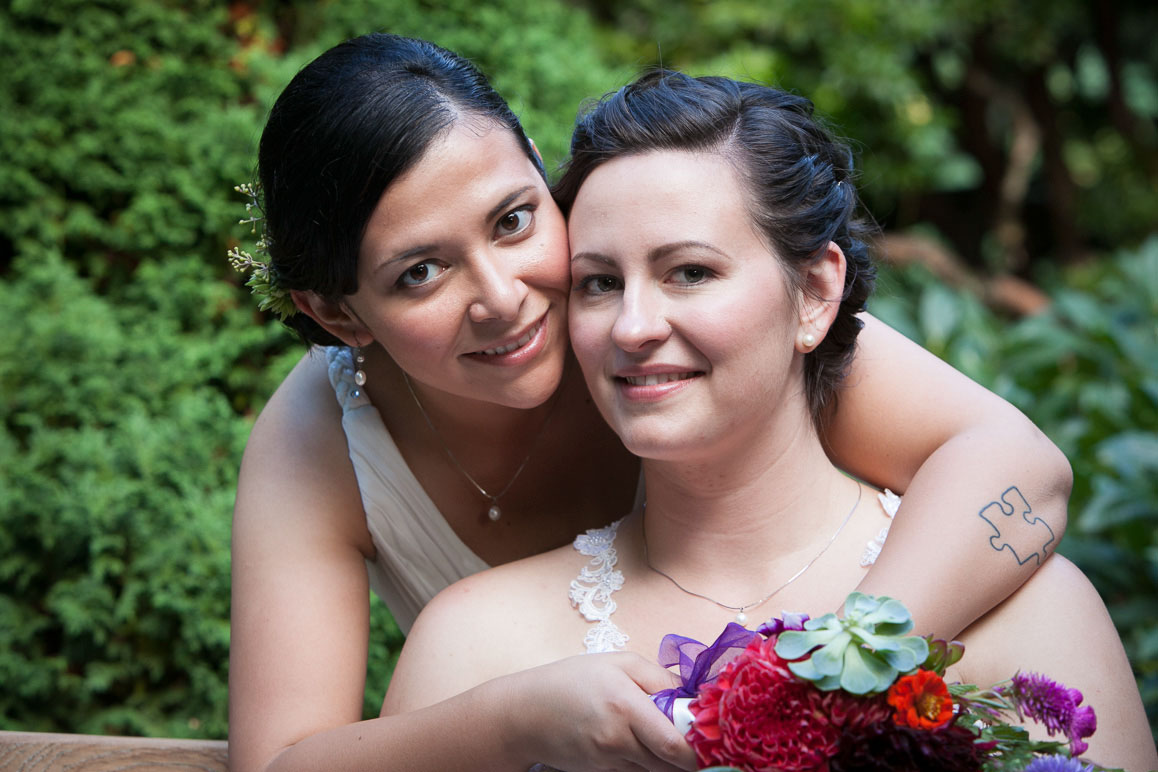 Jessy and Kelsey at Parsons Garden before their wedding at the Sorrento Hotel
---
From the day we were looking for photographers, Tom was one of the first people we talked to and felt we didn't need to look any further. He was very welcoming and helpful and put our nerves at ease. The months following, he was very good at email correspondence, and phone calls, and was there if we had any questions. As the day finally arrived, Tom picked us up at our hotel, and we began our photography session. He took us to all of our locations we had requested and the pictures were more beautiful and picturesque than we could have ever imagine. Tom comes highly recommended; we would definitely hire him for any future family, events, etc.
Jessy and Kelsey
---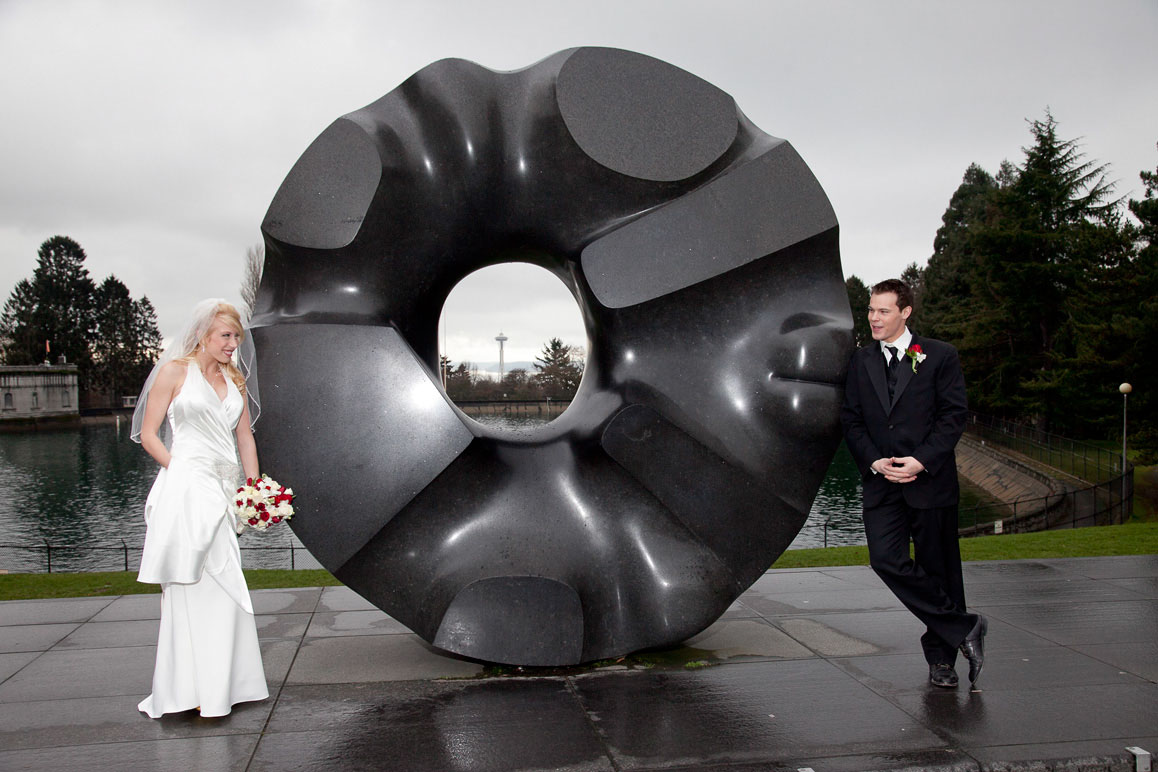 Katie and Aaron at the "donut sculpture" in Seattle's Volunteer Park for some off-site photos before their wedding at the Century Ballroom
---
He clearly has been doing this a long time, takes great pride and care in his work, he is flexible, he is fun to work with, you can trust him to capture your story the way you want him to, he knows the best angles, he gives your pics a very unique artistic flare... Now to elaborate on those reasons I'd recommend Tom Ellis...

Looking back at our wedding photos reminds me of old Hollywood glamour with a twist of quirky modern...Which is exactly what we described to him when he first asked us about who we are as a couple.

I think that is most important. The trust that a photographer will understand exactly what you want. He took our love story (we met swing dancing at an old ballroom in Seattle. got married at that same ballroom!) and upon our request put his own modern twist into it and told our story with his pictures. It wasn't just a mere collage of gorgeous pictures.

Also, he's an expert! Or more an encyclopedia of creative photo ideas, really! He came up with almost all our best shots, so if you as a bride feel overwhelmed and don't exactly know what types of photos you want, just tell him to do his thing and it will turn out beautifully! He's a pro!!

Also, he knows all the angles to make a bride and groom look beautiful, and gave direction and managed our large wedding party so gracefully for the "party shots." Overall great quality for your money in my opinion. Hope that helps, God bless!
Katie and Aaron
---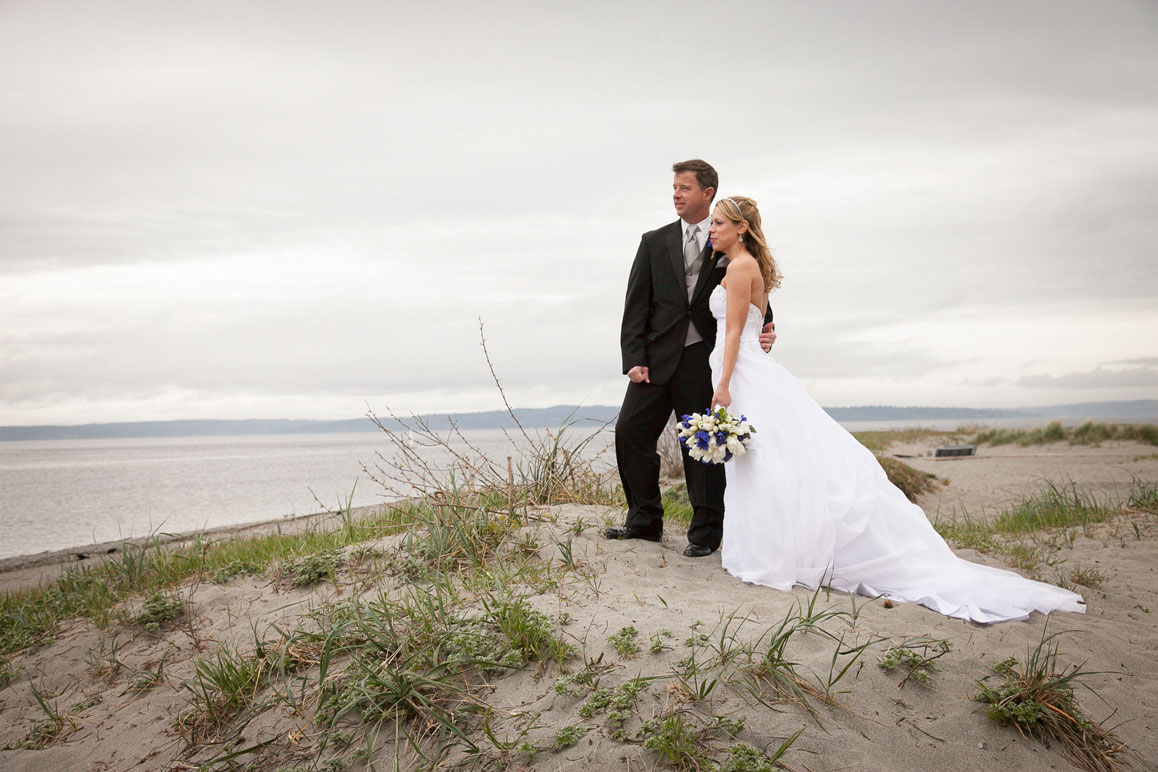 Heather and Darran on the sand dunes at Golden Gardens Park, before their wedding at Ray's Boathouse
---
Dear Tom,
We just wanted to send a quick note to express our gratitude to you. We absolutely love our wedding photos and feel very fortunate to have found you to photograph our special day.
I felt very confident from the first time we spoke, and knew we would love working with you. You kept in constant contact with us, responded to questions in a very timely manner, and we appreciate you being flexible when our wedding date needed to be moved up due to Darran's deployment schedule changing. You certainly exceeded our expectations and it was a pleasure to work with you.
At our wedding, our guests couldn't stop talking about what a nice guy you are and how your passion for what you do really shines through. And now that we have the link to our photos, our friends and family can't stop talking about how stunning they are. We can't wait to get them printed and displayed in our home!
Thank you again for everything! You are truly a talented photographer!
Sincerely, Heather and Darran
---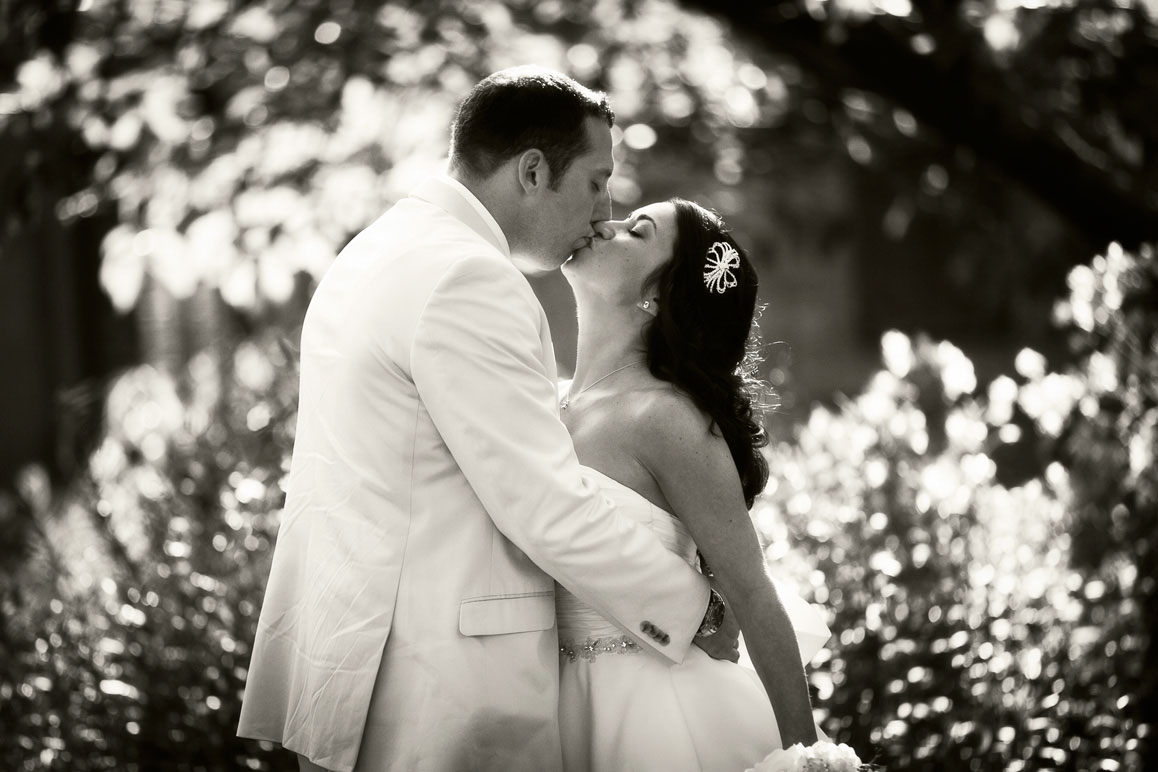 Jenn and Larry in the garden at the Chittendon Locks
---
We really enjoyed working with Tom. We were traveling from across the country so we had many phone calls with him before our wedding date. He was able to answer all our questions and made us both feel very confident we picked the right person. We didn't officially meet Tom face-to-face until 4 or 5 days before our wedding which is when we did our engagement shoot. During the shoot he did not disappoint. He took tons of great shots that day and we walked away very impressed. Our wedding day was equally impressive. He was on the go the whole time coming up with great ideas for shots. The end result was a ton of great photos that both of us couldn't be happier about. I would strongly recommend Tom to anyone looking for high quality and well experienced photographer. Thanks Tom for all the great photo's and taking the time with us leading up to and on our very special day.
Jenn & Larry
---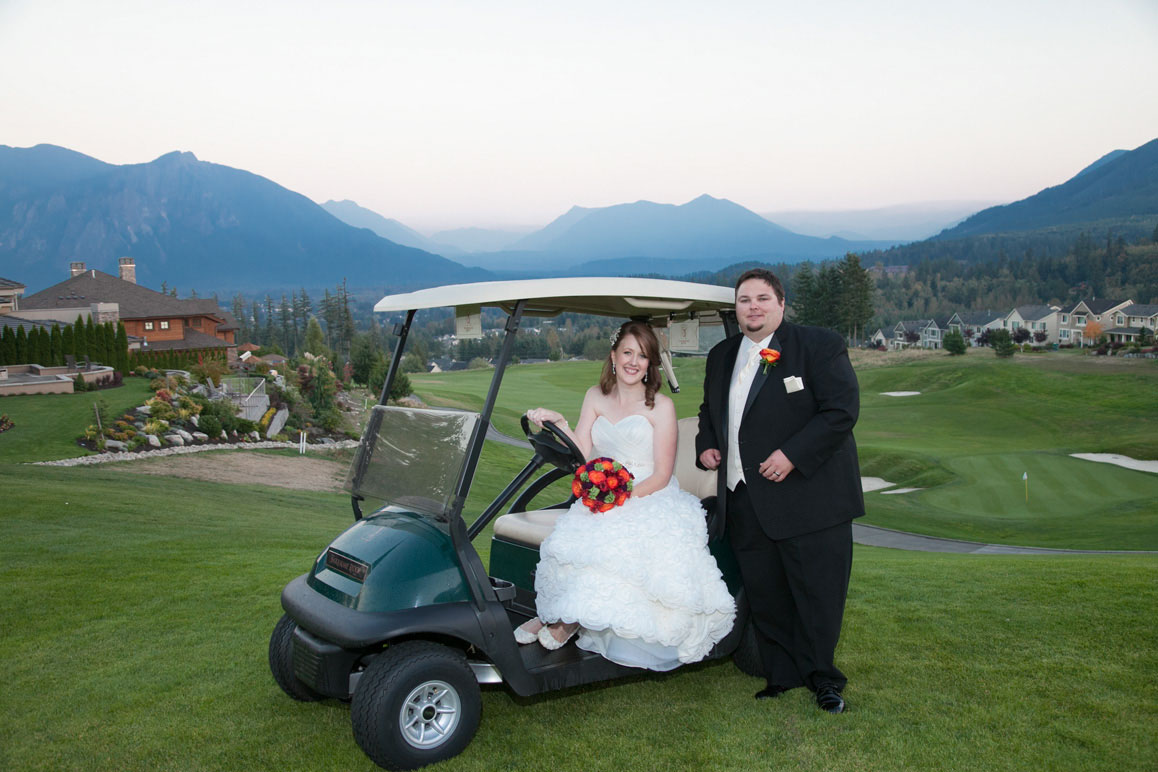 Shannon and Kaleb outside the clubhouse at TPC Snoqualmie Ridge, with Mt. Si and the Cascade Mountains in the background
---
I can't say enough wonderful things about Tom!!! He was so easy to work with and helped me with things that I hadn't even considered until he asked me and brought them to my attention. He did exactly what I was hoping for and more! We received our pictures online within a week of the wedding and all were GORGEOUS! I would HIGHLY recommend Tom Ellis for any wedding, absolutely wonderful!
Shannon & Kaleb
---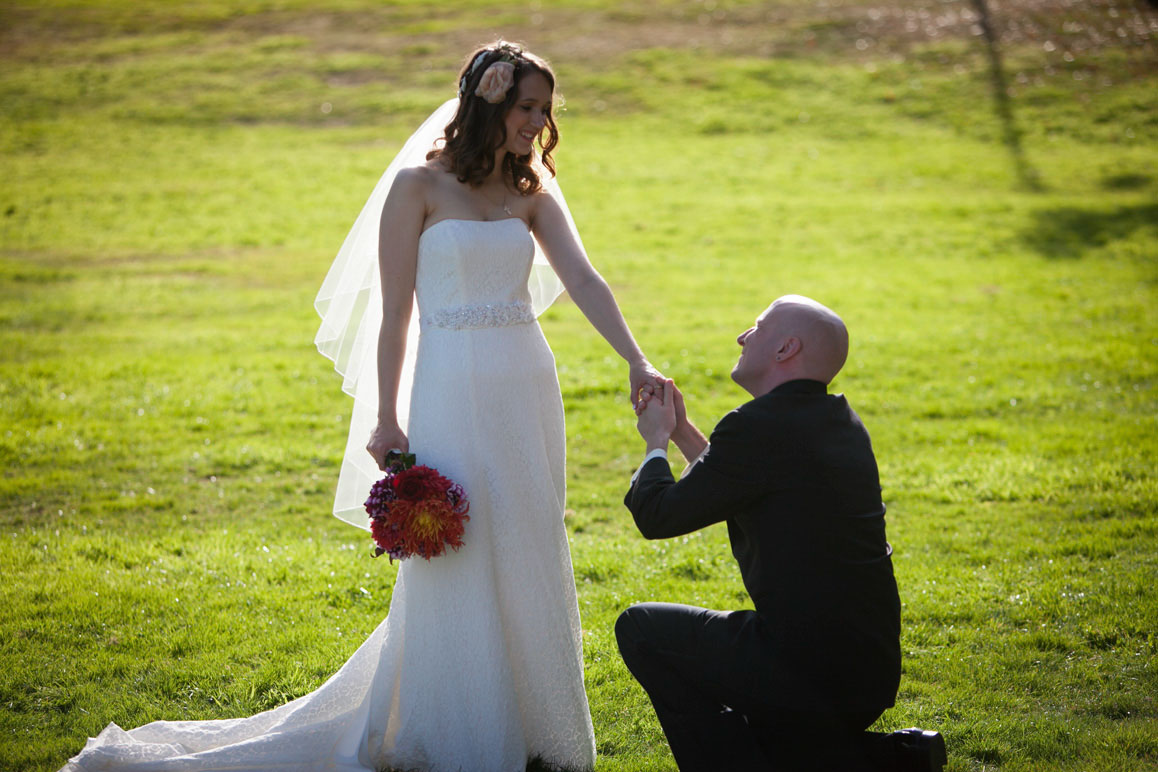 Sarah and Josh in the garden at the Hamilton Overlook in West Seattle
---
I read all the excellent raving reviews by former customers but I was still amazed by the outstanding service, skill, and expertise that Tom Ellis provided for our special day.

We felt comfortable around him and didn't even know he was taking photos sometimes! He let the pictures take a natural flow while still having direction. He took us to 4 excellent locations to take photos. The results were phenomenal. Our friends and family said our pictures were the best wedding photos that they have ever seen and requested more information about him. His prices are fair while still be on the cheap side.

We couldn't have picked anyone better. His flexibility and open-mindedness made the photography go smoothly and I was relaxed and at ease which can be difficult on the wedding day since there is so much to do! But Tom showed up well on time and was ready to take photos. He was full of ideas and documented our most special day in the unforgettable fashion that we desired.
Sarah and Josh
---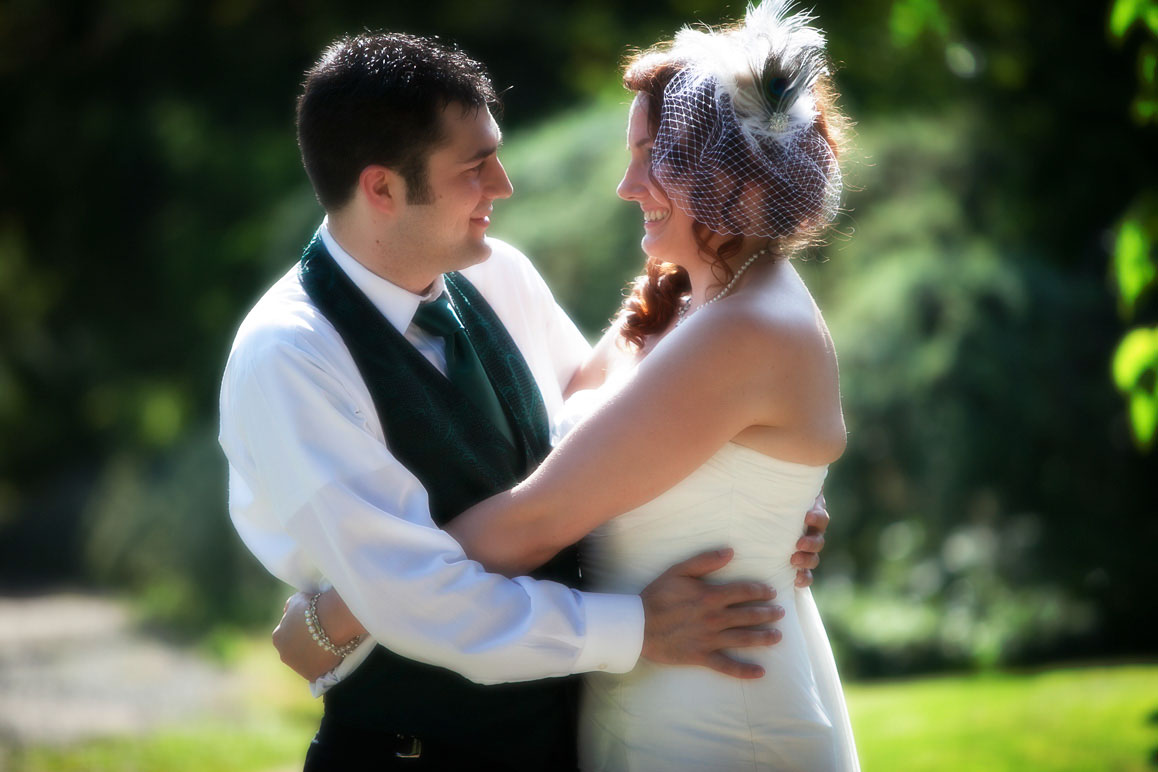 Lisa and Kelly during the photo session before their wedding at the Kubota Gardens in Seattle
---
Words cannot express how incredibly pleased my husband and I were with Tom, but I'll try. He did both our wedding photography and our engagement pictures, and I'm so happy with the work he did for both. He is not only a supremely talented photographer, but is also a very kind and pleasant man to work with, and a consummate professional. He was there for us 110%, and we are so happy with the pictures he took. Also included in our package was a album and slideshow, both of which turned out beautifully. He is also fast, we received our wedding pictures the next week, with no lack in quality.
Lisa and Kelly
---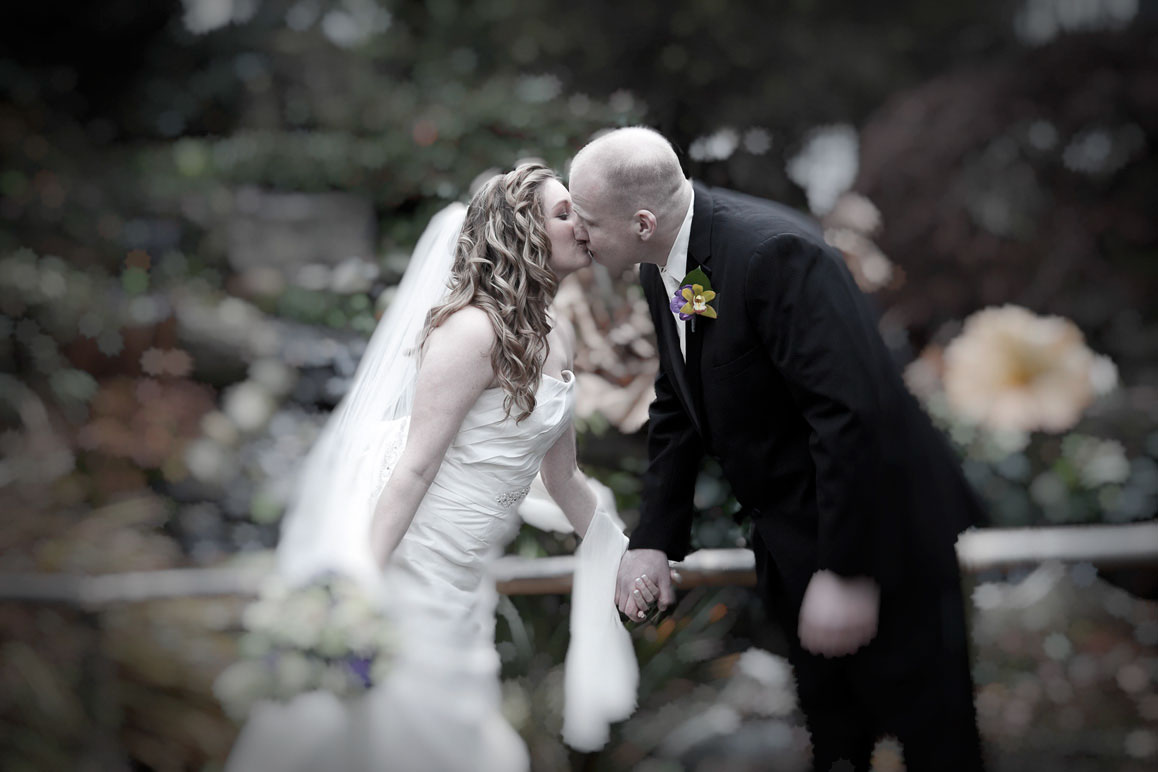 Jennie and Rob share a kiss in the aptly named Windmill Gardens in Sumner
---
I had spent days looking for photographers. I found Tom Ellis through "theknot.com," and viewed his website. Very professional, which included prices (great deal!) of the different packages he has to offer. I called him, and you could tell while speaking to him that he was a quality photographer. I was thrilled when I booked him!

Tom is a very professional and flexible photographer! He asks a lot of questions and suggests ideas that you don't even think of with your chosen venue (timeline, vendors, and wedding party/family photos), which made me feel very confident that I chose the right photographer.

Tom Ellis was amazing! I loved our engagement and wedding photos. I liked that Tom paid attention to detail, and it clearly shows in his photos. He provided a website in just a few days that my family and friends could view and order photos, and my album a couple weeks after with an included CD of all the pictures.

I would definitely recommend Tom Ellis for your big and special day!
Jennie & Rob
---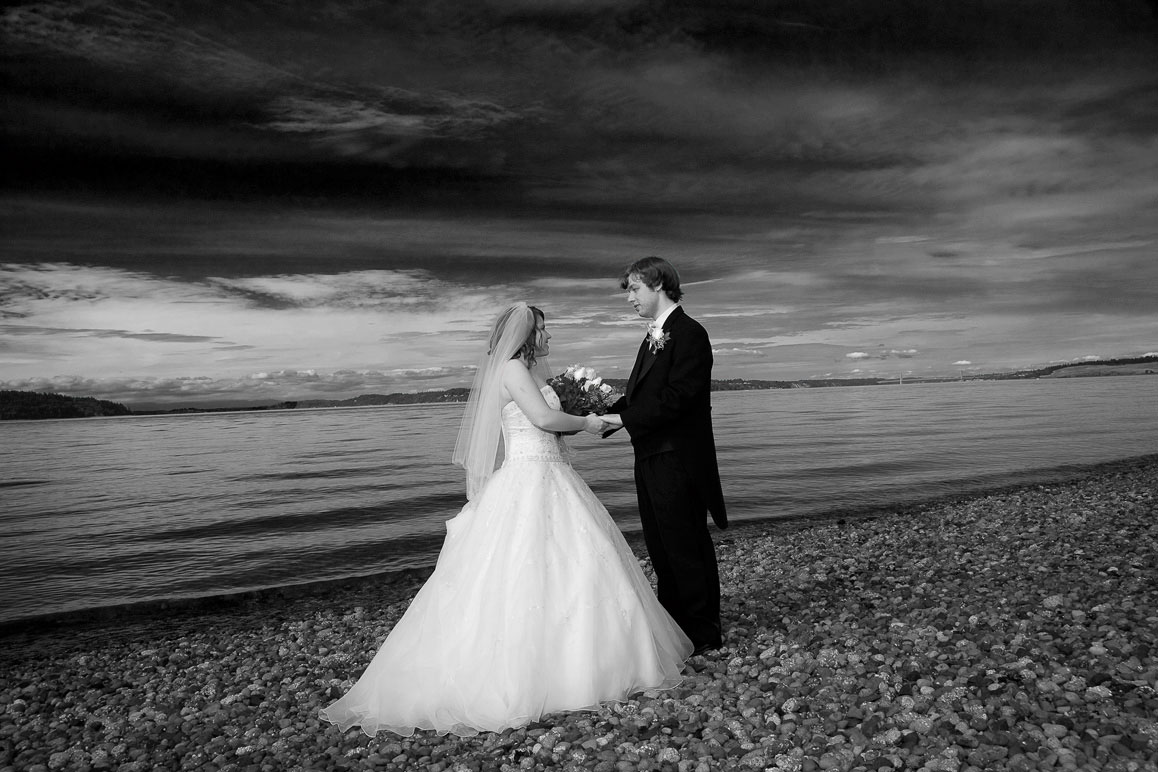 Justine and David on the beach near the Tacoma Narrows Bridge, where we stopped on the way to their reception in Steilacoom
---
I cannot say enough fantastic things about Tom!

Quality of service--Our photos were beautiful and Tom had great ideas about different photo shots and his editing with different colors/b&w made for some gorgeous photos. My biggest problem now is how to pick out which pictures I want to enlarge! Far too many to choose from!

Responsiveness--I live in D.C., actually, although the wedding was just south of Tacoma. Therefore, planning took place on the east coast which was stressful as it was. Tom was great with e-mail and responded in a very timely manner. Had the photos edited just a week after the wedding and up on the internet to see while we were on the honeymoon

Professionalism--Dressed up nicely for the wedding, made everyone feel comfortable while tirelessly telling us the same instructions that we didn't follow...I kept forgetting to put my flowers forward for the pictures, heh

Value for cost--What I love about Tom is that he has his prices ON his website so that you know what you're in for (very rare in photographers that I looked for in the Seattle-Tacoma area) and mentioned his flexibility...I feel that his 20+ years experience really showed on the day of the wedding and directed us so well during the process. There was actually a funeral going on right before my wedding and my mom started freaking out about the photos but he just directed us for outdoor pictures that turned out so beautiful that I would choose those over the church pictures (that we did get at the last minute) any day anyway

Flexibility--Already mentioned some stuff, but he is definitely willing to work with you. My husband is British and so we went through US immigration to secure a fiance visa which meant that we didn't know when he would get it (ended up taking 8 months). We let Tom know that even though we booked a date with him, we'd have to push it forward if my husband didn't get the visa in time. Tom was totally okay with it, as long as it wasn't on a date that was already booked. This was so awesome of him because not knowing when we would get the visa was super stressful!

Photos from family and friends are great, but does not compare to having them done professionally. In any case, your family and friends will be wanting to share this day with you! Not worry about getting all the best pictures or forgetting certain aspects.

also--book early! We did a year in advance and he says sometimes he does 18 months in advance. Eep!! Best of luck and congrats on your engagement!
Justine and David
---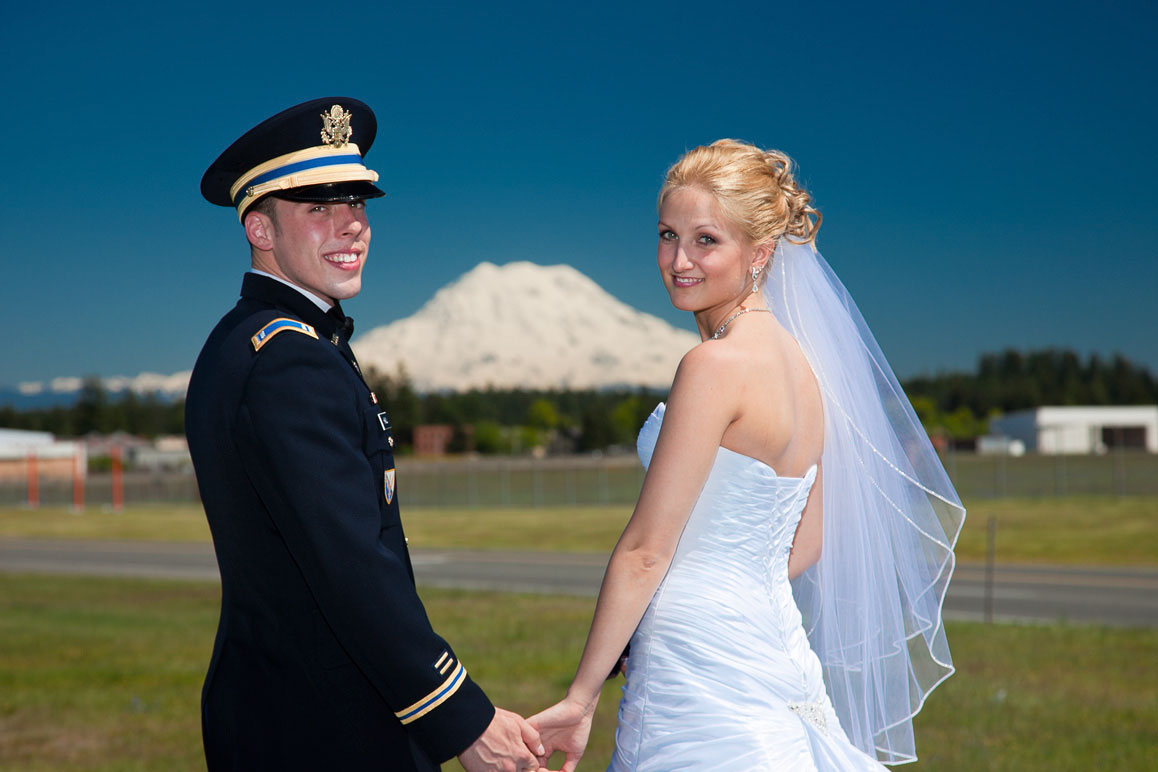 Kristen and Chris on the grounds of Fort Lewis, with Mt. Rainier in the background
---
Having Tom as our wedding photographer was a great experience. He has extensive knowledge and experience in the field and not only was a great photographer, but was helpful in helping us figure out multiple other wedding details (day-of timeline, family photo situations, recommending vendors etc) and repeatedly offered to help with more then the expected photograph questions. He has a very easy personality to be around and helped keep us comfortable, calm and on schedule all day. I highly recommend booking your wedding (or other photo sessions) with Tom. He is not only an excellent, professional photographer, but he is a calm, friendly, and easy going guy, who just wants to capture your day as best possible.
Kristin and Chris
---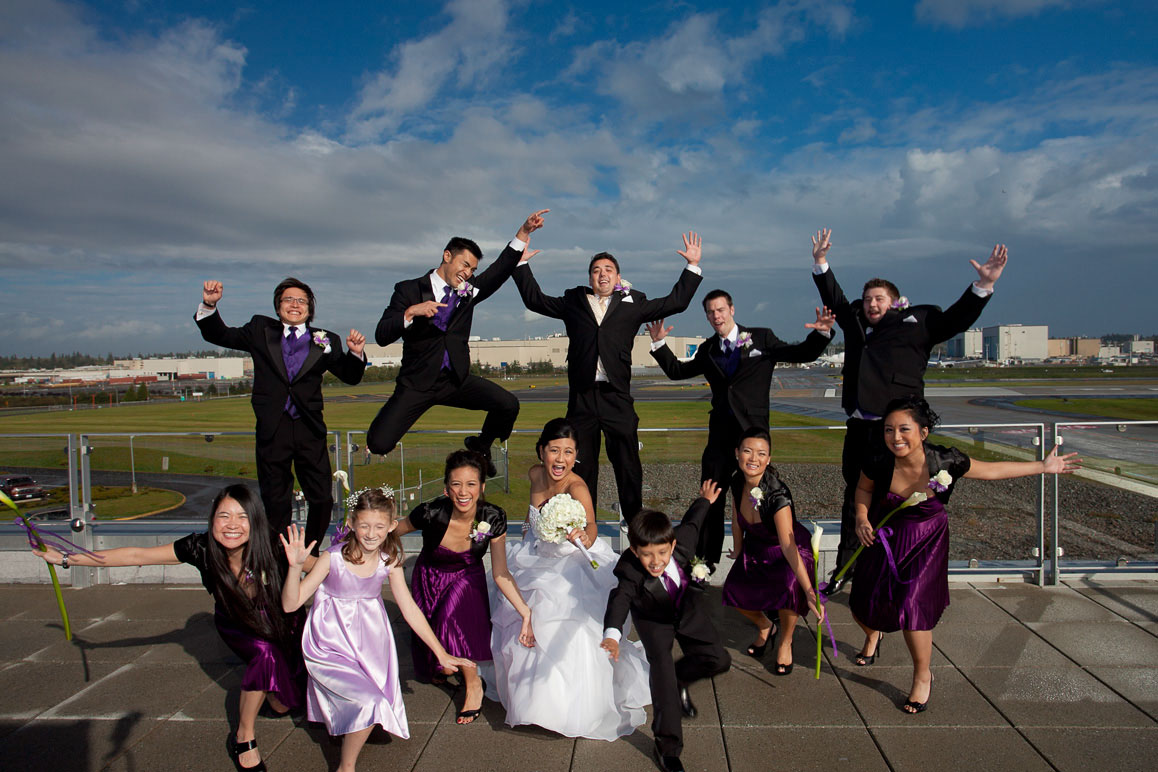 Leahnor and Eric with their wedding party as we have a little fun with photos on the roof top at the Future of Flight museum
---
We live in the midwest and we were planning our wedding out in Seattle. We chose Tom Ellis as our photographer for several reasons. For one, I know technology is great and communicating by email is convenient but sometimes you really just want to talk to your vendor over the phone so there is no miscommunication. Tom Ellis was the only photographer that emailed AND called me back when I was still shopping for a photographer. Our initial conversation over the phone made me feel confident that he would provide the best service and that he was very professional and personable. Another reason we chose him is because he has over 30 years experience in wedding photography. He not only took fabulous pictures during our wedding, he also helped us keep our wedding day on schedule! We were impressed by his expertise, service and of course his photographs! We are so happy we chose Tom Ellis for our wedding photographer and we highly recommend him.
Leahnor and Eric
---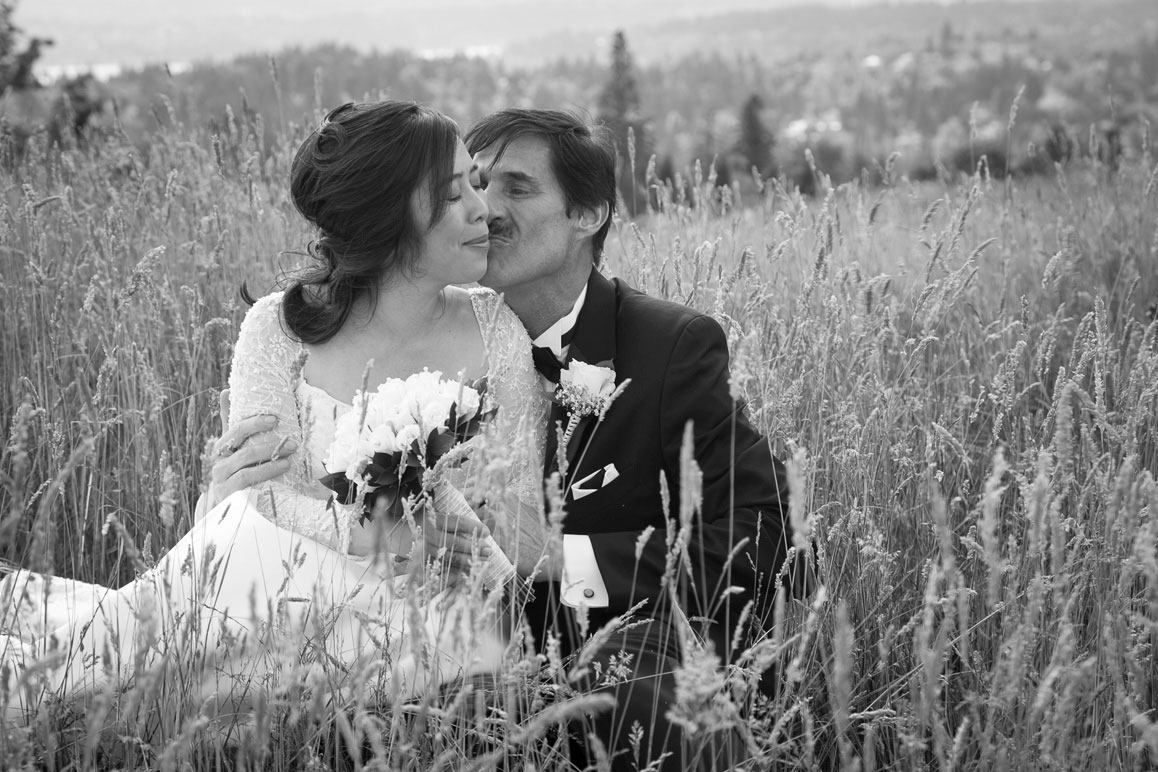 Bic and Chuck in the grass at Newcastle Golf Club
---
Tom Ellis,

I was overwhelmed with the high quality of the pictures/prints we received from you. Your shots and equipment were first rate.

Bick and I are very pleased and very thankful that we picked you for our wedding.

Thank you, Tom, for making our wedding so memorable with the great images you captured.

I also very much enjoyed your wit and your humor.

Thank you for making a joyful difference in our lives. We will always remember you.

You will be highly recommended.

Very Truly Yours,
Chuck Bishop
---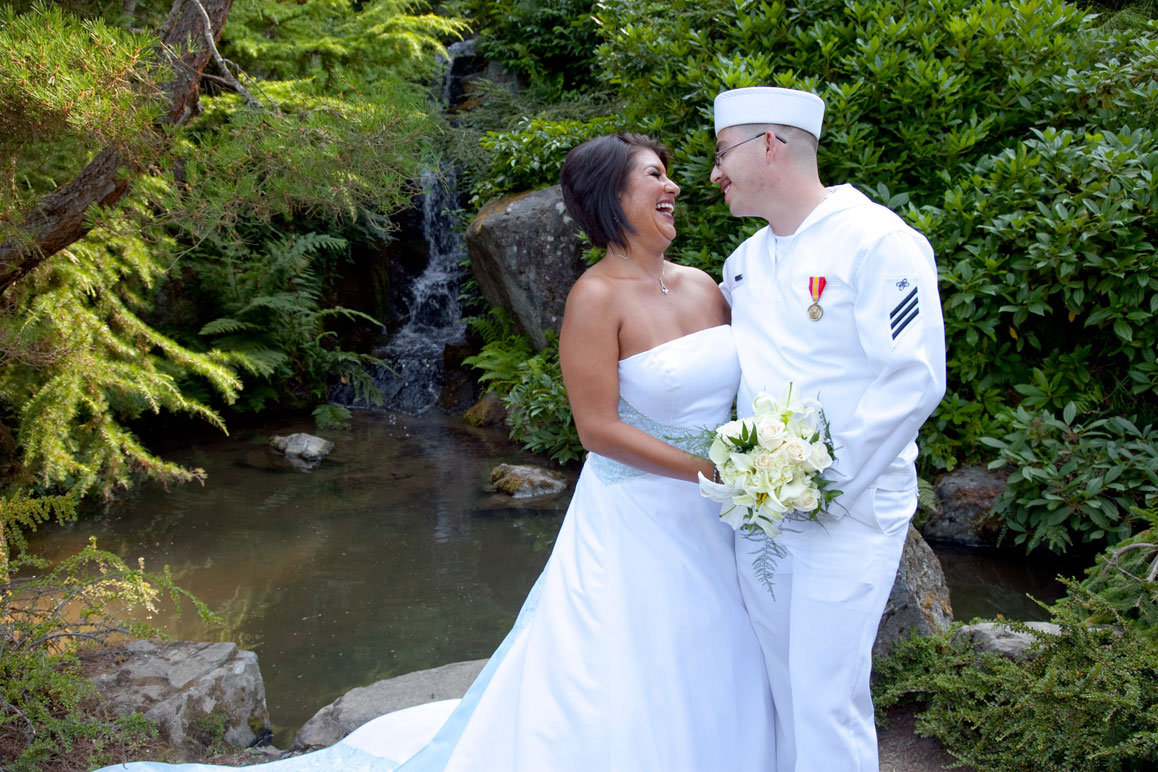 Starr and Joshua during our pre-wedding photo session at the Kubota Gardens in Seattle
---
Thank you so much Tom for making our wedding day truly special! You not only captured every special moment, but went the extra mile to capture moments I would not have thought of. As a bride I had a million things running through your head, but you kept me focused and reminded me that it was my day.
You also went out of your way to take us to a very beautiful Japanese Garden! We loved the fact that you drove us and took care of us...less stress on us. Not to mention such amazing photos came out of that! You are an amazing photographer and your work proves it. Your personality is great and my husband loved your ideas on everything. I want to thank you again for making our day so special! I would HIGHLY recommend Tom Ellis if you want the best on your wedding day..he made ours the best!
Starr and Joshua
---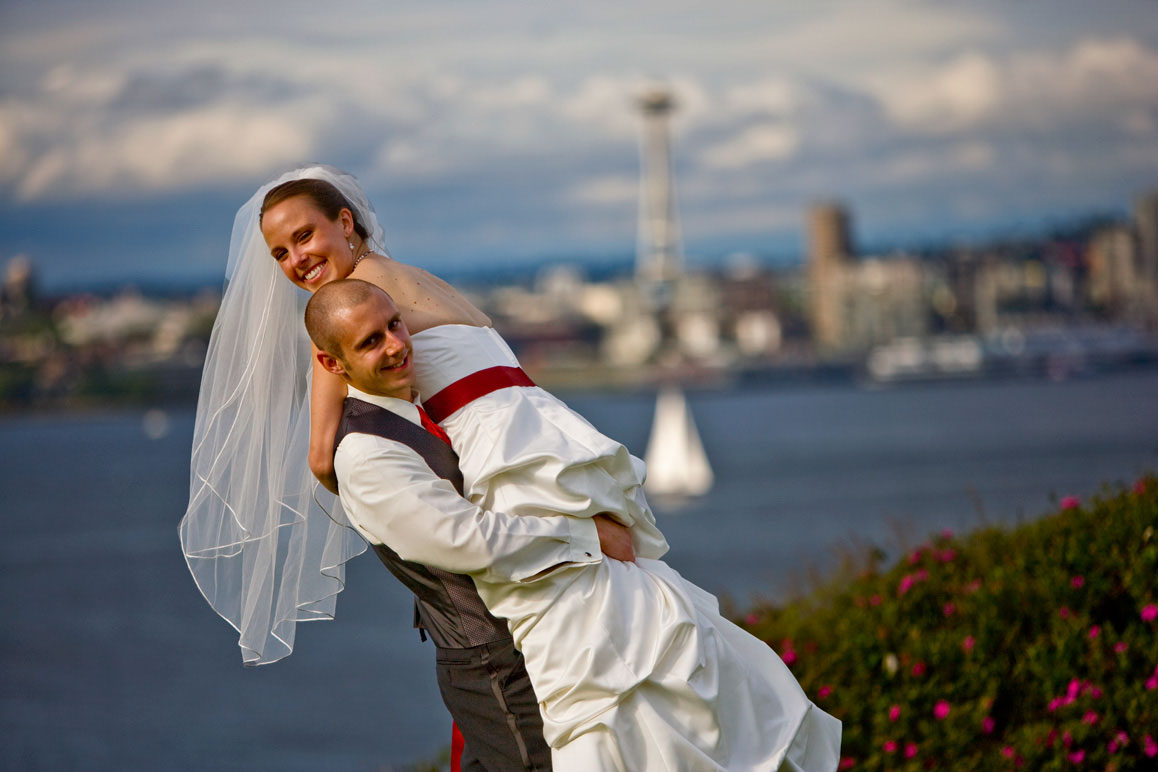 Audra and Nate at the Hamilton Overlook in West Seattle, with the Space Needle and Seattle skyline in the background
---
Tom was absolutely wonderful as our photographer, and I wouldn't hesitate for a moment to hire him again if we were to do it all over. I have (and will continue) to recommend him to my friends. Tom was friendly and made it clear that his advertised packages were just a starting point. He was extremely flexible and willing to create any kind of picture package we wanted.
He set aside the whole day of our wedding to work with us at our convenience. He took our pictures at three different locations and was willing to let us do the poses WE wanted, but was also ready with ideas when we wanted them. We felt our pictures reflected our personalities wonderfully. Tom was also wonderful at the reception...he was EVERYWHERE, yet never in the way...I was so pleased to see the special moments he managed to capture, and I had thought would be lost in memory.
After the wedding, he followed up with us several times to assure we were happy with our pictures. I really felt like Tom was more concerned about assuring we were happy, than he was about the pay check. THAT is what makes him stand out, I believe.
Audra and Nate
---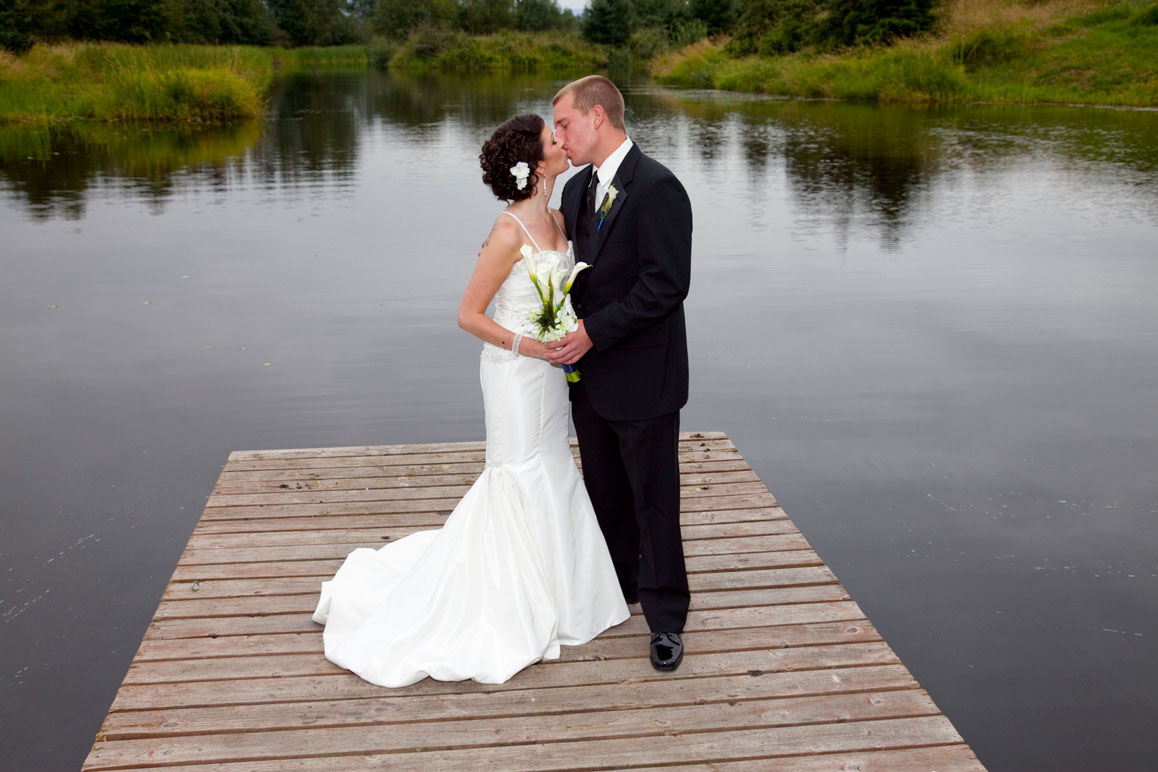 Kristen and Colin at the pond at Lord Hills Farm in Monroe
---
Tom was absolutely great to work with from the very beginning! He was generous with information and very helpful when I had questions. He treated us like real people, not just clients. We were relieved to feel that we could trust him to follow through and do a great job. He was always professional, friendly, and paid great attention to detail. We could sense that he really wanted to do a good job for us. The pictures are positively beautiful and a perfect reflection of our big day. We can't stop looking at them! We are very happy with Tom's work and will definitely recommend him to couples who want high quality service and pictures at reasonable prices. Thank you Tom!
Kristen and Colin
---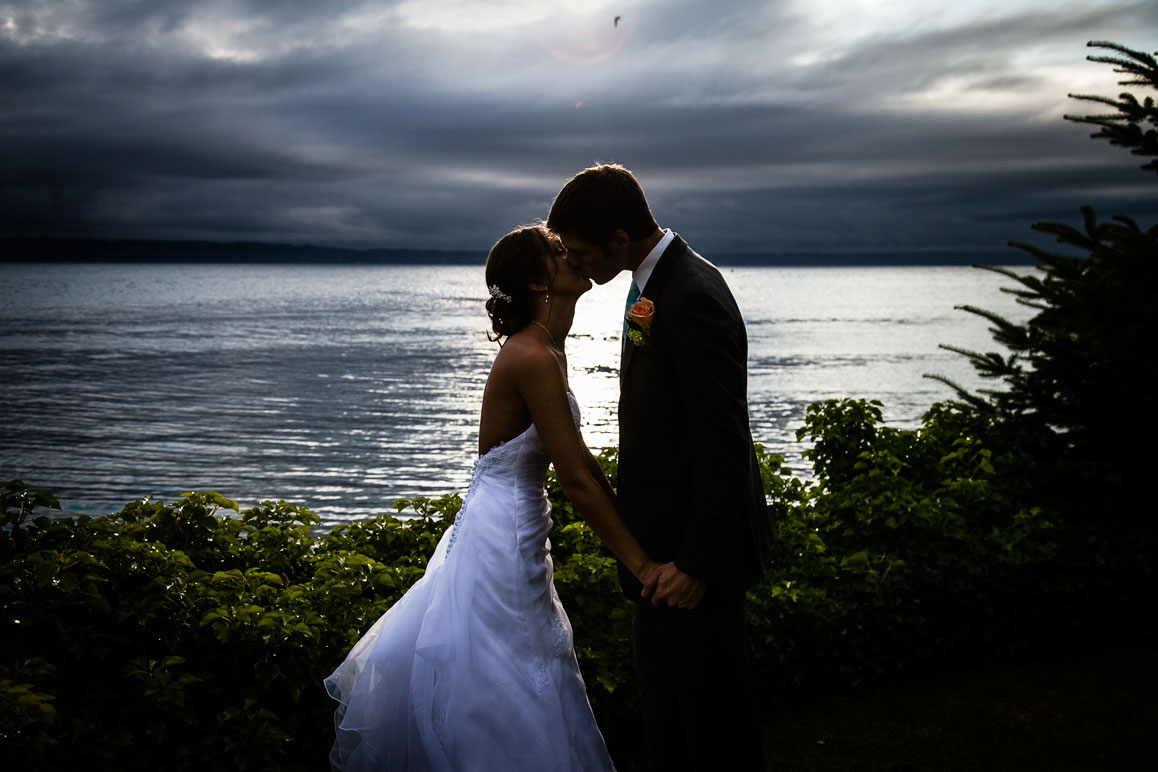 Kimberly and Cary have a quick sunset kiss outside the Shilshole Bay Beach Club
---
Tom did an absolutely amazing job! We love every photo he took at our wedding. Our experience with him from the beginning has been great. We had him do our engagement photos as well. At first we weren't going to have them done but figured, we are getting married, let's do it all. I'm so glad we did :) Those also turned out amazing!

During our wedding he was efficient (especially with all the family photos), patient, and friendly with us, family and friends. He constantly was keeping an eye out for a good photo opportunity, which we really appreciated. One of our favorites was when he had us quickly step outside for a photo as the sun was peaking through the clouds. He captured all the best moments and emotions. My mom and mother-in-law both had the biggest smiles, laughed and cried as they were looking through the photos. Now that...means a lot!?

I couldn't be any happier choosing Tom to be our photographer.
Kimberly and Cary
---
Our experience with Tom Ellis Photography was simply fantastic. From the day we first contacted him we felt he was "the one", and after meeting with him and seeing his sample albums we were hooked. He responded to all of our calls and emails extremely quickly, and was super helpful with a lot of my questions about how to make our wedding and reception go more smoothly. We had a large amount of time between our ceremony and reception, and Tom took us to a beautiful Japanese garden for photos with our wedding party. And all of our photos are just wonderful!

We would highly recommend Tom Ellis Photography to anyone who wants a caring, friendly and extremely experienced wedding photographer who will take photos of the two of you that will simply blow you away. Thanks so much Tom!!!
Jenn & Mark
---
What a positive experience! Tom was prompt, personable, and professional the whole way through. While the posed shots were great and everything we expected, it was the candid shots of our guests that were the best surprise. I'm looking forward to working with him again for family and anniversary pics!
Sue Ann and Conrad
---
Tom- the photos are amazing. We have gotten so many compliments on how beautiful they are. Thank you for doing such a wonderful job capturing our big day. These photos will be cherished memories forever! Thanks again! You will always have our highest recommendation when we hear of people looking for a photographer!
Kasey and Sam
---
Tom was amazing. He corresponded with me up to the day. On my wedding day he was on time and took tons of BEAUTIFUL pictures. I had so many comments about how quietly he took photos, being able to capture each moment as it happened. He has a great personality and is very easy to work with. His turn around time is quicker than most photographers (I thought). His price and personality reeled me in and after seeing the final product I am SO happy I chose him. Thanks Tom!! :)
Dianna and Arick
---
Dear Tom, Thank you so much for being a very important part of our special day! We are very pleased with your services and the accommodations you made for us. Our pictures turned out so awesome, your talent created such wonderful memories for us to look back on!
Thank you again, Molly and Kenny
---
Tom offers a wide range of options which he publishes up-front on his website. No calling needed to establish roughly how much things will cost - this was a big plus not only for budgeting purposes but I see it as more genuine and honest approach in an industry where everyone else seems to want to find ways to rip you off! We found his prices very reasonable when we compared vendors.

Although his website is not flashy it showcases his work well - the work speaks for itself. When we met Tom for the first time he wasn't at all pretentious unlike many of the more "upscale" vendors I had called. He simply allowed us to describe what we needed, filled us in on the pieces we weren't sure about and gave us some great ideas for customizing our photo event so that we got what we wanted. He has an artistic eye that is not formulaic - he just sees something that works and helps frame it so you end up with some really cool and original photos.

At the event he was on-time, smartly dressed (he checks what he needs to wear ahead of time to blend in) and provides the leadership needed to get things moving on a day when a lot is happening.
All in all, I would definitely hire him again for my next wedding. Not that I am planning to have another one. Ouch! Yes dear.
Graham and Angie Hebbron
---
Tom is excellent! He is extremely easy to work with, and obviously has a lot of experience in his field. He was very helpful and efficient in the planning process of our wedding. He returns calls and emails promptly and is always very polite. Our pictures are AMAZING! We trusted in him to capture our family and our beautiful ceremony/reception location, and we were not disappointed! He was able to send us a link to our pictures online within just a few days of our wedding - so there we were on our honeymoon, looking at our wedding pictures already! I love showing everyone I can both our formals and candid photos. The colors and shot angles are very impressive. We have both; classically beautiful photos and great, fun, family/friend photos. I would highly recommend his services to anyone. He gives quality results for very fair rates. I will return to him for my first family pictures!
Stephanie and Travis
---

My wife and I couldn't have been happier with Tom. During our first visit with him, he talked to us about the timetable for our wedding. We initially wanted to do pictures after the ceremony/before the reception so I could wait to see the bride. I couldn?t be more thankful that he talked us out of that! We would have missed most of our own reception had we done pictures then, and he still got great pictures of my reaction to seeing my wife.

The morning after the wedding, Tom sent my father-in-law 6 jpegs of the best photos so we could print them and have them displayed at our brunch. We got proofs of all our photos within a couple weeks of the wedding. When we decided which ones we wanted enlarged, he got those back to us immediately. We have friends who took over a year to get their photos back.

The quality of the pictures was unbelievable. The colors of the sky and water behind us are so amazing that most people ask if we took the pictures in front of a backdrop or screen.

During the reception, Tom wanted to take us outdoors to get pictures with the sunset. At the time we didn't want to leave, but Tom was insistent. I was glad he was so persistent because his timing was perfect and they turned out to be some of the best pictures we had.

We couldn't have been happier with Tom. He listened to what we wanted, and most of all, used his experience and professionalism to make sure everything worked and to make sure that we got shots that he knew we would love. He always responded back to us quickly after the wedding when we had any questions or needed anything. I would recommend Tom Ellis Photography to anyone who was looking for a photographer.
Corey and Cari Matthaei
---
Eric and I were very pleased and impressed by your professionalism, follow-through, suggestions and an attention to deliver the perfect pictures any bride strives to achieve. You adapted yourself to our styles and that was very important to us. The pictures were gorgeous and I have already provided references to acquaintances. The one main comment from our guests was that they didn't even know you were there - to me, as a bride and a host that comment is the most impressive! Thank you so much for your time, your work and just for being you. Iknew from our first meeting that you would be my photographer.
Roxanna and Eric

---
Hi Tom, Sorry it took me a while to get to this. Here's what I wrote on The Knot.
Tom was really professional, and fun to work with! His photos came out beautifully, and he rolled with our time schedule without a moment's hesitation. He was courteous and non-invasive. I highly recommend him!
You can use that for your testimonials too, if you'd like!
People have been very impressed!
Thanks again, Antoinette
---
Tom, Thank you so much for photographing our wedding. The pictures are lovely, we couldn't have asked for better. Thank you!
Cheers, Eric and Jessica Yerxa
---
Tom was amazing. He made our day so special and was so easy to work with. He was great at capturing all of the special moments without being in our faces all of the time. The pictures turned out even better than I expected, the prices are incredibly reasonable for the Seattle market, and you get them on all on a CD to share with your family and friends! Iwouldn't have wanted any other photographer for our special day!
Heather and Luke Thoburn
---
Hello Tom, Oh my gosh, it was so hard to pick the pictures that we wanted to enlarge. I love them all! You did such a wonderful job! But we finally decided and I'll get you the list soon.

Thank you so much! Our wedding pictures are the most important treasure that I will be keeping. I could not have picked anyone better to make that possible!! You have done a fantastic job capturing our wedding day for us. We will always be able to remember everything crystal clear! :)
Thank you, Brian and Kristy
---
Dear Tom, we can't thank you enough for taking such beautiful pictures at our wedding! The coloring of each photo is incredible, we have even had people think we were married in Hawaii. We hardly ever noticed you taking pictures, yet you captured every moment of our wedding perfectly. Thank you so much for being a part of our special day!
Yours Truly, Clint and Megan
---
Dear Tom, Thank you for making our wedding day so wonderful. You were more than a photographer, you were a motivator!
Thank you for the awesome pictures, Robin and Paul Charles
---
Dear Tom, Words cannot express the joy I felt when I looked at Sarah and Ky's wedding pictures for the first time. Your ability to capture the beauty and joy of the day is amazing. Thank you for all of your hard work. We will be in touch soon to order our enlargements, and will be sure to tell our friends about you!
Thank you again, Pamela Fiskum
---
Tom, Thank you for helping make our wedding day absolutely wonderful for us. You are so very good at what you do. We'll always be happy you were part of our day - we so much love our photo album and are so pleased how you captured the day through your photography!
Sincerely, Linda and Bob Otto
---
Tom, Thank you so much for all your hard work on our wedding pictures! They are beautiful! Thanks so much for everything - it all went better than we imagined. We'll pick our enlargements soon. We will be recommending you to our friends!
Jennifer and Matt Hirst
---
Dear Tom, We'd like to thank you for being our wedding photographer last June. We have shown the prints to all of our family members and have gotten nothing but compliments on the quality and creativity of the pictures. It has been wonderful working with you - before, during and after the wedding. You were a very calming influence and conducted yourself so professionally.
We have added your name to our address book and will be sure to recommend you to anyone we know in need of a photographer. Thank you for all of your time and for giving us such beautiful memories of our special day.
Jason and Margaret Nielson
---
Hi Tom - How are you? Tony and I love the pictures and had a very hard time deciding what ones to get the "real" photos from. These are by far the best wedding photos I've seen, of course I'm a little biased! If you ever need a positive recommendation or referral we would be happy to give one.?

We have finally chosen our photos from the proofs and have marked the negatives. I thought I had your address to send them, but seem to have misplaced it. Can you give it to me again so I can send the negatives to you? Sorry it took us so long, but we love them all!!
Thanks, Amanda
---
Tom - Kevin and I would like to thank you for your wonderful work at our wedding. I am amazed at how fantastic all of our pictures turned out! Thank you for having such a perfect eye and for capturing the spirit of our wedding so perfectly.
Thank you again, Kevin and Serene Chung
---
Tom, We wanted to thank you for capturing our special day. The pictures were wonderful! The sky and clouds in some of the shots were amazing! You did terrific work, and I can't stop thanking you!

If you ever need a reference please let me know. All of us would love to do this for you!

Again, thank you so much!


Sincerely, Christa and Tony
---
Hello, Tom! This is Robin Wagner (Frazee!) writing. It's hard to believe that over 7 months have passed since Sam's and my wedding! I was looking through our photos again the other day and realized that we never got in touch with you about the 4-8x10 enlargements that were supposed to go with our package. It completely slipped my mind! Is it too late for us to get those?
Sam and I are both so happy with our photos. The quality is exactly what we were looking for, but most importantly we were impressed with your professionalism and attention to detail on the day of the wedding. I felt completely confident with you taking the photos, because I knew you really looked at each shot before you took it, finding details like weird shadows, oddly placed bouquets, hands in pockets, etc. I hope you'll also take it as a compliment that when I think back on the ceremony and reception, images of you and your camera don't really spring to mind! In my opinion, the best wedding photographer is the one who gets the great shots but never interrupts the moment or the flow of everything. Sam and I went to 4 weddings in 2002, including ours. You were by far the least intrusive, most thoughtful, and most careful of all the photographers we saw. (And our photos were the best too!).
Anyway, let me know if we can arrange something for those 8x10s. Thank you! - Rob
---
Tom, I don't know if I ever thanked you for the wonderful job you did on our wedding photos. We were married on September 15, a few days after the terrorist attack.


You were patient, gave good advice and were a remarkable calming influence. You cautioned us not to count on the disposable cameras giving us good photos, and you were right! The photos you took are beautiful! You were the 4th photographer we interviewed and we both felt comfortable with you, and your prices were great, too!


Keep up the good work. If I know anyone who is getting married, I will definitely recommend you. Thank you for being part of such a memorable day and for giving us the tangibles of that day.
Brian and Jessica Elerick
---
Hi Tom, I just wanted to let you know how very pleased Scott and I are with the pictures you took of our wedding on June 9th 2001. The pictures are absolutely beautiful. It will be hard to decide which ones we want enlargements of since there are SO MANY great shots!
I really liked some of the pictures you took that caught our reflections in the mirror. It added a very interesting touch to the pictures. There is also a really great one where we are lighting the unity candle and shining right through the point where we are lighting it together is this beautiful kaleidoscope of color - almost like something magical happened at the moment we lit the candle. I think we both love that picture the most - it's very special. We also really love the one of Scott and I underneath the blusher of my veil. It is very cute!
Thank you for doing such an awesome job!
Very truly, Holly Gagnon
---
Tom, thanks so much for the beautiful pictures you took at our wedding. We have quite a few of them displayed in our house, and we were very proud to give copies away as Christmas presents - you did such a great job of capturing both the beauty and the fun of our big day. I can't get over how glamorous I look in those black and white photos, and the ones you took with the sunset in the background are just amazing. We enjoyed working with you very much, and are recommending you to our friends who are getting married this summer.
Sincerely, Amy Drackert and David Pelton


---
Tom, Thank you so much for putting up with the stressed-out bride (me), and following us around Whidbey Island to capture all the special memories of our wedding day. You know how to keep things calm, and I will never forget that. We have such beautiful memories because of you. I referred you to a friend, and will continue to do so. I look forward to hooking-up for baby pictures (some day!)
Aleshia and Eric Mitten
---
Tom did an excellent job for us! He was very professional and very helpful, as he gave advice and suggestions for various things throughout the entire day.

We looked at a few photographers prior to deciding on Tom, including several agencies and a commercial photographer. I found Tom through the phone book and also reviewed his website. After looking at some pictures from previous weddings and his reasonable prices we decided to work with him. While my brother in law and his bride literally cried when they received their pictures from a different photographer, we were very excited to see ours...they were exactly what we wanted!

As you work with all the services related to a wedding (caterer, flowers, etc.) you will find there are some that are good, some that are bad and a very few that are great. Tom was truly great!

Sincerely, Ken Schmidt


---
Hi Tom - Hope you and your family had a wonderful holiday. We've been looking at all of our photos quite a bit over the holiday, and I just wanted to thank you again for such a job well done. If you ever need a stellar reference feel free to use our names.
Thanks again! Andrew and Judy Tomko
---
Tom gave my husband and me one of the greatest memories of our wedding day, our pictures. He was very professional and was able to get all of our requests done in addition to lots of candids. He really used his creativity on the outdoor photos which were especially beautiful. We will use his services in the future for all of our family photos. Thanks Tom!
Kathy and Bill Sammer


---
Tom, thank you again for photographing our wedding. You did such a fabulous job! Every photo is beautiful and you made us, our family and our friends feel very comfortable. Every time we look at the pictures we love them more and more! You captured every aspect of our wedding in the most beautiful way - thank you so very much!
Sincerely - Jonathon and Jennifer Weed
---
Dear Tom, Just a quick note to say thank you for your time and talents at our wedding recently. Everyone who has seen the pictures has commented on the excellent quality and craft that went into them. You truly did capture us as we are! Thanks you for also being so sensitive to my requests - it made things much less stressful for me - if only our real lives could be as fairy-tale as pictures, right? It was a pleasure doing business with you and I will know who to recommend to all my friends in the future!
Thank you! Kathy Swajdlenka
---
Dear Tom, Thank you for being such an important part of our wedding. You brought everything to life and we couldn't be more pleased with our photographs! We would highly recommend you to everyone! Thanks!
Roy and Wende Eagan
---
Dear Tom, Ted and I want to thank you so much for the wonderful job you did of photographing our wedding on November 21. The more we look at the pictures the more we love them! All who see them just rave about them. You were so subtle too. What a great job! Thanks so much -
Judy and Ted Reely
---
Dear Tom, Thank you for doing such a wonderful job photographing our wedding. Nathan and I were more than pleased with our pictures. You really did a great job! I will definitely recommend you to anyone I know who is looking for a photographer. Please feel free to use me as a reference in the future. Thank you for helping make our wedding so special.
Sincerely, Kris Hills
---
Tom, Thank you for the great job you did photographing our wedding and reception. The pictures are incredible - everyone wants lots of copies! We appreciate how professional you were. The wedding party commented on how "unnoticeable" you were during the reception, while still taking such great candid shots. We hardly knew you were there - how do you do it?
Thanks again, Lisa and Matt Millar


---