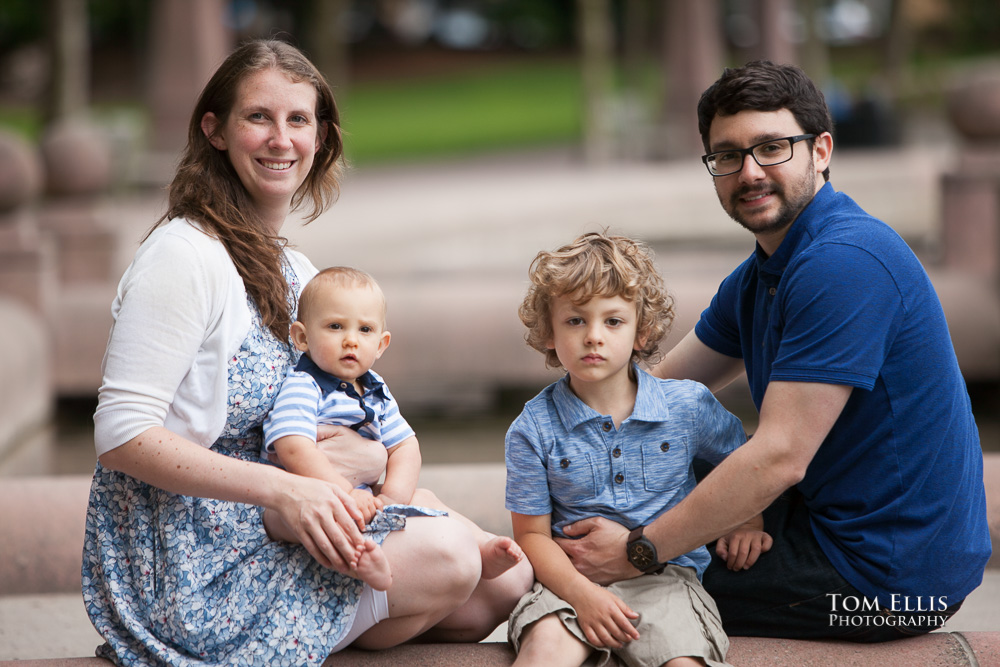 Ramirez Family Photos at Downtown Bellevue Park
Not quite 6 years ago I was the photographer at the wedding of Stefanie and Elric at Tibbets Creek Manor in Issaquah.  I bumped into the two of them occasionally over the next year or two, but then they moved to Colorado and we lost contact.  A couple of months ago I got an email from Stefanie telling me that she and Elric and their two young sons were going to be in the Seattle area for a few weeks, and were hoping that I could do a family photo session while they were in town.  I was delighted to have a chance to see them again, as well as meet their kids, and we set up a date for a session in Downtown Bellevue Park.  This is one of my favorite places for family photos, especially if there are young kids, because there are lots of things at the park that kids find interesting.  This can backfire at times, as the kids get so excited about chasing the ducks or playing in the playground that they have a hard time sitting still for photos.  But it usually works out very well.
Older son James is 4 years old, and truly a bundle of energy.  Younger brother Rhett is just short of his first birthday, and clearly idolizes his big brother.  It was a lot of fun watching the boys interact, as well as watching Stefanie and Elric try their best to keep James from making a beeline to the playground.  He ended up cooperating quite well for the photos, and wanted me to take his picture on the slide and in the "jail" on the play equipment in the playground.  It was a very enjoyable session, and I'll look forward to another session with the Ramirez family the next time they are in the area.