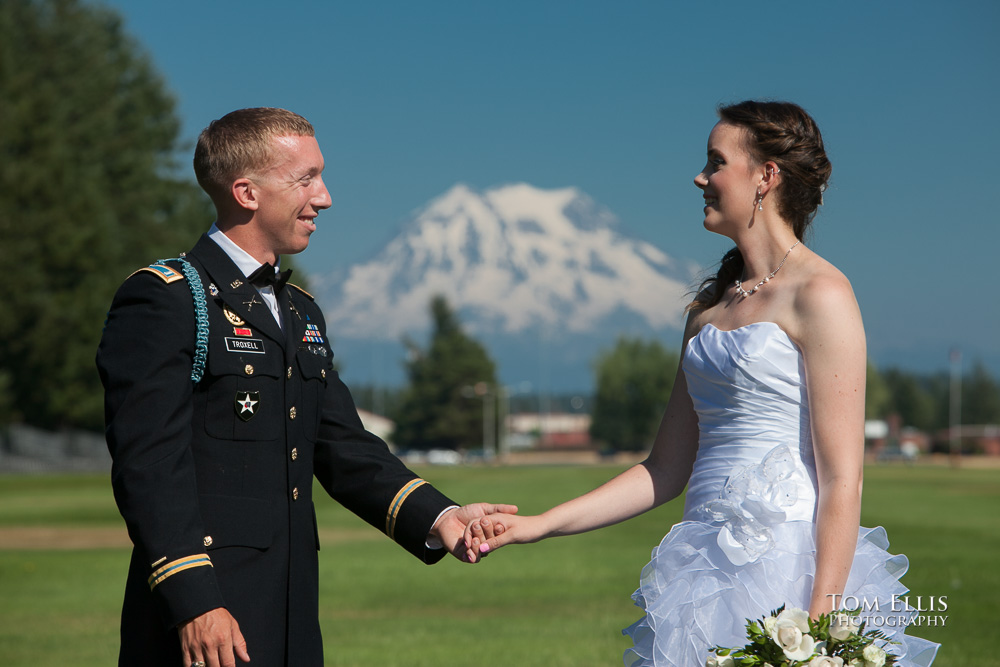 Seattle area wedding photos at Fort Lewis
On July 3 I was privileged to be the photographer at the wedding of Lauren Myers and Ben Troxell.  Ben is in the Army and stationed at Ft. Lewis, and the couple took advantage of some very nice on-base facilities for the wedding and reception.
We met before the ceremony at the reception site, a very nice conference center located on American Lake.  It was a HOT day, but we were able to do our best to hide in the shade while taking some photos of the wedding party and family.
Then we headed across the freeway to the main base, where the chapel is located.  Beautiful old brick building, and surprisingly cool inside, which was a big plus with outdoor temps near 90.  Once all the guests had arrived the ceremony proceeded as planned with Father Glasgow officiating, and a short time later Lauren and Ben were Mr. and Mrs. Troxell – hooray!!!
Lauren and Ben had chosen to use royal blue and white as their colors, which went great with Ben's dress uniform.  Lauren was simply gorgeous, and her dress was incredible!  The flowers were provided by Buds and Blooms and were beautiful.  Best Man was Ben's brother, Jake Troxell and the Maid of Honor was Jordan Matulis.
After the ceremony it was back to American Lake for the reception.  Ben's family is from Georgia, and his parents and brothers had all made the trip to the Northwest for the wedding.  After dinner DJ Michael Ewing fired up the music and the party got started in earnest.  There were a lot of young kids on the dance floor to begin with, and they clearly had a great time.  As the evening progressed and the guests with younger kids headed home, the dancing really got going.  This was one of the best dancing receptions I have been to for quite some time (Ben's brother Jake is a dancing machine, and several other wedding party members were also very hard-core), and if there hadn't been a deadline for the party to end it would likely have continued for another couple of hours.  Ben's parents Jennifer and Edward, and Lauren's parents Roann and Robert were also prominent on the dance floor.
The first dance by Lauren and Ben had a nice twist to it.  The music began and the couple started to dance to "Let It Go".   But just as the first chorus began the music changed and the rest of the wedding party ran onto the dance floor to join the bride and groom for a fast-paced boogie, first to "Thrift Shop" and finishing with "Fancy".
The newlyweds originally met through an online dating site, OK Cupid.  I'd guess that  20-30% of the weddings I photograph now involve couples who originally met online.  Glad it worked so well for Lauren and Ben!