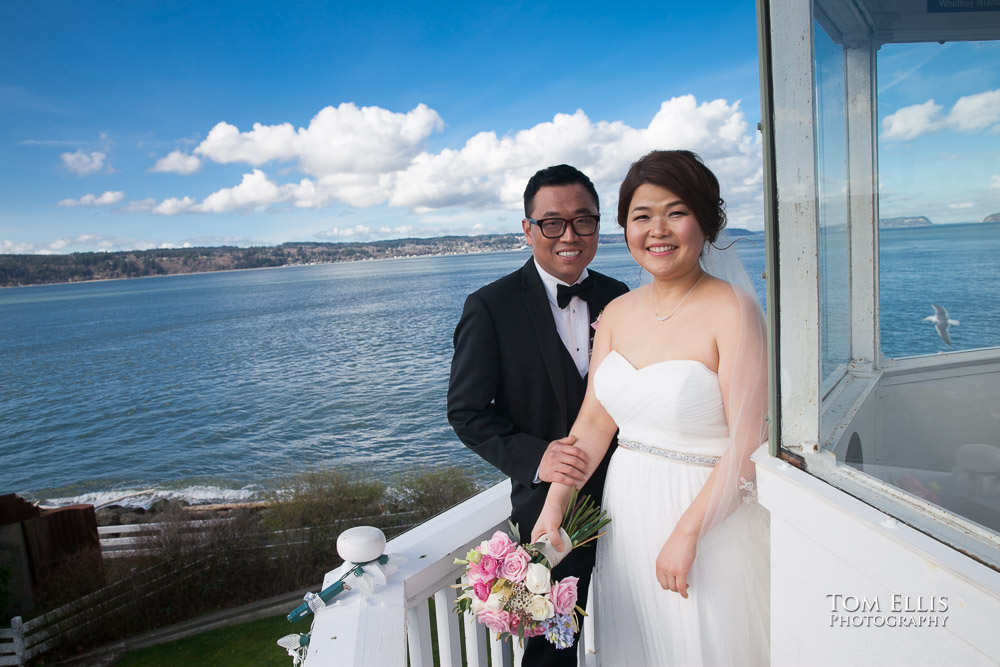 Seattle area wedding – Eun & Han at Joyful Korean Church
I was recently the photographer at Eun and Han's wedding, held in Mukilteo at the Joyful Korean Church.  We had worked together not too long ago when we did an engagement photo session at Discovery Park and Pike Place Market.  We had a lot of fun with that session, and I was looking forward to this wedding.
We had talked quite a bit about the possibility of pre-ceremony photos on the beach in Mukilteo, but with a streak of nasty February weather it did not look like outdoor wedding day photos was going to be a good idea.  As the date got closer, the weather seemed to get worse.  But the long range forecast said that we might get a break, and that break was supposed to happen on the date of the wedding.
The night before the wedding the weather was miserable, with lots of rain and wind.  But to my surprise, the morning of the wedding it was clear and sunny, and even somewhat warm!  I could not quite believe that we were going to luck out like this, but I sure wasn't going to argue.  When I arrived in Mukilteo the weather was not at all typical late February weather.  It was a very pleasant temperature, with beautiful blue skies with big puffy clouds.   I was scheduled to meet Eun and Han near the Lighthouse at 11AM,  but I arrived early so I went to check out the Lighthouse grounds to see how they would work for photos.  To my surprise, there was a woman there in a wedding dress along with a small group of people.  I went to see what was happening and discovered that the Lighthouse was hosting a small wedding that morning.  Very unusual, as the Lighthouse is usually not open until mid-April.  I spoke with the man who was in charge of the Lighthouse, and he explained that the decision had been made to allow an early wedding, but that the Lighthouse would then be closed again and would likely not be open for another two months.
A little while later Eun and Han arrived.  Eun was beautiful in her wedding dress, and Han was very dapper in his tux.   We walked the beach area for 30 minutes or so and had a very nice photo shoot on the beach.  But when Eun, Han and I started taking photos on the Lighthouse grounds, the man I had spoken with earlier spotted us and came out to talk.  He asked if we would like to go inside the Lighthouse for some photos, and offer that we gratefully accepted!  So the three of us climbed the (very steep and narrow) spiral staircase to the top of the Lighthouse.  We got a few photos on the catwalk, then I went down to get tome photos of Eun and Han from ground level.  You'll see some of those photos below.
After completing our photos at the Lighthouse we headed for the church, located just a few blocks away.  We took a bunch of family photos, and then it was time for the wedding.  To my surprise, the entire ceremony was conducted in Korean!  But it was a pretty straightforward ceremony, with a few cultural twists that made for some photos that I would not normally get at a "typical" American wedding.
Here is a selection of photos from the day.  I hope you enjoy the photos!