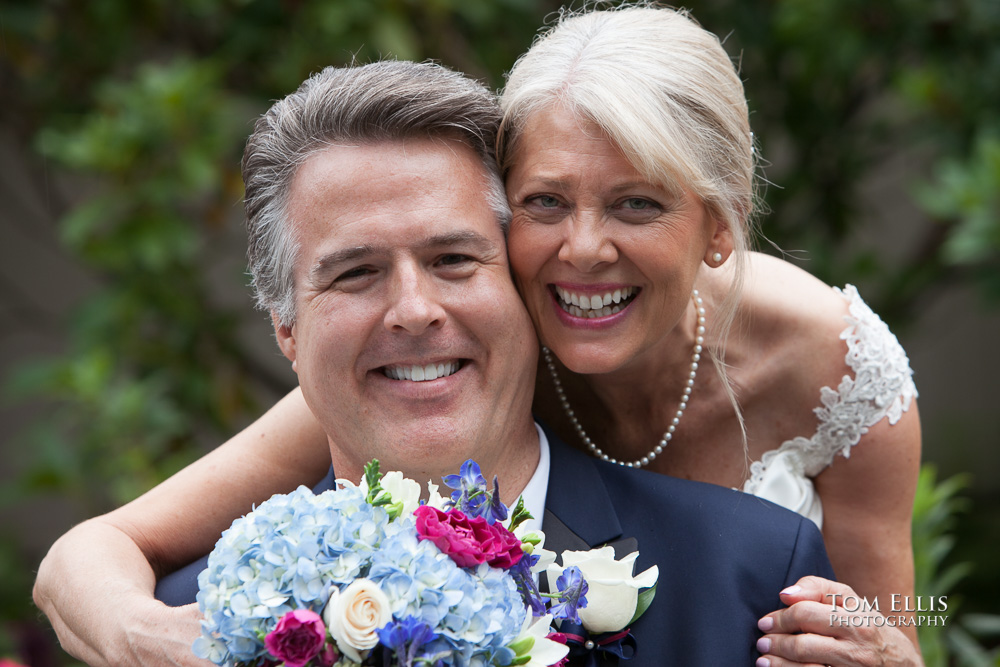 Seattle area wedding photography at Sahalee Country Club
On August 28 I was the photographer at the wedding of Sarah Nelson and David Hill at Sahalee Country Club, located on the Sammamish plateau.  I had been looking forward to this wedding ever since I had been contacted by Sarah about being the photographer; I have known Sarah and her family for a very long time, and after meeting David I was delighted that the two of them were getting married.  And being the photographer at the wedding of a friend is always very special.
David and Sarah met online through eHarmony, one of several couples whose weddings I have photographed who met there.  Sarah told me that shortly after they "met" online, she had to leave town for a month but they talked almost every night while she was away.  Their first face-to-face meeting came over a glass of wine (or two!) at Purple Cafe, more than a month after their initial online connection.  David is no fool, and clearly realized what an amazing person Sarah is, and on the one year anniversary of their first date he proposed to Sarah and gave her a beautiful sapphire and white gold ring.  Sarah's wedding ring was designed to combine with the engagement ring to form what appears to be a single band (which you will see in the photos below).  After photographing >1200 weddings I have seen a lot of wedding rings, but this is one of my favorites!
As the date approached, I was doing my usual routine of checking the weather forecast to be able to better plan my photo strategy for the day.  The weather had been ridiculously sunny and hot for almost the entire summer, but a few days before the wedding things began changing, and the forecast for the afternoon/evening of the wedding date looked rainy and wet.  The ceremony was planned to take place outdoors on the large deck at the Sahalee clubhouse, and rain would force everything indoors.  But the weather gods decided to be kind, and while it was an overcast day and considerably cooler than recent days, any real rain held off (though we did get spit on a little bit during the pre-ceremony photo session).
Sahalee gave us a couple of golf carts so we could run down the road to a location at a pond around one of the greens.  So we packed 7 of us onto the two carts – me, Sarah, David, Sarah's daughter's Katie and Hadley and David's sons Nathan and Zach – and headed off to take some photos.  After we finished at the pond we headed back to the clubhouse for some family photos, and then the wedding really got underway.
The ceremony was officiated by Howard and Eileen Putter, two good friends of Sarah and David.  Nathan and Zach were the groomsmen, and Katie and Hadley were the bridesmaids.  The ceremony went perfectly, with Nathan and Katie giving readings.
After the ceremony (which remained rain-free!) everyone moved indoors for the reception.  Everything continued to proceed perfectly, with fantastic food service by Sahalee.  When it was time for the toasts,  Katie (Sarah's older daughter) gave a great speech that had the crowd cracking up.  DJ Moose Moran supplied the music, and once the dance floor opened up he did an amazing job of keeping the crowd on their feet and dancing.  I especially liked his "Cheap Sunglasses" trick for getting more people to dance.
After the wedding I asked Sarah if she would do anything differently with hindsight.  She told me that she would not have changed anything, and that it all seemed to go perfectly.  She also said that she and David decided early on that they were going to do this wedding THEIR way, regardless of suggestions from friends and family that might not have fit into their vision of the wedding they wanted.  This is something I enthusiastically agree with, and is the first thing I discuss on the "Advice for Brides" page on my website.
All in all this was a wonderful wedding celebration, and I am sure that it was greatly enjoyed by all the family and friends who attended.  Way to go Sarah and David!
To see larger versions of any of the photos, just click on the picture!