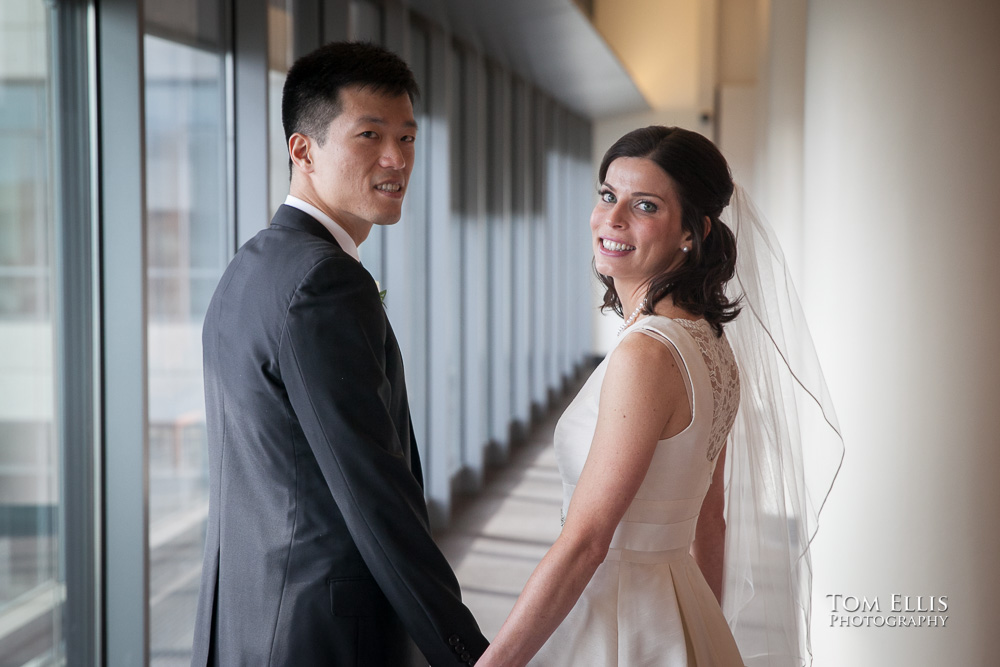 Devon and William Elope at the Seattle Courthouse
Way back at the beginning of March, I was contacted by Devon about photographing her upcoming wedding.  The wedding was planned to be an elopement, and be held at the Seattle Municipal Courthouse.   Devon had located me online and had liked the courthouse weddings she had seen on my blog, and wanted to know if I would be available to photograph her wedding to her fiance, William.  I was delighted to tell her that I was free on their planned date, and we then discussed their plans for the wedding day and how I might be able to help them record the wedding.
As the date got closer we talked and emailed several times to go over contingency plans if the weather was bad, something that looked quite likely as our spring weather had so far been horrible.  As it turned out, the wedding gods smiled on us the day of the wedding, and even though there were thunder and hailstorms just a few miles away, we had a completely dry day and were able to take outdoor photos after the ceremony.
On the wedding day we met at the Courthouse with plenty of time before the "wedding office" opened so we would be at the front of the line to see a judge.  Because it was a bit windy, Devon opted for having the ceremony indoors rather than outside on the courthouse roof.  Because they had a fairly large group for an elopement, we were directed to the Jury Selection Room by the judge who would conduct the wedding.  This is a beautiful large room with great views over South Seattle, with the Smith Tower seeming to be so close you could almost touch it.  You'll get a bit of a feel for the room by looking at the photos below.
It was a good thing we arrived early, since there were at least 6 couples wanting to get married at the courthouse that day!
After the ceremony I took Devon and William to Kerry Park, where they had requested to go for some post-ceremony photos.  The weather continued to cooperate, and we were able to get a bunch of good photos.  Our visit to the park was a bit brief though, as the newlyweds had dinner reservations at Canlis, where they were set to meet up with the other people who had attended the wedding.
Here are a few photos from the day, I hope that you enjoy them.