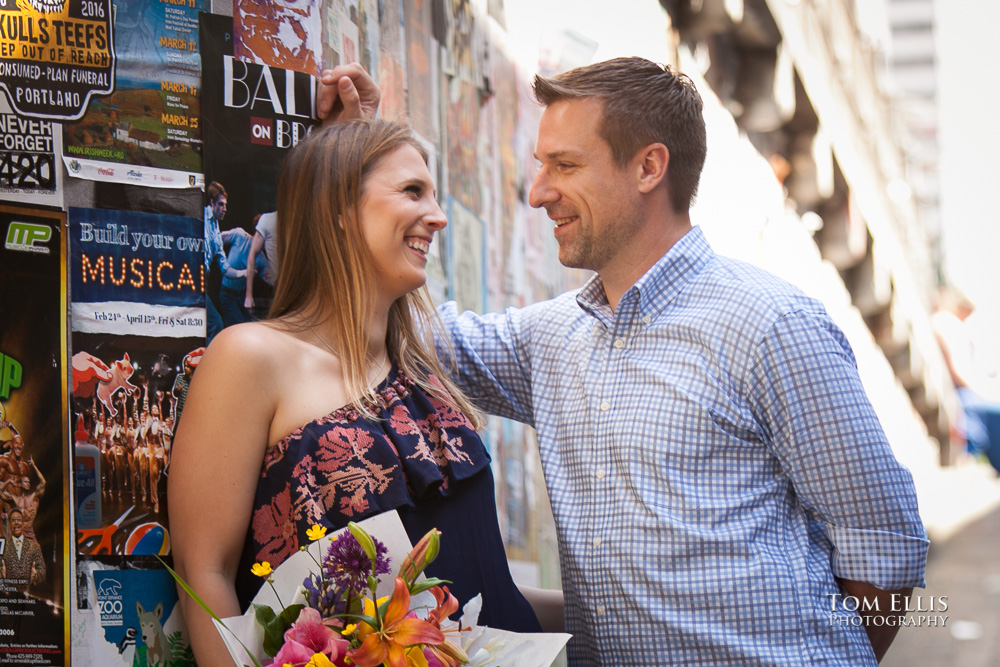 Seattle engagement photo session with Erin & Steve
Several weeks ago I met up with Erin and Steve for an engagement photo session.  We actually lucked out and had some nice weather for our photo session, catching one of the few good spring days in between all of the rainy ones.
We started by meeting at the Rainier Tower, where they both work and where they first met.  We went to their office at Whitepages and got some nice environmental portraits in their workspace.  What a cool office!  It looks like it would be a fun place to work.
Pike Place Market Photos
We next walked the few blocks from the tower to Pike Place Market, which we had decided would be our second location of the shoot.  Since it was a beautiful Sunday morning, there  were a lot of other people at the Market so we hit a couple of the more "touristy" spots for photos, and then I took the couple to some spots that I have discovered that make great photos, but have not been discovered by much of the typical Market visitors.
Next stop was a restaurant in the Market where Erin and Steve went for their first date.  The manager there was very nice about letting us take photos with Steve and Erin sitting at one of the outdoor tables, even though we were not buying anything.
Seattle Waterfront and Great Wheel
After our session at the restaurant we decided that the next location for photos would be the waterfront area.  After a short walk down the hill (with a number of stops along the way for more photos), we reached the waterfront, between the Great Wheel and the Aquarium.  This is always a great place for photos, and Erin proved to be a fantastic model as she teased Steve into some great smiles.  We made use of the huge ferris wheel as a backdrop, as well as shots of the ferries and Puget Sound, then moved back across the street for photos using some of the buildings and other interesting spots for even more photos.
We were having such a great time that I would have been happy to spend another hour with Erin and Steve exploring more of the area, but I was scheduled to shoot a wedding at Thornewood Castle in Tacoma that afternoon and had to end the session so I could make the drive south.
Here is a small selection of photos from the day, I hope that you like them!