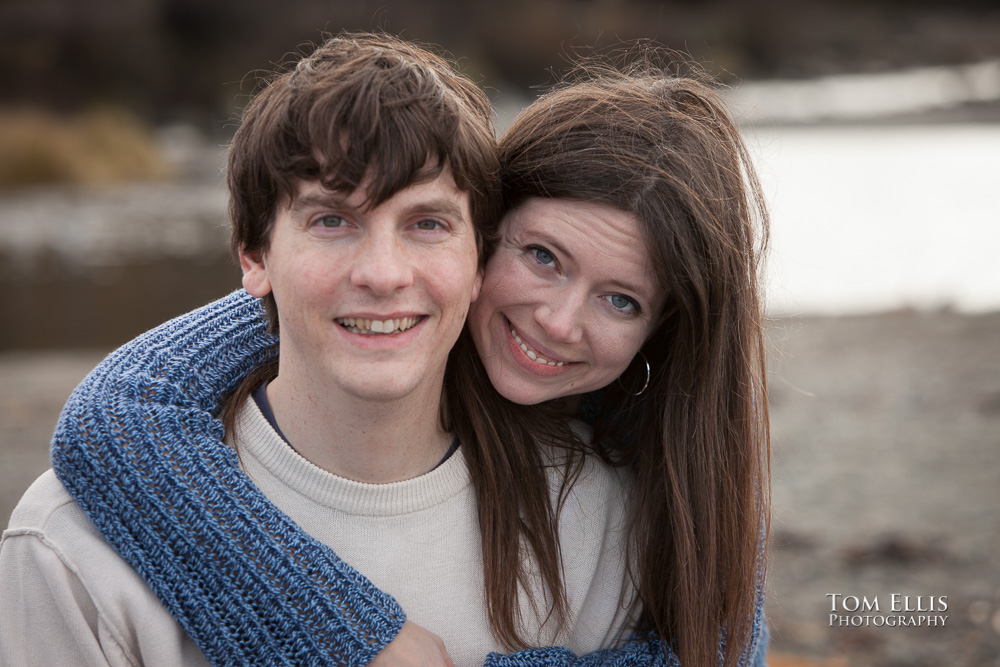 Seattle engagement photos at Carkeek Park
Anna is a newcomer to Seattle, and she met Curt at church soon after arriving in the area.  Things clicked with them very quickly, and they are planning a wedding in Summer 2016.
I met up with Anna and Curt a couple weekends ago for an engagement photo session at Seattle's Carkeek Park, located in the north end of Seattle along Puget Sound.  Carkeek is a huge place, with woods, open fields and a large stretch of beach along the Sound, offering a ton of great photo possibilities.
But the morning of the scheduled shoot, the weather was (to put it mildly) highly uncooperative.  Hard rain and blustery winds had all of us wondering whether we should attempt to take the photos, or try again another day.  After looking at the projected weather for the day we finally decided to give it a shot, and headed for the park.
As things turned out we made a good decision, though even during the drive to the park it was raining so hard I was very tempted to turn around and head home; while the forecast was for improving conditions, I have learned that the local weather forecasters usually don't have much of a clue and counting on them to be right is a good way to be disappointed.  But by the time I arrived at Carkeek, the rain had stopped and the clouds had even lifted a bit.  Anna and Curt arrived a few minutes later, and by then the sky was noticeably brighter, so we got started on the session.  We started on the beach and worked our way around the lower portion of the park.  We spent close to 2 hours, and really only scratched the surface of the options at Carkeek.  But we got a lot of good photos, and you can see a small selection here.